Additive Manufacturer Green Trade Association Announces New Members
October 21, 2020, The Additive Manufacturer Green Trade Association (AMGTA), a global trade group created to promote the environmental benefits of additive manufacturing (AM), announced that twelve leading AM companies from eight countries have joined the organization to advance sustainability in AM.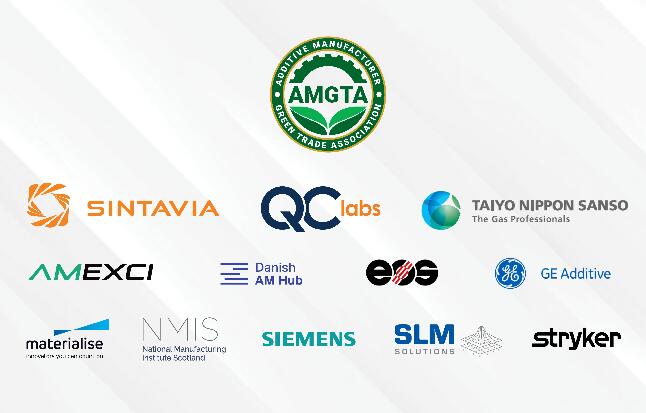 Sintavia, LLC, a leading additive manufacturer focused on the Aerospace, Defense, and Space industry, launched the AMGTA at Formnext 2019. Joining Sintavia as co-founders are Taiyo Nippon Sanso Corporation (one of the operating companies under Nippon Sanso Holdings Corporation), a supplier of stable industrial gases to a wide variety of global industries; and QC Laboratories, Inc., an industrial and commercial non-destructive testing laboratory focused on AM components. These co-founders will determine the strategic direction of the AMGTA, provide governance oversight, and consider future research projects that members may vote to commission.
Joining as Participating Member companies are: AMEXCI AB, an accelerator for the adoption of additive manufacturing in Nordic industries; Danish AM Hub, Denmark's focal point for the additive manufacturing ecosystem; EOS the world's leading technology supplier in the industrial 3D printing of metals and polymers; GE Additive, a world leader in additive design and manufacturing, a pioneering process that has the power and potential to transform businesses; Materialise, incorporates three decades of 3D printing experience into a range of software solutions and 3D printing services; the National Manufacturing Institute Scotland, a group of industry-led manufacturing R&D facilities transforming skills, productivity, and innovation in Scotland; Siemens Digital Industries Software, a driver of design, engineering and manufacturing transformation with its Xcelerator digital enterprise portfolio; SLM Solutions Inc., the leading provider of industrial metal 3D printing machines focused on metal additive manufacturing and multi-laser technology; and Stryker, one of the world's leading medical technology companies.
"I'm delighted to welcome each of these esteemed founding members and participating member companies to the AMGTA," said Sherry Handel, Executive Director of the AMGTA. "Their commitment not only to support the mission of our new trade group, but also their passion for sustainability, well positions the AMGTA to serve as a key industry resource in advancing sustainability in the AM industry. I am looking forward to working with each of our member companies as we embark on this exciting and important journey together."
Source: Business Wire