ParaMatters 4.0 Generative Design Software Opens the Door for Digital and Traditional Manufacturers to Automate Design-to-Manufacturing Processes
ParaMatters, a leading generative design provider of autonomous topology optimization, parts consolidation and lightweighting software solutions, today announced the release of CogniCAD 4.0, a software upgrade that delivers a smooth and automated workflow from design to manufacturing for both digital and traditional manufacturers. ParaMatters 4.0 automatically generates ready-to-manufacture, high-performance, lightweighted structures for aerospace, automotive and other mission critical applications.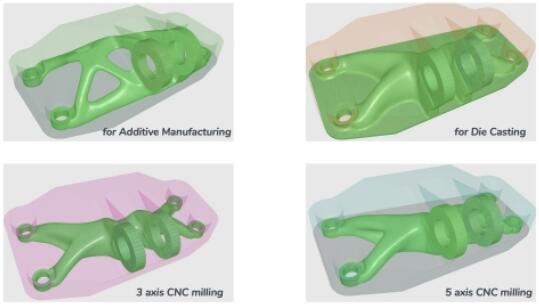 With CogniCAD 4.0, engineers and designers have the flexibility to generate effective designs within a range of manufacturing options, including additive manufacturing, 3-axis and 5-axis CNC milling, and investment and die casting. (Graphic: Business Wire)
ParaMatters CogniCAD 4.0 gives engineers and designers the flexibility to generate effective designs using a wide range of manufacturing options, including the use of additive manufacturing, 3-axis and 5-axis CNC milling, and investment and die casting. Version 4.0 provides more robust and faster solvers which enhance vibration and stress constraints design with more control over geometry and manufacturing, like multi-plane symmetry constraints and accurate feature size. It offers a new advanced support structures generator to help designers and engineers prepare files for 3D printing, and optimal part orientation, fast slicing and hollowing for investment casting with new features for latticing and gyroids to enable greater efficiency while saving on materials for prototyping.
"With ParaMatters 4.0, both digital and traditional manufacturers can take advantage of this powerful agnostic CAD-to-CAD generative design and lightweighting software," said ParaMatters Co-founder and Chief Technology Officer Dr. Michael Bogomolny. "Traditional manufacturers now have access to a one-of-a-kind technology that enables them to create lightweighted and structurally validated parts to meet their design and manufacturing needs. Designers and engineers can automatically generate high-performance designs that consider various manufacturing technologies and make decisions based on a cost, performance and time-to-market basis."
CogniCAD 4.0 works by first importing CAD files into the platform, and then defining loading, design and manufacturing criteria. Within tens of minutes, users can obtain generative designs verified by built-in, finite-element analysis, ready for 3D printing in both STL/PLY and STEP formats. All ParaMatters-generated designs can be directly produced using additive manufacturing and can also be transferred to traditional manufacturing processes.
CogniCAD 4.0 is available at www.paramatters.com as an annual subscription cloud-based service or as an annual local installation lease using a Windows-based installation. The company is offering several subscription and enterprise-based models, and actively engages in several complementary strategic partnerships.
ParaMatters continues to develop advanced algorithms designed to enhance the overall digital thread, and additive and traditional manufacturing capabilities. This includes a cloud-based, generative design platform that automatically compiles lightweight and metamaterial lattice structures on-demand, based on size, weight, strength, style, materials and cost as specified by designers or engineers.
Source: Business Wire