3D Printing Resin VarseoWax CAD/Cast Now with Improved Formula
The resin VarseoWax CAD/Cast, specially developed for 3D printing of burn-out objects, is now available in a new formulation. Users benefit above all from an even better fit of printed and cast objects, improved material stability and easier handling.
The BEGO Varseo 3D printing system offers dental technicians the possibility of producing a wide range of different restorations made from resins and hybrid materials – quickly, easily and cost-effectively.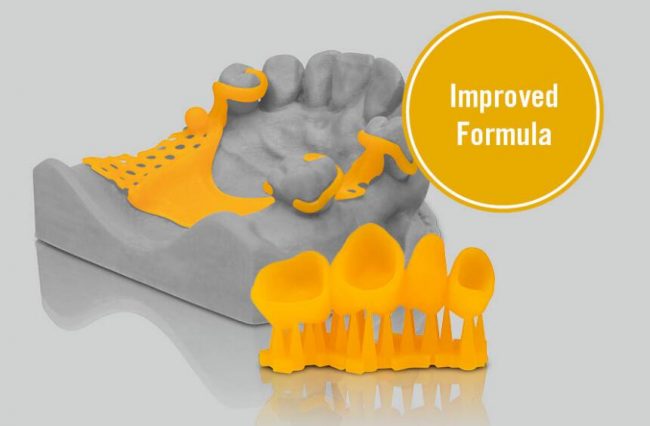 VarseoWax CAD/Cast has been specially designed for the burn-out of 3D-printed objects such as partial denture or crown and bridge frameworks. The resin can be burnt out without leaving any residue and provides optimal conditions for pore-free, smooth and precise results. The printing and processing parameters specially developed for the resin ensure perfect production sequences with results that can be reproduced at any time.
The improved material stability prevents the resin from thickening during storage and enables easy mixing. The new formulation also features a very user-friendly composition.
Due to the modified post processing, the printed objects are less susceptible to distortion and unwanted deformation during post-curing. Additionally, the reduced brittleness of the printed objects makes the support structures easier to peel off and thus makes the surfaces easier to process.
The resin can be optimally processed with the shock-heat-compatible VarseoVest P plus and VarseoVest C&B investment materials, which have been specially developed for investing 3D printed objects. The high dimensional stability of the printed objects offers distortion-free investing and a high accuracy of fit of the cast objects.
VarseoWax CAD/Cast with the new formulation is available in 1 kilogram bottles (REF 41136) for Varseo, Varseo S and Varseo L 3D printers. As of now, BEGO offers the material in 250 gram bottles (REF 41137) for the compact Varseo XS printer as well. In addition to its improved properties, VarseoWax CAD/Cast is offered at an attractive price.
Please note: The new material is not yet available in Japan, China and Russia. For these countries the current VarseoWax CAD/Cast resin (REF 41000, 1 kg) continues to be available until the registration process is completed.
Source: BEGO