HEXR Reinvents Cycling Helmets Production and Supply Chains with EOS 3D Pringting
EOS, the world's leading technology supplier in the field of industrial 3D printing of metals and polymers, has been supporting London-based HEXR with its technology and providing expert consultancy since 2015. With the introduction of the HEXR fitting app, the company is now offering a complete scan-to-product-solution for high quality, safe 3D-printed cycling helmets.
An app-based head scan allows customers worldwide to begin the bespoke cycling helmet creation process at home.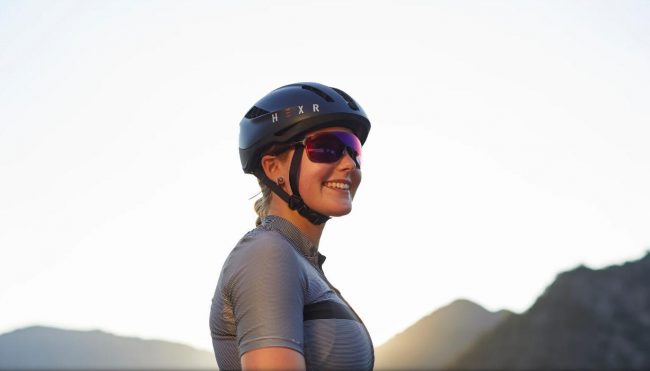 Individualized HEXR cycling helmet with a 3D printed honeycomb inner structure. Source: HEXR
Next, the helmet is 3D-printed with EOS technology in a 100% plant-based polyamide material produced exclusively by Arkema. It is then dyed in black before final inspection for structural integrity and finish quality. Finally, all components of the helmet—including the 3D printed inner structure, outer shell, chinstraps, etc…—are assembled, custom fit to the cyclist's head and with an optional individual touch (e.g. personal engraving and shell colour).
"Besides consulting, we're excited to support HEXR with our industrial 3D printing production technology, ideally suited to HEXR's business model and products. Together with a fast-growing network of established partners, such as Siemens and Arkema, we enable a digitalized and distributed manufacturing process with high-quality parts that can be 3D printed where they are needed—on-demand and tailored to our customers' requirements." Says Markus Glasser, Senior Vice President EMEA of EOS.  He continues: "HEXR is an example of a more flexible supply chain and production technology in action, and we see many similar business cases emerging in other industries too."
Jamie Cook, CEO at HEXR, adds: "With custom-fit intrinsic to this leading-edge manufacturing process, and superior independent safety test scores compared with traditional foam helmets, we are enabling major improvements in helmet technology made possible by 3D printing."
Henry Neilson, CTO at HEXR adds: "Based on this technology, we have a low-risk and very efficient scan-to-product solution, avoiding any pre-financing of products, minimum production quantities, or over-production. As such, we can completely focus on our key competencies, whilst relying on established production processes."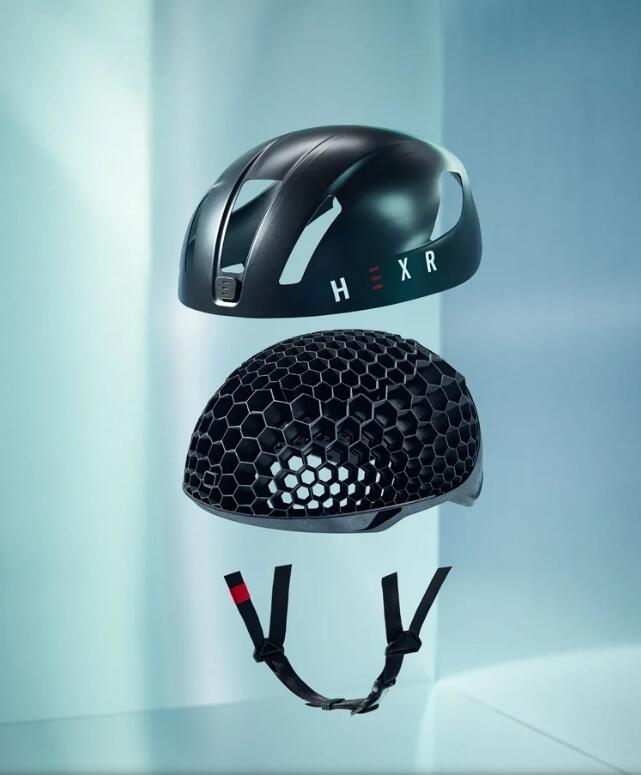 Custom-fit, with 3D printed inner honeycomb structure: revolutionary Hexr cycling helmet. Source: HEXR
Both Arkema and Siemens Contribute Their Expertise to HEXR's Integrated Scan-to-Print Solution
"Arkema is a world leader in high performance polyamide 11 polymers derived entirely from renewable castor oil," said Adrien Lapeyre, global 3D printing market manager for Arkema's high performance polymers. "This truly unique advanced material not only offers superior impact and lightweight properties, but it is derived from a highly sustainable feedstock which does not compete with food, and does not cause deforestation. The beans take less than one year to grow, as opposed to perhaps a million years required for traditional fossil feedstock. Helping next-generation entrepreneurs successfully leverage this technology, through responsibly manufactured cutting-edge innovations, is core to our co-development strategy."
"We are glad that we could support HEXR and EOS with our Digital Enterprise portfolio," explains Dr. Karsten Heuser, Vice President Additive Manufacturing at Siemens Digital Industries. "With the help of our end-to-end solutions, we created a digital twin of an industrialized AM factory and helped to optimize the design and streamline production processes—even before production started. By combining simulations, design optimization, and production scenarios with a high degree of automation, we were able to predict and reduce cost per part significantly—enabling HEXR to scale their application into mass production."
Source: EOS