Markforged Cleared of IP Infringement, Desktop Metals Awaits Countersuit
Markforged, the manufacturer of Mark series carbon fiber 3D printers and the Metal X, has been cleared of patent infringement allegations claimed by rival company Desktop Metal in March 2018.
The case was brought in front of a 12-person federal jury in Boston on Monday 9th July 2018. After three weeks on trial, the jury reached the verdict around 10am on Friday 27th July.
The Metal X 3D printer from Markforged. Photo via Markforged
Greg Mark, Markforged CEO, has since released a statement on the matter, saying:
"WE FEEL GRATIFIED THAT THE JURY FOUND WE DO NOT INFRINGE, AND CONFIRMED THAT THE METAL X, OUR LATEST EXTENSION OF THE MARKFORGED PRINTING PLATFORM, IS BASED ON OUR OWN PROPRIETARY MARKFORGED TECHNOLOGY."
The case has now moved on to counter claims filed by Markforged in response to Desktop Metal's initial complaints.
On the other hand, the opposition comments, "Desktop Metal is pleased that the jury agreed with the validity of all claims in both of Desktop Metal's patents asserted against Markforged. Desktop Metal has additional claims pending alleging trade secret misappropriation by Markforged. The Federal District Court has bifurcated those counts and will try them at a later date,"
"AT DESKTOP METAL, WE REMAIN COMMITTED TO BUILDING ON OUR LEADERSHIP IN THE METAL 3D PRINTING SECTOR AND CONTINUING TO PROVIDE INNOVATIVE PRODUCTS AND SOLUTIONS TO OUR HUNDREDS OF CUSTOMERS ACROSS INDUSTRIES. WE ARE CURRENTLY REVIEWING LEGAL OPTIONS CONCERNING THE INFRINGEMENT ISSUE."
The history between Desktop Metal and Markforged runs deep with both headquartered in Massachusetts. There are also professional links between the companies' employees.
According to Desktop Metal's claims, the intellectual property (IP) relating to the company's patented release layer for 3D printed parts was allegedly stolen by a Mr. Matiu Parangi. Mr. Parangi worked as a technician at the company in 2016, and is the brother of Abraham Parangi, Director of Technology & Creative at Markforged.
Furthermore, before founding Desktop Metal, Fulop worked as an adviser for Markforged. And so the potential crossovers between the two companies could be deemed "complicated."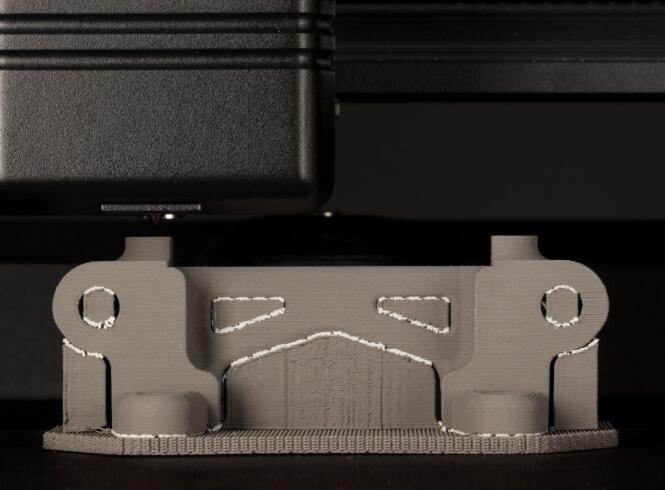 A part 3D printed on a Desktop Metal Studio System with the contentious release layer still intact. Photo via Desktop Metal
During the most recent trial, U.S. District Judge William G. Young denied Desktop Metal's motion for an injunction against Markforged which would have put a temporary halt to delivery of its Metal X 3D printer.
When brought before the jury Markforged called its CEO to give testimony. Desktop Metal declined to call Fulop to the stand.
In light of the initial claims, Mark released a statement categorically denying the accusation, and announced that he would be filing a countersuit against the competitor.
This case is now scheduled to be seen before a jury in September 2018. Fulop and Desktop Metal will be on trial concerning, according to Law360 that has closely followed the case, liability for trade secret misappropriation and breach of corporate opportunity.
Source:3dprintingindustry