Thermwood Builds Massive Metalworking Machine to Increase LSAM Production
Thermwood has designed, fabricated and put into operation the largest machine it has ever built. The metalworking machine, dubbed internally as the M400, weighs 51 Tons (103,000 pounds) and is mounted on a special isolated, double steel reinforced concrete pad. It has a 15 foot wide, 35 foot long floor level steel table that by itself weighs 21,000 pounds.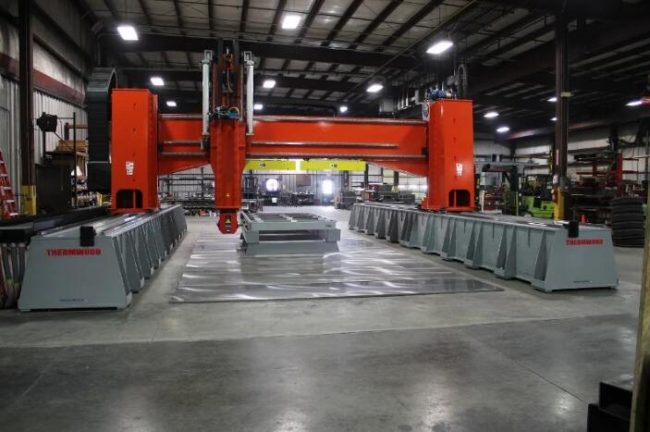 Image via Thermwood
The massive steel gantry, mounted on parallel walls, moves on four steel rails. It also has a unique feature in that it can be moved up and down by four feet. The Z Axis, mounted on the gantry, has an additional 4 feet of servo travel so that, it is possible to machine parts up to eight foot tall. Moving the entire gantry instead of using an eight foot Z axis results in reduced overhang and significantly higher rigidity and higher quality machined surfaces.
The five axis liquid cooled metalworking head can generate up to 40 HP at speeds up to 20,000 RPM. The Live Load, which is the parts of the machine that move under servo control, weighs 18 Tons, (36,000 pounds).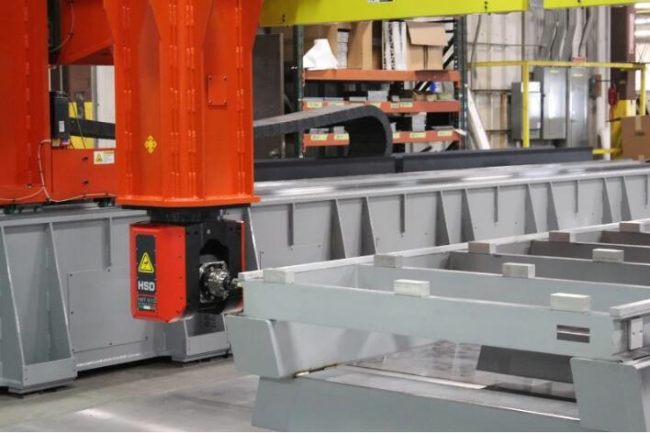 Image via Thermwood
The machine is controlled by Thermwood's Quad Core SuperControl, the same Thermwood designed and built CNC control used on its CNC routers and LSAM systems. This machine is, by far, the largest and heaviest machine built by Thermwood to date and is intended for its own internal production use.
Thermwood Builds Massive Metalworking Machine to Increase LSAM Production
Thermwood has no plans to offer this type of machine for sale, but instead has found that its own increasing demand for large part machining, especially to support growing demand for its LSAM, large scale additive manufacturing machines, required this extraordinary effort. Although the design concept has been in the works for several years, it required about eight months to complete the project and place the machine into production.
Source: Thermwood