INTAMSYS Launches Industrial 3D Printing Global Competition with Over $10,000 Cash and Prizes
INTAMSYS announced that the company is launching the company's first Industrial 3D Printing Global Competition with this year's theme focuses on "Jigs and Fixtures".
The competition aims to identify and reward participants who best exemplify the use of additive manufacturing solutions in jigs and fixtures to achieve cost and lead time savings in manufacturing. The competition is open to all companies and organizations worldwide that 3D print jigs and fixtures. Entries are accepted until 31st August 2018.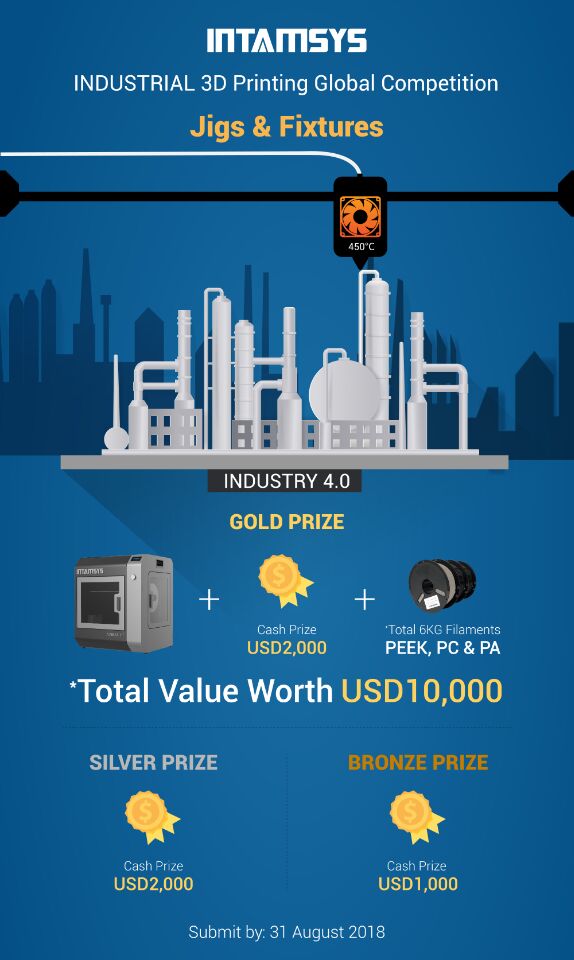 "During our business visits in the USA, Europe and China, we've learned first-hand from our customers and partners that 3D printed jigs and fixtures in polycarbonate, nylon and PEEK have significantly improved lead time, worker safety and costs on their production floors." said Chun Pin Lim, Marketing Director of INTAMSYS.
Three winners will be announced on 14th September 2018. The second runner-up will receive USD 1,000, the first runner-up will get USD 2,000, and the winner of the INTAMSYS Industrial 3D Printing Global Competition will be awarded the grand prize worth USD 10,000 comprises of a unit of FUNMAT HT 3D Printer, cash prize of USD 2,000 and 2 kg each of INTAMSYS PEEK, Polycarbonate and Nylon filaments.
Visit https://www.intamsys.com/competition/ to learn more or participate in the competition.
About INTAMSYS
INTAMSYS (abbreviation of INTelligent Additive Manufacturing SYStems) specializes in producing reliable industrial-grade 3D printers with excellent multiple industrial materials capability. The company's FUNMAT HT and FUNMAT PRO HT 3D printers are capable of 3D printing more than 20 functional materials due to their state-of-the-art thermal technologies on the active heated chamber, high temperature nozzle and heated build plate. The six high-performance materials supported are PEEK, PEKK, ULTEMTM 9085, ULTEMTM 1010, PPSU and PSU. The industry-leading capability of the FUNMAT PRO and FUNMAT PRO HT is the unique full-size 3d printing solutions for the 3 most widely used engineering-grade thermoplastics at industrial settings – polycarbonate (PC), ABS and nylon.
Headquartered in Shanghai, INTAMSYS operates a number of manufacturing and research facilities, and is committed to the highest manufacturing design and quality standards. Internationally, INTAMSYS partners with industry leaders to deliver cutting-edge 3D printing solutions that are optimized for the specific needs of the industries and organizations. Today, INTAMSYS 3D printers are trusted globally by industry leaders like Honeywell, Jabil, Bosch, FLEX, Sabic, UK Atomic Energy Authority, TE Connectivity, Stanford University, Tsinghua University and many others.