Metal 3D Printing Comes to Mayo's Engineering Division

 Lessons learned in installing additive manufacturing devices in a hospital
Patient care is sometimes just as much about engineered devices or implants as it is about specialized surgical care or drug therapy. The Mayo Clinic, the world-renowned specialty care facility, not only has doctors, nurses, and clinicians with the skills and willingness to handle tough cases. There is also a staff trained, skilled, and ready to build one-of-a-kind medical devices and laboratory instruments.
The Division of Engineering includes about 65 mechanical, electrical, and software engineers along with dedicated project managers, and even a specialty glass blower. It produces devices that span the care spectrum from benchtop research to patient bedside. The devices they make are at the forefront of patient care, including deep brain stimulation, biosensor development, tissue engineering, organ-assist devices and surgical instruments. A machine shop makes physical parts using CNC and manual machining, sheet metal forming machines and laser or water jet cutting.
Now, seeing the advantages of 3D printing in metal, the division is adding a specialty titanium unit for its unique devices. "It augments what we have been doing for decades [in plastic]," said Sean McEligot, MHA, director, additive manufacturing facility, Division of Engineering at the Mayo Clinic.

 Devices and Implants, Today and the Future
A typical use for 3D printing is for quick prototyping. It is also ideal for complex parts that are difficult to machine. This specialty one of a kind or low-volume production is unique to medicine and "aligns with 3D printing," said McEligot. "3D printing is already an extension of what we do."
One of the more complex things made for medicine are orthopedic inserts, such as knee joint replacements, that are today provided to Mayo by outside suppliers. The Division of Engineering will work with surgeons to develop their unique ideas, then use whatever fabrication method makes sense to create prototypes for evaluation and testing, including 3D printing. These intermediate devices help develop a surgeon's ideas, and are then used to test the devices, such as on cadavers.
Once a surgeon is satisfied that their concept is workable it moves through Mayo Clinic Ventures, Mayo's licensing group. Ventures finds a medical manufacturer to bring the device through the FDA approval process and produce it in volume. "That makes it possible for surgeons to go out and buy what they invented," said McEligot. That device may not exactly mirror the working prototype the Mayo surgeon created, since it is up to the end-manufacturer to produce a product that is both FDA certified and profitable to make and sell. For producing low volume or even "units of one," having its own metal printer will advance Mayo's ability to provide quality care.
3D printing using plastic is a natural fit for many medical devices, even those not used in direct patient care. The division has used its own plastic printers for many years. Metal is a different story. In the past, if McEligot's group needed 3D printing in metal, they had to go outside to a service bureau. However, the demand for metal parts grew such that by mid-2016 or so it was time to explore installing a device in its own facilities.
An opportunity for obtaining a high-end metal 3D printer (EOS M290) and a microscale printer (Markforged Mark Two) presented itself from the Grainger Foundation. Mayo solicited a grant in July 2017, and the award of the funds for the printers were announced in July 2018. McEligot and his team spent 2018 selecting the printer and requesting space to house it. In 2019, Mayo purchased the printer and remodeled the space to accept it. Construction was completed in December 2019 and the Clinic received the printer and all of the post-processing equipment in January 2020.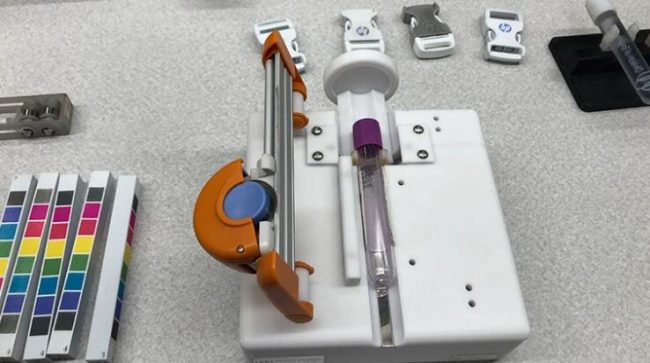 Not all devices made from 3D printers are used in patients. Mayo solicited thousands of specimen samples for a study and needed to remove the labels from the test tubes, which proved to be tedious to the point of injury for staff. The Division of Engineering created a unique label-remover using its engineering grade plastic 3D printers.
The Division of Engineering now boasts the following 3D printers:
Formlabs Form 3B, a Stereolithography system that prints biocompatible resin-based materials.
Markforged Mark Two, that prints composite parts with carbon fiber reinforcement, it is a desktop printer that uses materials like carbon fiber, fiberglass and Kevlar.
Stratasys F370, that uses Fused Deposition Modeling to print plastic parts.
Stratasys Fortus 450mc, uses Fused Deposition Modeling to build parts for more demanding applications.
HP Jet Fusion 580 Color, able to produce functional parts with Nylon 12 in multiple colors.
EOS M290, that uses Direct Metal Laser Sintering to produce parts made of titanium, Ti 6Al4VELI (Extra low interstitial).
"There are many applications where plastic simply is not good enough, now we will be able to print things in metal," McEligot said. That is true both in surgery and in the laboratory. He was also quick to stress that if a part is easier to machine conventionally that is how it will be made. "Geometrically complex parts we will 3D print," he said.

 Advice to Others
"Anybody in our situation would go out and learn as much as they could, which we did," he said. "We visited a couple of different users as well as visiting the suppliers. We went to conferences, such as RAPID and the Additive Manufacturers Users Group Meeting." He also stressed the need for a selection and planning team composed of engineers, financial managers, and facilities designers as well as machinists to understand what is needed to deliver the whole facility.
A key point he stressed is that the cost of the mac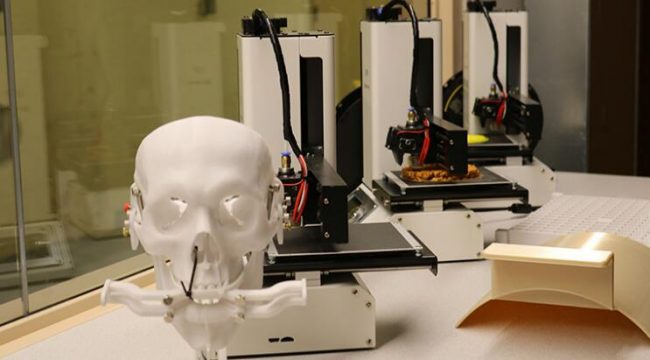 These small printers are Monoprice MP Select Mini 3D V2 printers, used primarily for education and outreach, such as through a grant for STEM Education from Regenerative Minnesota.
hine, which can range from $750,000 to $1 million for a high-end metal printer, is just the starting point. "There is much other equipment and expertise that you need," he said, as well as the cost of housing the machines in a facility that local authorities would approve. This other piece might be just as expensive as the cost of the machine.
For example, his team learned that the safety requirements of the facility is defined by the local building inspector and fire department. That meant getting the Rochester, Minn., departments involved in the planning stages so that they would sign off when the facility was finished. "It varies around the country what you have to do. We learned a facility in Colorado had to have fireproof walls and fireproof paint. But we didn't. So you see how it takes research," he said.
He also noted that there is a new Federal ruling on Dust Hazard Assessment. According to McEligot, it is becoming a national standard and requirement for any flammable powders, which titanium powders used in 3D printing qualifies as. "So, we had to hire a consultant to do that Dust Hazard Assessment," he said. Although not particularly flammable as a dust, except in a precise mix of air and powder, it is a inhalation risk and irritates the skin. "There is an awful lot of work that goes into making sure you don't have airborne dust, or if you do, there is no potential source of ignition," he said. "We even have special vacuum cleaners that are designed for dealing with flammable and explosive substances. They mitigate the risk with grounding and dumps the Ti powder into water so that it is no longer a risk," he said.

 Future of 3D Printing, Metal or Otherwise
The future for 3D printing at the Mayo Clinic is for the facility to—eventually—produce its own patient specific implants, according to McEligot, so that going outside for the most specific, one-of-a-kind implants will no longer be needed. "Our long term goal is to partner with the 3D Anatomic Modeling Laboratory to provide patient specific implants for Mayo clinic patients," he said, referring to the facility Mayo is also building to help produce 3D printed models for patient care and surgical planning (see page 59.)
An intermediate step may be to develop these novel implants that will ultimately get licensed. "Having the 3D titanium printer and taking it farther into practice means we will be better prove what they have is of benefit, from cadaver trials to clinical trials, and support Mayo clinic doctors on novel implants they want to get out into practice," he said.
Source: sme