3D Printed Orthopedic Implants in China and the Challenges in Commercialization, 3D HEALS Expert's Corner
3D printing technology has technical advantages in the manufacture of porous structures, topologically optimized structures, and gradient materials. At the same time, compared with traditional manufacturing techniques, 3D printing technology is easier to achieve mass customization of implants. These advantages have brought potential to 3D printing technology in the manufacture of orthopedic implants. The orthopedic implant manufacturing industry is one of the earliest fields of industrial application of 3D printing technology.
More than 100 3D printing related medical devices have received FDA medical device registration certificates by the end of 2017, including a variety of 3D printed spinal implants and joint implants made by different brands.
In contrast, Chinese orthopedic medical device manufacturers have made slow progress in the commercial conversion of 3D printed orthopedic implants. As of 2018, China has three 3D printed orthopedic implant products that have obtained medical device registration certificates, including: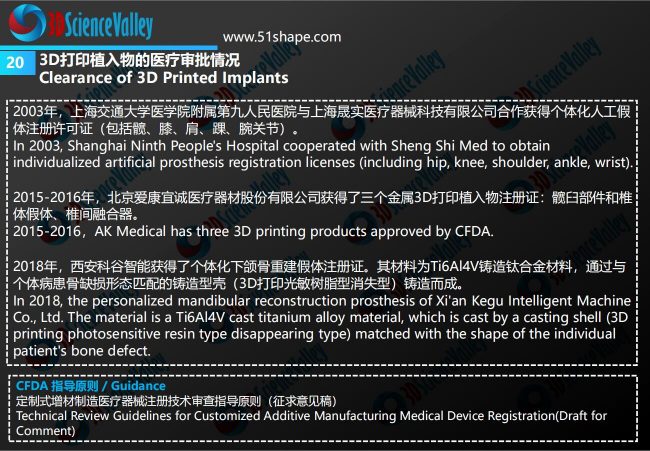 – In 2003, Shanghai Ninth People's Hospital cooperated with Sheng Shi Med to obtain individualized artificial prosthesis registration licenses (including hip, knee, shoulder, ankle, wrist).
– 2015-2016,AK Medical has three 3D printing products approved by CFDA.
– In 2018, the personalized mandibular reconstruction prosthesis of Xi'an Kegu Intelligent Machine Co., Ltd was approved. The material used is a Ti6Al4V cast titanium alloy material, which is cast by a casting shell (3D printing photosensitive resin type disappearing type) matched with the shape of the individual patient's bone defect.
In contrast to the commercialization of 3D printed implants, the application of 3D printed orthopedic implants in the clinical treatment of orthopedics in China is considered at the advanced level internationally. Several lower-level hospitals in China have applied 3D printed implants in clinical practice for many years. For example, the Ninth People's Hospital affiliated to Shanghai Jiaotong University has used metal 3D printed personalized prosthesis for pelvic tumor resection and bone reconstruction in 2014. Since then, the hospital has applied 3D printed personalized metal implants in complex orthopedic operations such as wrist joints, ankle joints, sternum, and hip joints. In addition, Peking University Third Hospital, Air Force Military Medical University Tangdu Hospital, Guangdong Provincial Orthopaedic Hospital, and other lower level hospitals have also applied 3D printed orthopedic implants in the treatment of complex orthopedic diseases.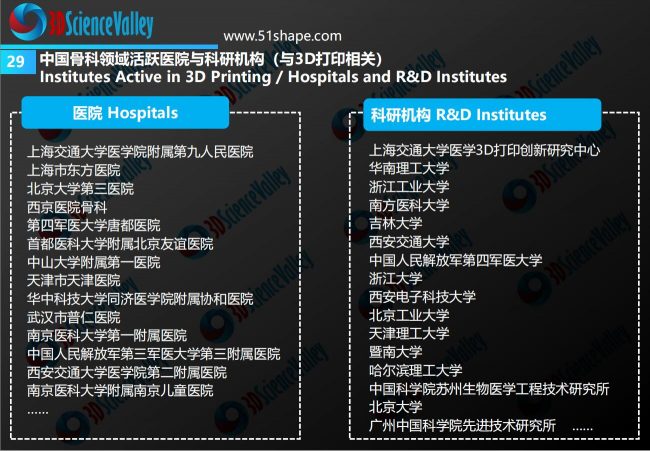 Therefore, it is evident that there is a diversified demand for 3D printed implants in clinical practice, especially in the field of complex disease repair and treatment such as bone tumor treatment, which has a solid demand for 3D printing technology. So, in this case, what is the reason for the slow progress of commercialization of 3D printed implants in China?
Factors affecting commercialization of 3D printed orthopedic implants can be summarized as follows :

Technical factors
Management factors
Acceptance factors
Policy support
Talen & Education
Combined with China's specific situation, although 3D printed orthopedic implants have been applied in some treatments at the clinical demand side, 3D printing technology has not become a technology widely accepted by domestic doctors. This is one of the challenges for commercialization.
From the enterprise perspective, whether it is lack of talents in additive manufacturing, lack of talents with combined medical science and rehabilitation engineering backgrounds, lack of appropriate printing materials or equipment, or lack of post-processing technology, there is subsequently a lack of readiness for large-scale implant manufacturing. In terms of personalized implants, there is a definite need for 3D printing technology. However, because of the limited profit, the powerful traditional orthopedic medical devices manufacturers do not have enough motivation to enter this space, and medical device startups that survive with 3D printing technology also have the challenge of realizing profitability.
In terms of medical device laws and regulations, the setting of the Chinese domestic laws and regulations is relatively lagging behind, and it is also one of the challenges faced by the commercialization of 3D printed orthopedic implants. However, the positive side is that relevant regulations and standards are being improved. For example, CFDA has issued the "Guidelines for the Review of Technical Registration for Customized Additive Manufacturing Medical Devices (Draft for Comment)".
Despite the challenges, the pioneers in China's 3D printing industry are still driving the development of 3D printed orthopedic implant technology in areas such as policy and regulation, industry standards, clinical applications, and product development. According to the market observation of 3D Science Valley, a number of new 3D printed customized implants are currently undergoing commercialization. These enterprises are mainly concentrated in East China and Central China. It is expected that these implants will get registered around 2020.
Source: 3DHEALS