GKN Powder Metallurgy Business Forecast 3D Launches Critical PPE Products To Battle Covid-19
April 7, 2020, a GKN Powder Metallurgy company, announced its production of readily-available protective equipment and testing supplies to aid in the fight against COVID-19. These parts fall under the CISA guidelines for manufacturing and are ready to print and ship immediately for critical applications.
The additive manufacturing company partnered with HP and medical device suppliers to select specific FDA-approved and/or NIH-endorsed designs for face shields, stopgap masks, nasopharyngeal swabs, and other critical PPE products for immediate production and shipping. This will accelerate the availability of these essential products to the healthcare industry. FORECAST 3D is currently printing over 3,000 of these medical parts each day.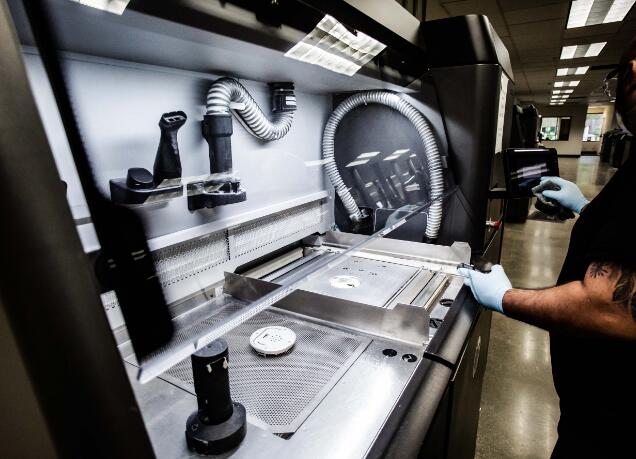 Most medical supply equipment will be produced on the HP Multi Jet Fusion printers in Carlsbad, CA. Image via GKN.
Specific quick-ship offerings include:
Face Shield with brim, which includes 1 headband, 3 clear PET lenses and packaging
Face Shield without brim, which includes 1 headband, 3 clear PET lenses and packaging
Stopgap Masks, which include the mask and cover
Nasopharyngeal Swabs for COVID-19 testing
"We are proud to be doing our part to help provide critical supplies to the healthcare workers on the front lines of the COVID-19 battle," said Ken Burns, Commercial Vice President at FORECAST 3D. "One of the benefits of additive manufacturing is its ability to adapt to changing product needs. Once we had FDA-approved or NIH-endorsed designs, we accelerated production on these much-needed supplies."
All products are being produced primarily on the HP Multi Jet Fusion (MJF) machines in Carlsbad, CA. FORECAST 3D plans to add additional lines as approved designs become available.
Source: GKN