Open Ecosystem: One of the Last Hurdles to 3D Printing at Scale
One by one, advancements in technology are stripping away barriers to the widespread adoption of additive manufacturing technology at scale. Today's 3D printers are faster, more reliable, offer larger build areas, support a wider range of materials and are getting more affordable. As such, the number of manufacturers using 3D printers for limited or full-scale production part runs (as well as the number of 3D printer manufacturers) is growing exponentially every year. Multiple surveys document the enthusiasm decision makers have for additive manufacturing at scale, but an obstacle still holds back many companies from committing: fear of vendor lock-in.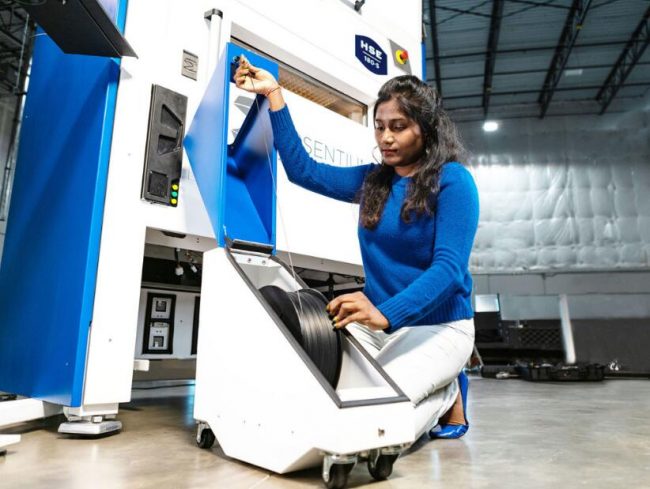 Image via Essentium
The industrial 3D printing market traditionally has been dominated by closed ecosystems in which customers are locked into their chosen vendor's proprietary version of the technology for the life of the printer. Most 3D printer manufacturers, having secured patents for their respective hardware, processes and materials, require customers to use only their brand of materials approved for use with their machines – and usually at premium prices. The benefit to the 3D printer maker is profitable long-term supply revenue streams from every account. The benefit to the customer is knowing the precise chemistry and quality of the materials being used for consistently optimal results. But for customers in the production space, that price is not acceptable. Essentium believes there is a better way.
Today, many large scale manufacturing facilities are demanding 3D solutions built on open ecosystems to reduce costs, increase flexibility and allow use of materials of their choosing. Typically, open-sourced materials are less expensive than proprietary filaments, and the high cost of materials is one of the factors inhibiting industry growth. Also, customers want the freedom to tweak software rather than reengineer existing processes or work around the limitations of a closed system. And what happens if the vendor goes out of business or no longer supports application or material? A significant capital investment would be required to change equipment and relationships.
Closed 3D printing ecosystems, while acceptable for low-volume production, prototyping, customized orthotic and prosthetic fabrication, and some consumer uses, will continue to be a hindrance at production-grade levels. In order to be competitive, large manufacturers require open ecosystems for differentiation, cost and scale. Large manufacturers don't want to be told how to produce their own products, they want tools that give them freedom of design and open access to materials. Essentium is making that happen.
Essentium is a 3D printer manufacturer working to change perceptions and remove those barriers by creating an open ecosystem comprised of its HSE 3D printing platform. An open 3D printing ecosystem will see more partnerships focused on giving customers greater control over their innovations, more choices in materials, and industrial-scale production at ground-breaking economics, clearing the way for 3D printing at scale.
Essentium believes that if 3D printing is to become a serious contender as an industrial process for end-use products, an open market focused on developing new materials and better and faster machines is the only way for manufacturers to unlock new applications and new business opportunities. As proof, market demand for Essentium's open 3D printing ecosystem, developed in collaboration with multinational chemical company BASF and 3D software developer Materialise NV, is a clear indication that its open ecosystem approach is addressing unmet needs in the industrial additive manufacturing market.
Essentium, Inc. provides industrial 3D printing solutions that are disrupting traditional manufacturing processes by bringing product strength and production speed together, at scale, with a no-compromise engineering material set. Essentium manufactures and delivers innovative industrial 3D printers and materials enabling the world's top manufacturers to bridge the gap between 3D printing and machining to embrace the future of additive manufacturing.
Source:  Essentium