CRP Technology and Windform® Materials for 3D Printing are Driving AM Revolution 
According to the most influent manufacture experts, it is not easy to predict what is ahead for the following years especially in the Additive Manufacturing sector, but forecasts – already for 2020 – are positive. Some of the most advanced industry – as Automotive – are experiencing a renaissance not seen before, which is driving engineers to find new, innovative, cost-effective solutions using professional 3D Printing, mainly.
Italy-based CRP Technology 3D Printing company has been contributed – and it still does – to the development of a renovated mindset, by innovating the AM field faster than anyone else.
This is not surprising: CRP Technology's know-how and best practices stem from the entrepreneurial vision of Cevolini family, also owner of CRP Meccanica company, which is since 1970 a pioneer in the world of international Motorsports and a hub of excellence for its state-of-the-art technologies (Subtractive Manufacturing).
In fact CRP Technology has been among the first to import Additive Manufacturing technology to Europe (in the mid-'90s of Twentieth Century) and has developed the Windform® TOP-LINE family of composite materials for Laser Sintering technology and recently the Windform® P-LINE range of materials dedicated to high speed production-grade 3D Printing technology.
Windform® TOP-LINE gathers some of the international market's most high-performance Carbon- or Glass- composite Laser Sintering materials, in use for more than 25 years in the Aerospace, UAV, Defense, Avionics and the most demanding sectors (Carbon reinforced Windform® materials: Windform® XT 2.0, Windform® SP, Windform® FR1; Glass reinforced Windform® materials: Windform® GT, Windform® LX 3.0, Windform® FR2; Glass and Aluminium reinforced Windform® GF; plus thermoplastic elastomer Windform® RL, polyamide based material Windform® FX Black).
Therefore it is unquestionable that CRP Technology has been changing the rules of Additive Manufacturing, smashing records and setting models nowadays that apply to the 3D Printing technology with polyamide materials.
A clear sign of this continued performance is Windform® FR2, new cutting-edge composite material for Laser Sintering technology from TOP-LINE family, which is flame-retardant and Glass fiber reinforced, with significant mechanical properties.
Windform® FR2 has been launched recently, less than six months after Windform® FR1, the first Carbon fiber-reinforced and flame-retardant material for professional 3D Printing on the market.
"CRP Technology constantly produces technological breakthroughs and highest level solutions – commented Engineer Franco Cevolini, VP and CTO at CRP Technology – . Flame retardants are not new to the 3D Printing market but flame retardant materials which were also reinforced and presenting significant mechanical properties, lacked.
We at CRP Technology were the first to fill this void; we have created not only the first material of its kind, but now two. By creating these materials, we are able to anticipate, intercept and satisfy the requests of the most demanding and innovative industrial sectors."
Not only the new-born Windform® FR2 material, but all the Windform® materials allow to manufacture functional prototypes as well as finished, high performance functional parts.
"Windform® materials from the TOP-LINE range of composite materials – stated Franco Cevolini – have some unique properties. Let's consider, for example, Windform® XT 2.0: resistance to UV, low outgassing and its light weight versus strength are some of the key characteristics that allow for it to replace a traditional material like Aluminium in some applications."
The freedom of Additive Manufacturing allows the creation of more complex geometry, especially in the Aerospace field.
Recently CRP USA, the U.S.-based 3D printing company partnered with CRP Technology, contributed to mark a new milestone in the small satellites arena with TuPOD.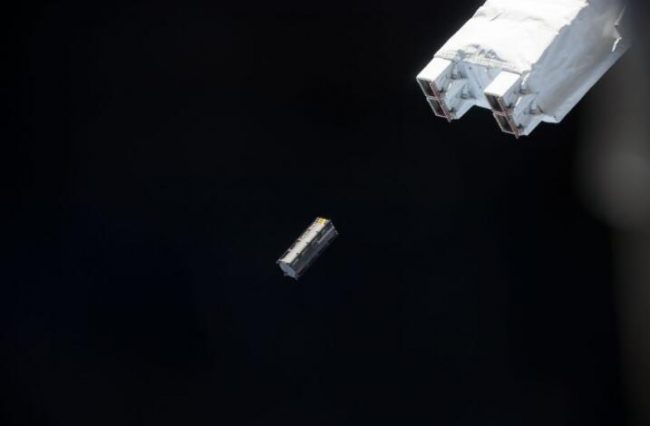 TuPOD deployed © JAXA NASA
TuPOD is the innovative CubeSat manufactured by CRP USA via Laser Sintering in Windform® XT 2.0 for the project carried out by GAUSS, Teton Aerospace, Moreheard State University: From a distance the TuPOD looks relatively simple, but upon closer examination there are some areas in design that would have been more difficult to accomplish in a traditional manufacturing method. As innovative system, TuPOD deployed the first TubeSats into orbit acting as both a satellite and release platform. Plus, TuPOD has been the first complete 3D Printed satellite launched from the International Space Station (ISS).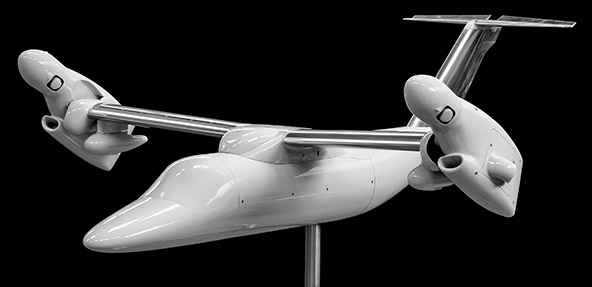 Tiltrotor-AW609. Courtesy Leonardo HD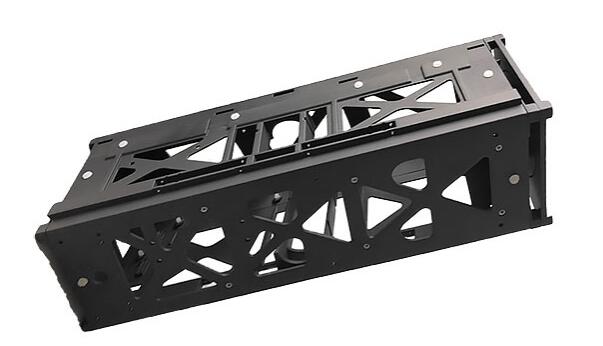 3D Printed 3U CubeSat structure. Courtesy of LISA
The significant performance of Windform® is allowing for new ways to invent and manufacture, while it is proving to be a viable option for innovative design and high-performance features associated with advanced Aerospace applications.
"Leveraging 3D Printing and Windform® composite materials properly has been a key that our customers in the Space Industry have quickly adapted – commented Stewart Davis, Director of Operations at CRP USA -. Whether it is entire structures or smaller components we have been amazed at the creativity. The time to produce the parts is often dramatically less than traditional methods."
Another concrete use of Windform® TOP-LINE composite materials to Aerospace sector, originates from the collaboration between CRP Technology and the Laboratoire InterUniversitaire des Système Atmosphérique (LISA) of Universite Paris-est Creteil (UPEC) on the construction of a nano-satellite flight-ready in low earth orbit that is a 3U CubeSat formfactor.
CRP Technology has manufactured the SmallSat structure via Laser Sintering technology and Windform® XT 2.0 Carbon fiber reinforced composite material.
LISA team, stated, "Thanks to CRP Technology's Laser Sintering technology and Windform® XT 2.0, we obtained very important key advantages such as mass reduction, component integration, outgassing control, thermal expansion, and low surface roughness. We are more than satisfied with selective Laser Sintering technique and consider Windform® XT 2.0 one of the disruptive revolutions in the small satellites arena. We do hope additive manufacturing will be intensively using in Space application."
Progress has been also made in the avionics field: recently Windform® composite materials combined to Laser Sintering technology, has been used to manufacture some external parts of the wind tunnel model 1:8.5 scale for the prototype of the new Leonardo Helicopter Division tiltrotor AW609, for a series of dedicated low speed wind tunnel tests. (Designed, manufactured and assembled by Metaltech S.r.l., supervision of Leonardo HD)
These 3D printed parts highlight the perfect union between advanced 3D printing technology and Windform® high-performance composite materials. Thanks to the Windform® materials, it was possible to complete and test the model in the wind tunnel within a very short time, with excellent results and with high-performing mechanical and aerodynamic properties.
Not only the aerospace and avionics fields. The versatility of Windform® combined with the technology used, allows for near endless possibilities in a wide multiplicity of advanced sectors. Let's consider the Automotive and Motorsport sectors by naming Energica Motor Company, the first Italian manufacturer of supersport electric motorcycles chosen by Dorna as single manufacturer for the FIM Enel MotoE™ World Cup.
CRP Technology's know-how (as CRP Meccanica's) was fundamental for the industrial development of Energica Motor Company since the very first prototypes, and many parts of the Energica motorcycles on the market are still made via Selective Laser Sintering technology using Windform® Carbon- or Glass- fiber filled composite materials.
CRP Technology and CRP Meccanica are also supporting Energica in the development and construction of Energica Ego Corsa race motorcycles for the FIM Enel MotoE™ World Cup.
BOX
During the past year – distinguished by celebrations for the 50th anniversary of the Moon landing – it has been made clear that Space industry was living a revolution by the ever-increasing production and launch of small satellites.
Windform® TOP-LINE family of high-performance composite materials played an important role, as they have passed NASA and European Space Agency (ESA) outgassing screening. This important result makes them suitable for Aerospace applications:
Windform® XT 2.0, Windform® SP both Carbon-composite materials; Windform® LX 3.0, Windform® GT both Glass-composite materials: have been tested in accordance to the ASTM E-595-07 standard, and passed with no issues
Windform® XT 2.0 Carbon-composite material: has been passed ESA screening outgassing tests in accordance with ESA TEC-QTE 7171 (based on ECSS-Q-ST-70-02C); it has been K-rated according to Japan Aerospace Exploration Agency (JAXA) outgassing test.
In addition:
Windform® FR1 : has been rated V-0 according Flammability UL 94; it has passed the FAR 25.853 flammability tests as well as the 45° Bunsen burner test.
Windform® XT 2.0, Windform® SP, Windform® GT, and Windform® LX 3.0: have been passed Flammability UL 94. They have been tested for flammability rating, and successfully obtained HB classification.
Windform® LX 3.0 and Windform® SP: have been subjected to vacuum ultraviolet (VUV) testing and results report: "Windform® SP and Windform® LX 3.0 samples did not show degradation with VUV testing."
Source: MANUFACTURING TOMORROW