Avular Customizes Drones via Materialise's On-Demand Manufacturing
When companies with clear visions work alongside suppliers with flexible services that fit their needs, their collaboration leads to powerful products. An organization could have an incredible, industry-changing solution, but without the proper means to bring that idea to life, it won't lead to the success it may be worthy of. Companies and suppliers that have a cohesive and skillful way of working are able to bring a high-quality product to customers quickly and efficiently. Take, for example, the collaboration between Avular and Materialise.
Avular is a Dutch company that assists customers with designing and developing custom-made mobile robots and their accompanying tools. The team at Avular has had quite some experience working with 3D printing for their products, both as a method for prototyping and manufacturing end-use parts. With additive manufacturing, Avular can get their parts printed quickly, with freedom of design, and in the high-quality materials that they require.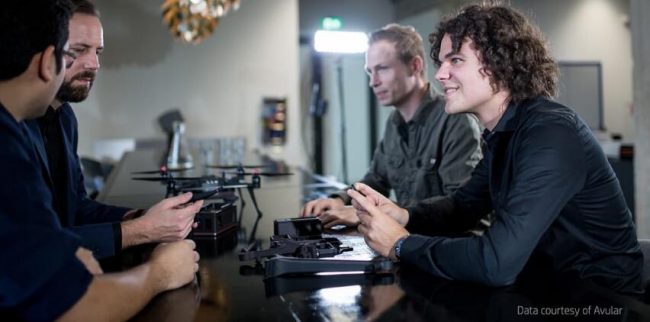 Avular began 3D printing parts for mobile robots and tools through Materialise OnSite in 2014. Image via Materialise
Avular has high standards for 3D-printed parts. Wiring guides, snap-fit mechanisms, and hollow spaces are just a few examples of necessary features that wouldn't be successful with traditional manufacturing methods. It's essential that the parts not only achieve technical requirements and material properties but that the design is also optimized to be as light as possible. Especially when it comes to airborne robotics, the lighter they are, the longer they can remain mobile.
Another major reason for Avular to opt for AM and Materialise is the customization and quick lead time. Customization is the core of Avular's products. Their process begins with a base design that is altered according to each customer's unique needs. With regular adaptations like these, it would be unrealistic to order parts for each customer's unique build via a method other than AM. And, quite often, these unique parts not only need to be custom-built for customers, they also need to undergo iteration rounds, made much simpler with 3D printing.
"We don't need to order our parts in high quantities," Albert Maas, CEO and Founder of Avular, explains. "We have customized designs and prints based on the customer's specific needs. We used to make a very specific drone with molds and then you have lead times for up to two months. Then you test the prototype and it takes another two months. Now we have this within two to three weeks, and within four months we're up and running inside the market with an end solution and this gives us the competitive edge."
Ordering custom 3D-printed parts is one thing, but ordering these parts at any time and from anywhere is another. Avular has seen great benefits from ordering their parts via Materialise OnSite, Materialise's 24/7 online ordering platform: "We upload a design onto the Materialise portal and within weeks we have the part. It's all available through the portal of Materialise and through the process of HP printing technology." Whenever Avular have a part designed and ready to be made, they can immediately upload it through OnSite to begin the printing process right away.
Erik de Zeeuw, Project Engineering Manager at Materialise, said, "Avular found their way to our online ordering system, which is available 24/7, so it allowed them to order their parts whenever they felt ready and to iterate many times."
Avular also turned to Materialise for AM assistance with their project to ensure their high standards were met when it came to the technology and material used. Their team knew that in order to achieve the condition they needed, they required parts made in the HP 3D High Reusability (HR) 1 PA 12 material via HP's Multi Jet Fusion technology. This material is ideal when short lead times, low porosity, and excellent surface quality are requirements, as is the case for producing these robot parts. Avular's trust in Materialise's use of this technology grew further when Materialise joined the HP Digital Manufacturing Network last year.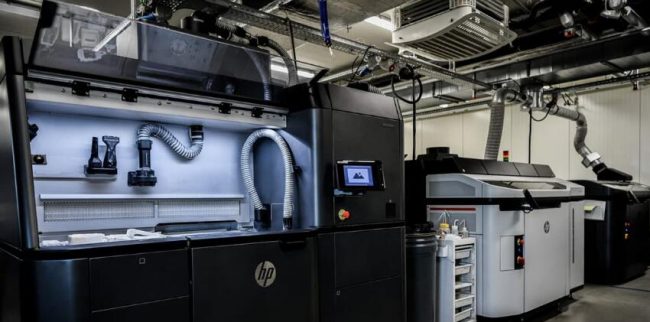 As a member of HP's Digital Manufacturing Network, Materialise is recognized for 3D production excellence. Image via Materialise
HP's goal with the Digital Manufacturing Network is to bring like-minded companies together to share experiences and ideas. As a company involved in the beta testing of HP's Multi Jet Fusion and the creation of the build processor for HP MJF, Materialise was a perfect addition to this group of accomplished organizations.
A group such as this working together has great potential to develop incredible new or improved creations and solutions — such as the implementation of serial manufacturing via 3D printing. Pieter Vos, Marketing Director at Materialise Manufacturing, said of the HP Digital Manufacturing Network, "Any third party that is scoring us on topics such as part quality, quality control, scalability, and process know-how gives us proof in the market that we are ready to take on serial manufacturing. The network has the value of signaling to our customers that another party has qualified us and recognized the excellence of our 3D production and quality processes." This collaboration between three inventive companies – Materialise, HP, and Avular – is proof that powerful developments are created when forward-thinking minds join together.
HP Jet Fusion 3D Printing Solutions using HP 3D High Reusability PA 12 provide up to 80% powder reusability ratio, producing functional parts batch after batch. For testing, material is aged in real printing conditions and powder is tracked by generations (worst case for reusability). Parts are then made from each generation and tested for mechanical properties and accuracy.
Source: Materialise