Admatec Introduces High-Volume Ceramic And Metal 3D Printer for Production of Large Scale Parts
ADMATEC is pleased to introduce the Admaflex 300 to the market, the world's first flexible and open system for high volume ceramic and metal 3D printed parts. This 3D printer is designed to meet the production demands of its customers. The Admaflex 300 is fulfilling the need for an increased build platform to produce large size alumina parts, and also expanding the volume capabilities for printing silica cores and shells dedicated to the investment casting industry.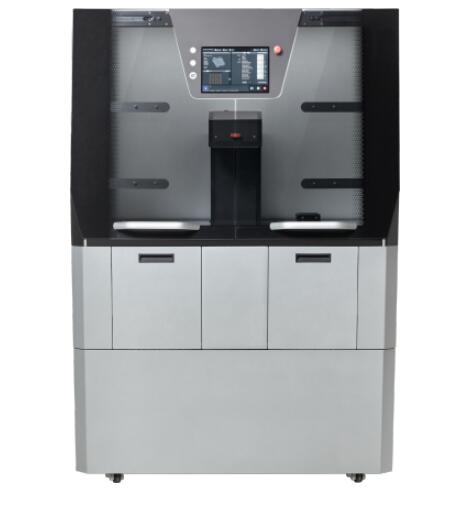 Image via Admatec 
The Admaflex 300 is designed with openness and flexibility in mind, enabling the user to expand their printer for 3D printing metal parts on the same machine. This modular concept also provides the opportunity for the customer to develop their own material, set up a customized printing process and have full control over it. Future developments such as multi-material printing can be accommodated thanks to the modularity of its concept, as the printer is capable of handling feedstocks with a broad range of viscosities.
"Our customers' feedback led to the development of an increased build platform size, enabling the investment casting industry, among others, to expand their ceramic 3D printing capabilities" — Jaco Saurwalt, COO at Admatec
Another added beneficial feature is the integrated in-process quality monitoring for full traceability of the printing process. These software and hardware components monitor temperature, humidity and foil usage. It also has a dual-camera system for real-time video capture, and time-lapse recording. This allows the user, for example, to partially stop the printing of a defected product to allow the successful finalization of the remaining parts.
Admatec applies DLP technology to their 3D printers, proven to be the best solution for full dense ceramic and metal products with fine features and smooth surfaces. Moreover, the Admaflex 300 is equipped with a patented automated feedstock system that is highly reliable, enabling continuous high throughput and therefore high volume production. At the same time, with the Admaflex Technology only a small amount of slurry is sufficient to start printing, making the printer ideal for development and precious materials too.
The Admaflex 300 will be available for pre-order starting from Tuesday 19th November, where it will be showcased at Frankfurt during Formnext in hall 11 at the Admatec booth, A29. On Thursday, 21st November everyone is also invited to the "300 happy hour" at 4:00 PM to celebrate the launch of the Admaflex 300 with Admatec. People that are interested in a demo of the machine after the Formnext are welcome to contact Admatec and schedule a visit to their showroom in the Netherlands.
Source: Admatec