GF Machining Solutions and 3D Systems Bring An Optimized, State-of-The-Art Metal AM Workflow to Manufacturers
Identifying a critical part to be produced with metal AM is only the beginning—and many manufacturers feel left alone to navigate the complexity of setting up a metal AM production unit for factory. Well aware that a project's cost-effectiveness depends on the entire workflow from design to the final, Quality-approved parts, GF Machining Solutions and 3D Systems (NYSE: DDD) bring their combined and legendary technical legacy to the customer's doorstep. At Formnext 2019, the two manufacturing technology powerhouses bring the metal AM factor to life with a streamlined workflow, including industry-leading 3D printers, wire-cutting Electrical Discharge Machining (EDM) and high speed milling machine, advanced 3DXpert® software, services and thoroughly tested materials.

 One partner, every step of the way
Bringing together their process expertise and multi-technology know-how, GF Machining Solutions and 3D Systems will take the stage at Formnext 2019 to demonstrate how they make it easy for manufacturers to integrate metal AM into their operations. At the same time, they maintain their part integrity, profit from a fast separation process and low running costs, and face the future with confidence that they have a scalable, Automation-ready solution. From expert consultancy and identification of critical parts all the way through to a full and optimized metal AM workflow—part design, preparation, printing and inspection to post-processing and separating the AM part from the build platform—GF Machining Solutions and 3D Systems help manufacturers overcome the technical and economic challenges of 3D printing.
To illustrate the benefits of their optimized metal AM workflow, GF Machining Solutions and 3D Systems will highlight two intriguing metal AM parts: a spinal fusion cage for orthopedic surgery and a lightweight bracket used in the aerospace industry for satellite technology. Formnext 2019 visitors interested in taking a deeper dive into the optimized metal AM workflow can register for exclusive guided booth tours at www.gfms.com/events/formnext-2019.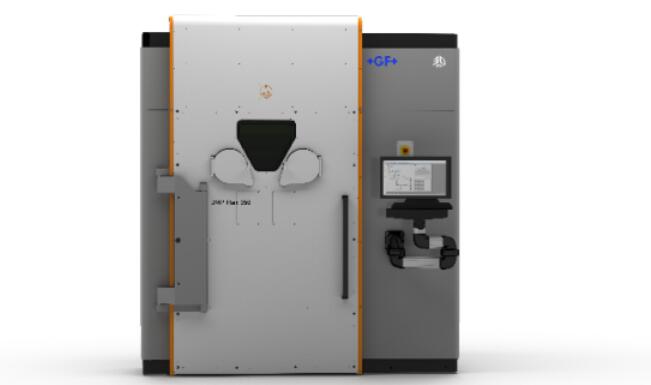 Image via GF
A robust, flexible metal 3D printing solution for 24/7 parts production of even the most challenging alloys, GF Machining Solutions' and 3D Systems' new DMP Flex 350 establishes the preconditions for quality and productivity with its integrated 3DXpert® software, thoroughly qualified LaserForm® materials and expert application support.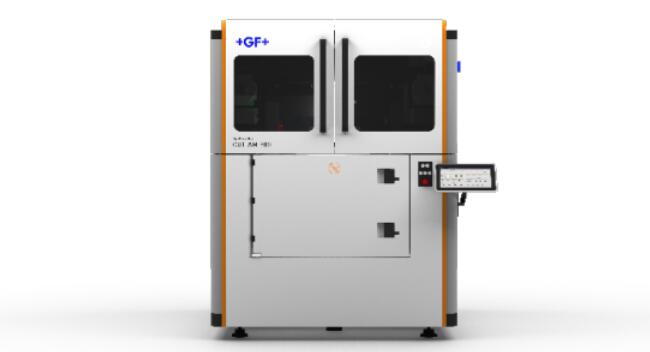 Image via GF
GF Machining Solutions' new AgieCharmilles CUT AM 500 plays a key role in the optimized AM process, offering a fast way of separating 3D-printed metal parts from the build plate while preserving part integrity.
Large 3D printer DMP Factory 500 with unique modularity concept for increased productivity. The metal printing specialists developed strategies to minimize splits by enabling specific print heads to be assigned to specific zones. One laser can also reach the entire platform and ensure the best quality for large part contours.
High-speed Milling machine Mikron HSM 200U LP for the flexible post-processing process using five axes. Manufacturers profit from the ideal combination of linear, rotating and swiveling axes and shorten their production time with direct Milling in one clamping operation as a substitute for other process steps.
Metal AM technology has already been adopted as standard technology in the production of lightweight brackets for satellites in the aerospace industry. At Formnext 2019, GF Machining Solutions' and 3D Systems' experts will walk visitors through its optimized workflow for this part.
Source: GF