Focus on Additive Mass Production
voxeljet AG (NYSE: VJET) and Evonik Industries— a multi-billion global leader in specialty chemicals, enter into a technology partnership to develop methods for series production of plastic components using 3D printing
voxeljet AG (NYSE: VJET) (the "Company", or "voxeljet"), a leading OEM and provider of high-speed, large-format 3D printers and on-demand parts services to industrial and commercial customers, today announced a joint research and development partnership with Creavis- the strategic innovation unit of Evonik Industries, to develop methods for series production of plastic components using 3D printing.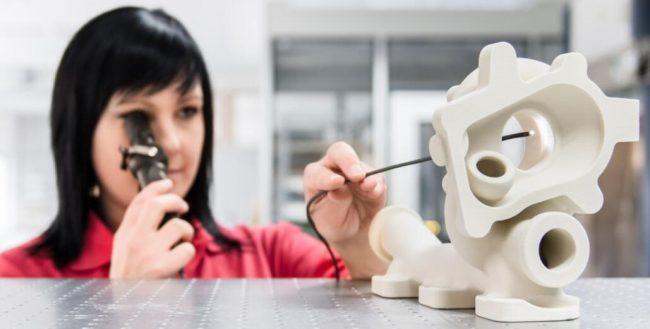 News Highlights
The research project with Evonik is cenrered around the series production of plastic components using PMMA and complementary binders via binder-jetting 3D printing
The new technology will be presented by Evonik and voxeljet for the first time at the formnext trade fair in Frankfurt, Germany from November 19 to 22, 2019

 Successful Partership
Evonik and voxeljet have a long-standing cooperation, particularly in the development of polymer powders for voxeljet's binder jetting processes. In order to expand the portfolio of materials for 3D printing of plastic parts, the two companies have decided to intensify their cooperation.
"In Evonik, we have found an excellent partner who provides us with customized material systems for our 3D printing technology. This research collaboration is intended to enhance our efforts in the 3D printing of polymers for series production," says Dr. Ingo Ederer, CEO of voxeljet.
The joint research project combines Evonik's many years of experience in polymer powders for additive manufacturing technologies with voxeljet's 20 years of expertise in industrial 3D printing.
"voxeljet is one of the leading manufacturers of large-format, high-speed 3D printers. Together, we aim to develop new powder-binder systems which allow the 3D printing of polymer components with industrial utility", says Prof. Dr. Stefan Buchholz, Managing Director of Evonik Creavis GmbH.

 Formnext
Evonik will provide insights into their research work on binder jetting developments for additive manufacturing at the formnext show, the international exhibition and conference on the next generation of manufacturing technologies in Frankfurt, Germany Hall 12.1, Booth C71, from November 19 to 22, 2019.
voxeljet is presenting a prototype of its new 3D printer VX1000 HSS for series production of functional plastic parts at this year's formnext trade show, Hall 12.1, Booth E59, from November 19 to 22, 2019. The new HSS printer has an effective build volume of 248 liters, which is believed to be six times more than the largest printer of its competitors, which are also using a printhead based 3D printing technology. Once available, this new 3D printer can be used in the mass-production of functional plastic parts for sports equipment, consumer goods, electronics and similar end markets.
Source: Voxeljet