Arevo Raises $25M, Completes World'S Largest Continuous Carbon Fiber Composite AM Facility
Additive manufacturing composites company AREVO has completed the construction of what is reportedly the world's largest continuous carbon fiber composite additive manufacturing facility.
Equipped with 70 of the firm's shipping container-sized Aqua 2 3D printers, the facility will aid AREVO in 3D printing continuous composite parts for bicycles, e-bikes, e-scooters, and other consumer products.
The company has also recently closed a $25 million financing round led by Khosla Ventures and with new participation from venture capital firm Founders Fund.
"After introducing Aqua 2 last year (4x faster than Aqua 1), we focused on producing and operating these systems at scale," said Sonny Vu, CEO of AREVO. "Now with a total of 76 systems cloud connected and operating at our various locations, we have completed our first phase of industrializing.
"NOW, AREVO IS WELL-POSITIONED FOR GROWTH AND CAN HANDLE DEMANDS FOR BOTH THE COMPANY'S OWN CONSUMER PRODUCT BRANDS AS WELL AS NEEDS FROM OUR B2B CUSTOMERS."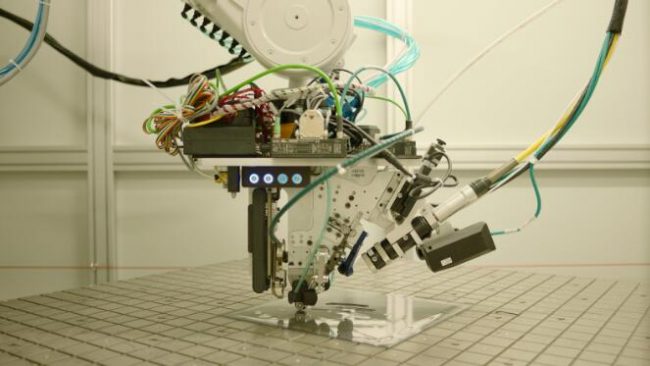 AREVO's Aqua 2 3D printer (pictured) is reportedly able to print four times faster than its predecessor. Photo via AREVO.

 AREVO's carbon fiber 3D printing technology
Known for its continuous carbon fiber 3D printing technology, AREVO was founded in 2014 in Silicon Valley. The firm initially released a range of FFF/FDM composites claimed to be five times stronger than titanium, and has since developed an advanced 3D printing software and systems portfolio.
In 2015, AREVO created its scalable Robot-based Additive Manufacturing (RAM) platform, based on its Finite Element Analysis toolpath optimization program, to optimize the strength and appearance of 3D printed parts.
Having been in development for six years, the company's continuous carbon fiber technology is protected by more than 80 patents. In the past, the technology has been leveraged to 3D print bike frames for Californian manufacturer Franco Bicycles in order to reduce the lead times, and for California-based start-up Superstrata's upcoming e-bikes to eliminate the need for gluing or welding.
Earlier this year, AREVO partnered with award-winning studio Branch Creative to design and print the 'Scotsman' electric scooter, featuring a unified carbon fiber composite frame, handlebar and stem.
AREVO has used its Aqua 2 3D printer to produce unified composite bike frames with start-up Superstrata. Photo via Superstrata.

 AREVO's new 3D printing facility
The firm has now completed the construction of its new continuous fiber composite additive manufacturing facility, what it claims is the world's largest. The center hosts a range of production systems, including 70 of its Aqua 2 systems which were unveiled last year.
Focused on printing large-format continuous carbon fiber parts, the Aqua 2 is designed to be a high-speed machine capable of printing up to one cubic meter in size. The machine can print up to four times faster than its predecessor, making it suitable for rapidly creating on-demand custom parts. The Aqua 2 systems have been utilized to 3D print bike frames, sports equipment, automotive parts, aerospace components, and architectural structures.
Now that the company has completed its new facility, it will start to deliver on 3D printing continuous composite parts for Superstrata's bikes and e-bikes, and complete the product engineering for Scotsman's e-scooters. The company hinted it is also set to launch a third consumer product shortly.
In addition to the completion of its new facility, AREVO has raised $25 million in its most recent financing round. The round was led by Khosla Ventures and saw participation from Founders Fund, GGVC, Alabaster and Defy.
AREVO has gained the backing of numerous investors over the years, raising $7 million in 2016 to expand its operations and begin developing strong, lightweight parts for use in production applications. Later, in 2018 the firm closed a $12.5 million Series B funding round to bolster its ongoing R&D efforts. The firm concluded a further $25 million funding round alongside the launch of its Aqua 2 3D printer, which it has used to further the development of its carbon fiber 3D printing technology.
AREVO's latest funding round will bring the total money raised by the company to $85 million, and will be used to hire new engineers and support its operations.
"We are growing the team and are looking for some key engineers (mechanical, laser/optics, electrical) in the US and Vietnam to join us," Vu added.
Source: AREVO
For press release, welcome to send to 3D Science Valley at 2509957133@qq.com