ASTM Announces Nine Research Projects for Additive Manufacturing
Global standards developer ASTM International announced its second round of funding to support research that helps expedite standards in additive manufacturing (3D printing). This investment of $300,000 and in-kind contributions will support the ASTM International Additive Manufacturing Center of Excellence's goal of addressing pressing needs for technical standardization in this fast-growing industry.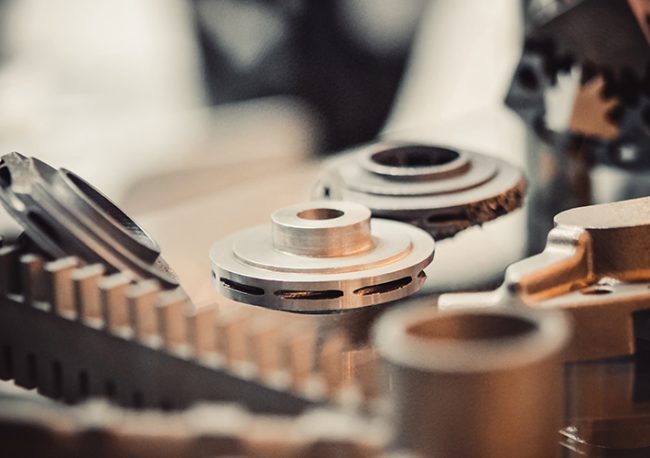 Object printed on metal 3d printer. A model created in a laser sintering machine close-up. DMLS, SLM, SLS technology. Concept of 4.0 industrial revolution. Progressive modern additive technology. Image via ASTM.
"We are thrilled to fund some of the most crucial and high-impact research projects in additive manufacturing to accelerate standardization," said ASTM International's Director of Global Additive Manufacturing Programs, Dr. Mohsen Seifi, at a workshop in Senlis, France, organized by the center. He added that these nine projects will complement the previous round of five, with all contributing towards a holistic approach to fill standard gaps indesign, feedstock, process, post processing, testing and qualification.
This round, approved by an ASTM International subcommittee focused on research and innovation (F42.90.05), targets a vast array of topics, described below:
Auburn University will work to implement a rapid, efficient, and effective inspection process to detect potential part quality issues after fabrication through laser powder bed fusion (L-PBF). The study aims to identify and quantify deviations in build and material quality through a series of tests performed within a few hours after the part is removed from the 3D printing machine.
In addition, Auburn University and NASA will partner to continue work from Phase l of a previously funded project that developed consensus regarding the minimum requirements for qualifying L-PBF machines and processes. In Phase ll, the team will establish qualitative and quantitative metrics for evaluation methods, conduct round-robin trials, and establish recommendations for standards implementation.
Applied technology developer EWI aims to leverage overall advances in digital data acquisition, automation, and data analysis. EWI will work to define a minimum subset of AM data entries and taxonomy of those entries. The resulting standard will help establish best practices for data sharing, a common data dictionary for AM, and a data management roadmap that integrates stakeholder needs.
The UK-based Manufacturing Technology Centre (MTC) will address lack of guidelines for what is deemed an acceptable test result in powder feedstock test methods. This operator proficiency study – which will leverage findings from ASTM International's AM Proficiency Testing Program – aims to help stakeholders understand acceptable test results as well as typical variation in results from different labs.
In an additional project, MTC will work to address the growing number of post-processing issues tied to inefficient designs, cost, high non-conformity, and scrap rates. They will develop a guide that proposes best practices in design for each type of post-processing operation, with each topic possibly being further developed by research or standardization.
Singapore's National Additive Manufacturing Innovation Cluster (NAMIC) will use off-axial monitoring to acquire optical and thermal images from the laser powder bed fusion (L-PBF) process. Image analysis will allow them to extract structured data, ultimately helping develop a procedure to construct a 3D file embedding with parameters both representing the printing process and quality evaluation.
Additionally, NAMIC will conduct research to form guidelines and best practices specific to directed energy deposition (DED) and material extrusion (MEX), two processes of high interest to manufacturers and designers. These guides will provide an overall document structure and guidelines for standard development.
Wichita State University's National Institute for Aviation Research (NIAR) will gather information from existing polymer characterization activities to create a test plan and matrix incorporating the state of the art for these testing methods. Additional print, test, and analysis will be conducted to generate additional data. NIAR will share results and develop appropriate documentation based on its findings.
NIAR will also study coupon-part property relationships in additively manufactured polymers. They will review results from multiple studies in order to compile an approach for microstructural analysis of specimens as well as application-specific characterization. Additional print, test, and analysis will be conducted before standards are pursued.
Source: ASTM