Deutsche Bahn And Gefertec Conclude Pilot Project for On-Demand Spare Parts by AM
Germany's Deutsche Bahn, the country's rail network operator, and Gefertec, Berlin, Germany, a supplier of metal Additive Manufacturing machines, have reported the results of a pilot project conducted on the use of metal AM for the on-demand production of spare parts for locomotives.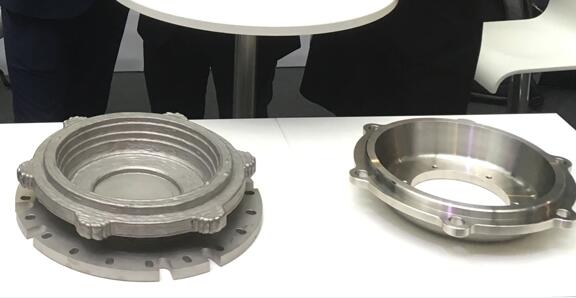 An additively manufactured wheel-set bearing cover for a Class 294 locomotive, produced on a Gefertec arc605 system (Courtesy Deutsche Bahn)
Deutsche Bahn stated that the availability of locomotives, rail-cars and train-sets plays a key role in rail traffic reliability. For the more than 7,000 Deutsche Bahn employees who are responsible for maintaining a fleet of several thousand vehicles, the storage and procurement of spare parts involves major challenges. The Additive Manufacturing of components as they are required can significantly improve the availability of hard-to-procure spare parts.
"Availability is a big issue for our company," stated Dr Tina Schlingmann, who started investigating potential applications for Additive Manufacturing at Deutsche Bahn last year. According to the materials science specialist, this technology is not only valuable in prototyping and tooling, it is especially valuable in the spare parts business. Deutsche Bahn purchases trains and locomotives and then handles vehicle maintenance in-house. One of the problems in servicing thousands of vehicles is that, for older locomotives, maintenance crews are often faced with the challenge of obtaining parts that are no longer supplied by manufacturers.
Over the past few years, Deutsche Bahn has researched the possibilities of Additive Manufacturing in more than 100 use cases. A recent case involved a wheel-set bearing cover for a Class 294 locomotive, a model that was put into service in the 1960s and 1970s. The original casting has a diameter of 374 mm, a height of 78 mm, and weighs 11.5 kg. If the cover is missing, lubricant can leak out, resulting in damage to the bearing, and can even cause the locomotive to derail. Delivery of the component would traditionally take up to nine months, and during this time the locomotive would be out of service, which leads to high costs.
As part of its pilot project, Deutsche Bahn worked on developing an alternative solution with Rolf Lenk GmbH, a German-based Additive Manufacturing specialist. Rolf Lenk acquired a Gefertec arc605 3DMP® system, designed for the production of large metal components at high speed. According to the company, digital design files readable by AM systems are not generally available for parts used on older rail vehicles, which makes a complete reverse engineering process necessary.
After reverse engineering, the data must be processed for the Gefertec machine. The 3DMP CAM software used for this purpose generates special CNC data from the digital model of the part. The arc machine then builds the part by welding metal layer on layer.
"Production on the Gefertec machine takes only about eight hours – including set-up," commented Matthias Otte, Project Supervisor at Rolf Lenk. Afterwards, the near-net shaped component requires machining, so from the initial design to reverse engineering and production, the project was completed within two months. "This amount of time is only necessary for the first-time production of a work-piece. Depending on machine availability, we will be able to produce this component in two to three weeks," he concluded.
According to the company, the finished component was thoroughly tested by Deutsche Bahn, as well as in the German Federal Railway Authority's Materials Laboratory. "In addition to the usual material science analyses, testing was conducted using computerised tomography," added Schlingmann. The consistently positive results validated the high-quality of the wheel-set bearing cover produced using the 3DMP process. After the certification process is complete, the part will be ready for use.
Source: Metal AM