Penn State Altoona Receives Grant From Lockheed Martin to Research Additively Manufactured Non-Toxic Liquid Bipropellant Injectors
Lockheed Martin will support an undergraduate project at Penn State Altoona titled "Evaluation of Additively Manufactured Non-Toxic Liquid Bipropellant Injectors."
The project, to be conducted at the Advanced Combustion and Energetics Laboratory (ACEL) in Altoona and at Penn State Altoona, including in the Thermal Science Lab, will provide undergraduate electro-mechanical engineering technology (EMET) students with hands-on experience in the design and fabrication of liquid bipropellant rocket injectors using both conventionally machined and additively manufactured (AM) methods. The objective is to study the effect of the injector manufacturing process on the combustion characteristics of a nontoxic fuel and oxidizer in low thrust liquid thrusters. The project will be supervised by Assistant Professor of Mechanical Engineering Jeffrey Moore and Professor of Mechanical Engineering Grant Risha.
In the liquid rocket engine community, organizations are constantly looking to the next great thruster. For years, the goal was to have the most efficient thruster — a long-life rocket engine used for on-orbit space propulsion system attitude control or complex maneuvering of government missiles and targets. Through the rise of technology, focus has shifted to a means to improve rocket engine design as well as schedule and cost, using nontoxic propellants for safe handling without sacrificing high-performance. One area to improve on these parameters is the rocket engine injector, which introduces fluids through small passageways into the combustion chamber at velocities and liquid droplet sizes ideal for efficient mixing and creation of combustion. If demonstrated to be similar to machined injectors from a performance standpoint, an AM injector could be worthwhile from a cost and schedule perspective as quantities of thrusters increase.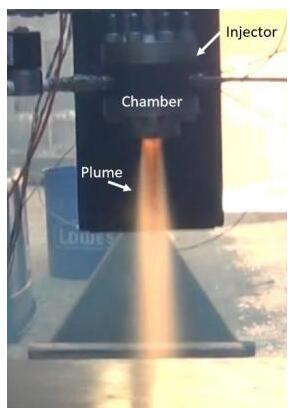 "We are excited and grateful for the opportunity to further educate our undergraduate EMET students through this effort," said Moore. "The continued support of Steve Betza, former Penn State Altoona student and corporate director at Lockheed Martin, and Paul Mittan, project engineering manager, has provided our students the experience to design and build rocket engines as well as learn about cutting-edge technology in the space and defense field."
Lockheed Martin project engineer Bryan Senchuk added, "Additive Manufacturing is evolving the way we approach and solve some of the most challenging problems in today's industry. Lockheed Martin is proud to partner with Penn State Altoona to pave the future of additive manufacturing as it pertains to nontoxic bipropellant injectors in rocket engines. We are excited about this collaboration that will also develop and prepare engineers for our future workforce."
Once the designs are complete, students will work with the Center for Innovative Materials Processing through Direct Digital Deposition (CIMP-3D) at Innovation Park in State College to create the injectors using direct metal printing technology. Both types of injectors will use bench-top hot-fire testing at the ACEL to understand the combustion phenomena of nontoxic liquid propellants and determine if AM injectors have similar performance as machined injectors. In addition to receiving training on liquid rocket engine design and AM processes, students will examine the combustion performance of injector elements in the same combustion chamber and evaluate the material strength of the AM parts through separate tensile test experiments.
Source: PSU