Expertise Is Half The Battle In Adoption Of Additive Manufacturing For MRO
Additive Flight Solutions (AFS), a recently-established Singapore-based joint venture between SIA Engineering Company (SIAEC) and Stratasys, is looking to ramp up adoption in the aerospace industry of additive manufacturing (AM) for production aircraft parts by creating a better understanding of the technology and its best use cases.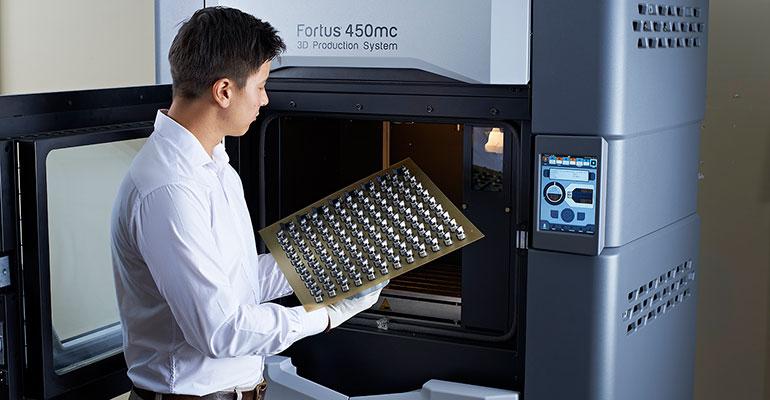 Speaking at a panel about AM within the aero-engine supply chain at MRO Asia-Pacific in Singapore, Daniel Thomsen, deputy general manager of AFS, emphasized his belief that one of the biggest hurdles to widespread adoption of the technology within MRO is a lack of qualified expertise at companies looking into AM. "Additive manufacturing is not just a magic box," said Thomsen. "It will not fix every problem you want to throw at it." With a wide variety of technologies within AM that each come with pros and cons for various applications, Thomsen says MROs lag behind OEMs in understanding the nuts and bolts of the technology—particularly since OEMs have been using AM for more than 15 years while MROs, on average, have only been looking into it for somewhere between zero to 10 years.
Adding to the difficulty in adoption, says Thomsen, is development of common standards for aerospace AM. Since aircraft manufacturers have been involved with AM for so long, most have created their own standards that have been approved by regulators—but these have not been released publicly, so MROs and other third parties hoping to adopt AM do not have access to them for reference.
To ease MRO customers into the technology, AFS is initially focusing on polymer cabin interior parts with the goal to eventually ramp up to more complicated production parts. "We have to start simple so our customers and the regulators can understand and learn the processes through each step of AM," said Thomsen. "It's really important for us to tackle simple problems at this stage—such as non-loaded, single parts and non-critical components—and do a very good job so we can get believers in additive."
Since signing the JV agreement in February 2018, AFS has already started producing some parts for its shareholder SIAEC. In addition to working closely with SIAEC, AFS is also talking with third party MROs about how AM could be applied to a variety of applications, such as production parts and processes on the workshop floor. While the JV is definitely looking to serve Asia-Pacific customers due to proximity to its Singapore location, Thomsen says AFS will also be serving customers globally.
Source: MRO