CRIQ Installs GE Additive Arcam EBM Machine To Assist With Customised Jaw Implant Production
A Canadian research organisation has recently installed a GE Additive Arcam EBM Q10plus machine as it looks to explore the additive manufacture (AM) of patient-specific jaw implants.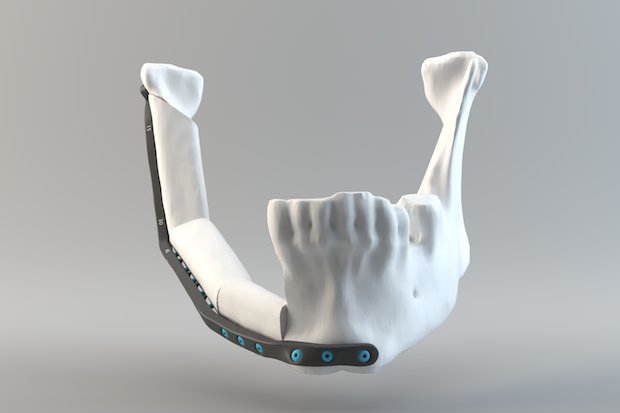 Quentin Schneider, 3D modeling lab, CHU de Quebec.
Render of a lower jaw implant.
CRIQ welcomed the machine back in July and decided to bring the metal 3D printing system to assist with its responsibilities as a regional medical partner of five hospitals in Quebec. This partnership focuses on identifying and developing technologies that can positively impact medical services and improve patient care.
Through this alliance, CRIQ's Director of Industrial Equipment, Francois Gingras, is working with cranio-maxillofacial surgeons to apply AM to lower jawbone implants, hoping to transform the way they are designed and produced. CRIQ anticipates this will enable them to eventually offer a three-week turnaround of patient-specific implants with AM, compared to the existing six-week timeframe when using traditional means of manufacture. Medical certification of additively manufactured mandibles through Health Canada commenced in October 2017, with completion expected by January 2020, when CRIQ can then enter full production.
The EBM Q10plus installed in its 3D printing laboratory in Quebec will play a key part in this project. CRIQ will manage the entire supply chain for the additive manufacture of these implants, from design through printing and post-processing through cleaning and sterilisation. The organisation believes this concentrated and considered approach will help them to enable cost savings, while enhancing patient care.
"The business case isn't a part-to-part comparison. It needs to be justified through system-wide impact," said Gingras. "If a patient-specific implant can accelerate patient recovery, reduce risk, and lower overall healthcare costs for the Quebec Government, then we have a business case."
"The medical device industry is one of the pioneer industries of additive manufacturing," commented Stephan Zeidler, Business Development Manager, Medical, GE Additive. "Additive manufacturing enables companies to manufacture patient-specific implants and customised devices in small batch production, but still in a cost-effective, industrial process. This way, the technology perfectly serves the trend for more individualised treatments in healthcare.
"Improved patient care in orthopaedics, implantology, and dentistry demands high-precision, perfectly fitting medical products. In medical and dental technology, there is a demand for parts produced individually or in small batches which must satisfy extremely high-quality standards regarding materials and workmanship."
Source: TCT