Conflux Technology is Reinventing Heat Exchangers with 3D Printing
Conflux Technology, an Australian company specializing in additive manufacturing applications, has focused its efforts on developing new and innovative solutions for thermal and fluid engineering. In a recent case study, the company details how it utilized EOS' metal 3D printing technology to prototype and produce a new and more efficient type of heat exchanger.
Many of the electrical appliances you use on a regular basis will owe their functionality to heat exchangers. Air conditioners, fridges and car engines all rely on the heat transfer devices to keep energy and heat balanced to ensure that things run smoothly. Typically, heat exchangers transfer heat between two fluids (usually a liquid-liquid, liquid-gas or gas-gas).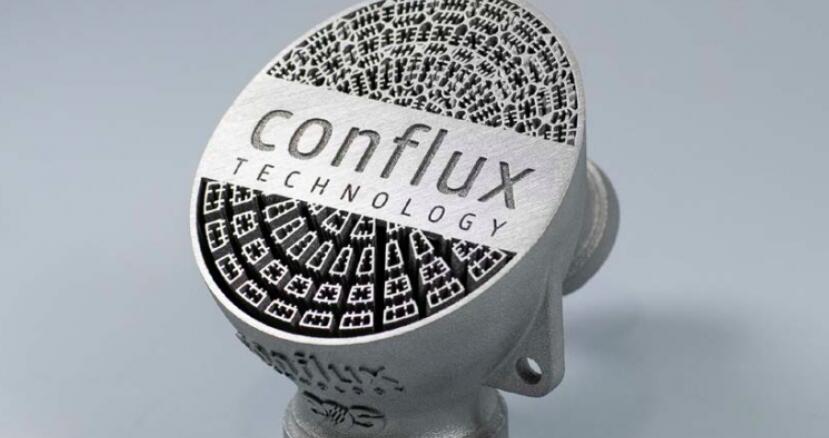 Despite their prevalence, however, heat exchangers have still been limited by the manufacturing technologies used to create them. For instance, subtractive manufacturing processes have proved inefficient in the creation of heat exchangers that are compact, complex and tough.
Conflux Founder and CEO Michael Fuller was no stranger to this challenge, as he worked in the automotive racing industry for over 10 years—a sector which needs durable heat exchangers that can handle harsh environments. His solution? To explore the potential of additive manufacturing for the production of new and more efficient heat exchangers.
Conflux is not the only company investigating AM for heat transfer applications. For instance, Fabrisonic and NASA have been collaborating to develop 3D printed heat exchangers for interplanetary environments. Still, Conflux, which is backed by AM Ventures, is still one of the leading players in the field.
In creating an additively manufacturing heat exchanger, Fuller and the Conflux team turned to German metal AM specialist EOS and specifically the EOS M 290 3D printer and its Aluminium AlSi10Mg material.
The development process, which leveraged the design freedom and lightweighting possibilities of 3D printing, ultimately resulted in the Conflux Core heat exchanger. Before we get too ahead of ourselves, however, let's take a closer look at the development process for the 3D printed component.
The development program utilized a range of tools, including Computational Fluid Dynamics (CFD), which provided flow visualization and performance predictions; non-linear thermomechanical Finite Element Modeling (FEA), which was used to understand the resultant displacements and stresses; and EOS' suite of AM software tools for data preparation, process optimization and quality assurance.
The Conflux Core heat exchanger development process was remarkably fast: within just six months, six prototypes of the heat exchangers were 3D printed and the final product was developed. Now, the patented heat exchanger has various applications across a range of industries, including aerospace, automotive, oil & gas, chemical processing and micro-processor cooling.
Aside from the rapid turnaround in developing the product, Conflux also reported a number of other benefits gained by 3D printing. In comparing the Conflux Core heat exchanger to a Formula 1 benchmark, Conflux and Young Calibrations (the laboratory that did the testing) found that the heat exchanger demonstrated thermal heat rejection up to three times higher than the conventional counterpart. This, they explain, is owed to complex internal geometries of the 3D printed heat exchanger, which increased the surface area without adding volume.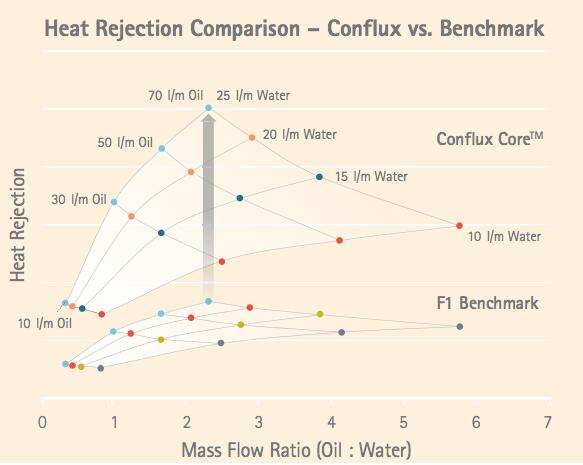 At the same time, the 3D printed component saw a pressure drop reduction of two-thirds. Additionally, 3D printing enabled the company to reduce the size of the heat exchanger (by 55 mm) and its weight (by 22%). Further, heat exchangers could be adapted for particular applications and resized and reshaped depending on their use. Finally, 3D printing enabled the company to reduce part count for the heat exchanger and cut back on cost.
"The Conflux Core heat exchanger is the foundation upon which Conflux Technology has developed into an additive manufacturing applications company focused on thermal and fluid challenges," reads a case study on the project. "Customers and development partners from diverse markets have provided Conflux Technology with equally diverse challenges. The company has an R&D pipeline that drives the expansion of intellectual property and this underpins Conflux Technology's value proposition."
Source: 3D Printing Media Network