Solukon Teams with Siemens to Launch Smart Metal 3D Printing Post Processing System
Additive manufacturing post processing solutions specialist, Solukon Maschinenbau GmbH has partnered with Siemens to launch an advanced depowdering system for metal powder bed fusion.
The SFM-AT800S system contains the latest developments in smart functionality for the effective removal of metal powder trapped in free designed parts containing complex internal channels.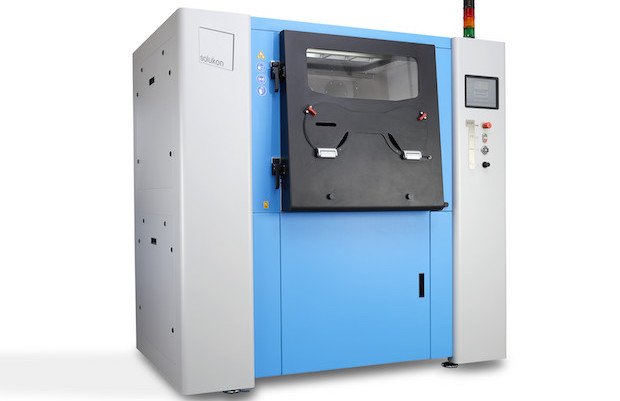 Dr. Christoph Kiener, principal scientist at Siemens, explains: "We strongly support this improved powder removal system. Powder-free, high-quality AM parts, occupational health and safety, as well as environmental topics regarding waste avoidance and powder reuse are very important for Siemens to process advanced designs also in our post-processing activities".
The new SFM-AT800S contains two servo-motorised and endless rotating axes. While the standard SFM-AT800 is already able to move the part into any three-dimensional position, the new axis-system of the SFM-AT800S adds the possibility of moving the part along any three-dimensional contour. This feature enables the cleaning of parts with intricate and conformational internal structures, such as cooling channels in injection moulding tools.
The SFM-AT800-S was developed by Solukon in close collaboration with Siemens in order to improve the cleaning results of high complexity AM parts such as heat exchangers and infusion nozzles. Siemens is already using Solukon systems for powder removal and is now researching intelligent software that is able to detect internal channels using the CAD file as a digital twin to automatically calculate optimal movement of the depowdering system during cleaning. The SFM-AT800S is engineered with Siemens Simatic controllers and Sinamics drive and motors solutions, in order to interface optionally with new software developments.
Andreas Hartmann, co-founder and technical director of Solukon, added: "Siemens analyses additive manufacturing technologies from a holistic point of view and understands the digital requirements of the complete manufacturing chain, especially on a shop floor level. This expertise makes Siemens a perfect partner for advancing this new technology".
The SFM-AT800-S will be exhibited at the formnext in Frankfurt, where the company formally launched its post processing solutions last year, on 13-16th November 2018.
Source:TCT Magazine