Arevo: Industrialized Production of Continuous Fiber 3D-Printed Parts
Arevo (Santa Clara, CA, US) ,Known for its use of high-performance thermoplastic polymers, including polyetheretherketone (PEEK), polyaryletherketone (PAEK), polyetherimide (PEI) and polyphenylene sulfide (PPS), the company was also a leader in developing closed-loop robotic control for 3D printing, enabling placement of fiber in the z direction and along 3D curves. The company has a list of new developments, including its direct energy deposition (DED) process using laser heating for a 100-fold increase in production speed.
The company has also just completed its Series B financing, raising $12.5 million with Asahi Glass Co. (AGC, Tokyo, Japan) leading the round. "They are the world's largest automotive glass producer," says Miller. "They have good relationships in the automotive industry and see a large opportunity for new composites technologies in the automotive applications." Other investors include In-Q-Tel (Arlington, VA, US), Sumitomo Corporation (Tokyo, Japan) and Leslie Ventures. Jim Miller, CEO of Arevo, says that Sumitomo, one of the largest Japanese conglomerates and a leader in oil & gas technologies, is interested in applying Arevo's 3D printing technology across its industrial activities, which include construction, transportation, infrastructure and energy.
Arevo's direct energy deposition (DED) manufacturing cells comprise an industrial robot, printhead with laser heating and rotating build platform. The printhead (seen at right during automated cut and restart)  includes thermal management equipment and vision systems for in-situ inspection. SOURCE: Arevo.
 Industrial production of thermoplastic composites
"Our new manufacturing cells use a standard industrial robot, a rotating build platform and a laser for heating," Miller explains. "We call the process direct energy deposition (DED)." Inside the laser-safe manufacturing cell, the robot has a printhead end effector with proprietary thermal management equipment, customized electronics and vision systems which enable in-situ inspection. "The process is mostly hands-off/lights-out," say Miller. "These new cells produce more than a 100-fold increase in production speed." Chief technical office Wiener Mondesir adds, "The laser provides unlimited energy. We can control that and go faster in order to achieve industrial production rates." But Miller points out, "This is not a matter of how fast machines can move or how much material can be applied because we are building complex structural composites at one-fourth the cost of traditional composites."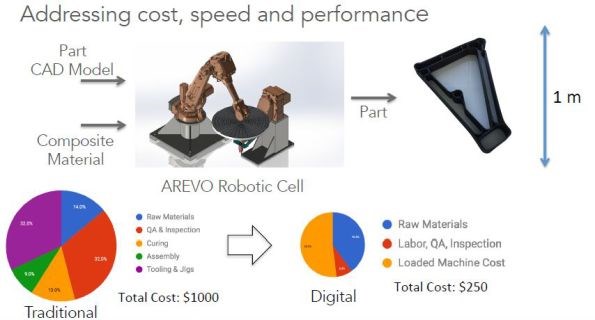 Non-traditional Composites Manufacturing — Arevo's DED process reportedly enables production of continuous fiber-reinforced thermoplastic composite parts at ¼ the cost of traditional composites. (Calculations based on 1m sized part.)
"We are pursuing economically viable fabrication of large-scale thermoplastic composite parts," says Miller. "We approach this manufacturing from a non-traditional composites perspective." However, the printhead does integrate compaction capability and the parts still conform to traditional composites quality requirements. "We can achieve thermoplastic composite parts with a void content much less than 1%," Miller attests. "Arevo continues to improve its process and will meet mechanical properties for primary structure requirements in near future."
 Pathfinder software
Part of the "non-traditional composites perspective" Miller references above is Arevo's investment into digital design and process software. "We've collapsed an entire workflow into the software," says Miller. "It can provide a complete 3D analysis of the part and develop the optimized fiber orientation using Additive FEA (AFEA) modules. A lot of our success is being driven by the software and part production simulation. We run the computer-generated design through our process simulation software and it shows the process parameters including temperatures, print path, warpage and shrinkage of the printed material, as well as residual stresses. This allows us to really understand and optimize the process in order to produce very high-quality parts."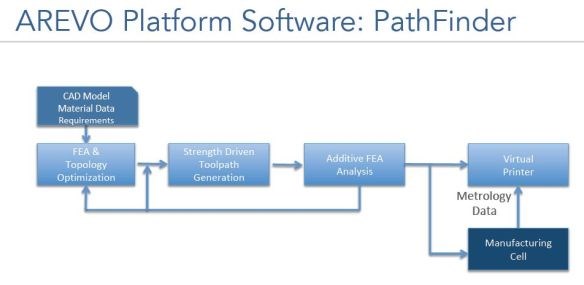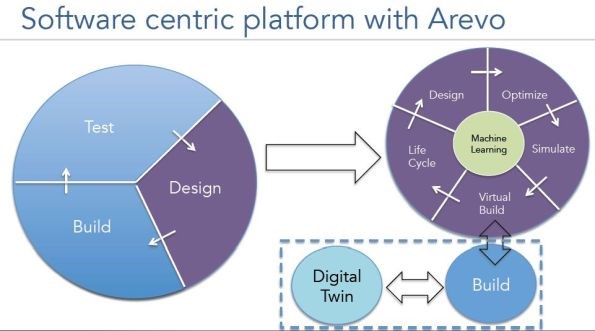 He says testimony to Arevo's software is that manufactured part properties are within 5% of the simulated properties, which Miller notes is basically down to the level of test measurement margin of error. He adds that Arevo is also using machine learning in a unique way.
 Demonstrating the possibilities
Just one month ago, Arevo showcased what it believes is the world's first 3D printed bike at the Sea Otter event (April 19-22, Monterey, CA, US). "Our goal was to demonstrate what our software and process can achieve," Miller explains. "We worked with the Colorado-based industrial design firm Studio West to develop the cantilever bike frame design." He notes that Studio West is well known in the bicycle industry, working with some of the top manufacturers. "They initially gave us a very traditional frame design," says Miller. "But we wanted to show how Arevo can apply continuous fibers in novel ways, so we continued to work with them through various iterations." He adds that the Arevo team wanted to optimize the stiffness and flexture of the bike frame, but also to demonstrate the novel aesthetics possible with its additive manufacturing technology. "We ended up with a very unique bicycle design," says Miller. The bike frame is made with continuous 12K CF tow and PEEK but Miller says it is also possible to use nylon.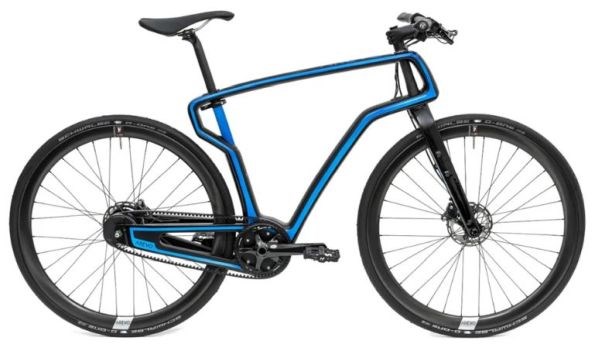 Arevo's 3D-printed CF composite bike frame is readily adapted to meet a wide range of products for the bicycle market including e-bikes, cargo bikes, recumbants, 3-wheels, kids' bikes, fat bikes, BMX, cruisers and more. SOURCE: Arevo.
Bicycle frames are not the only example of what Arevo is achieving in composites additive manufacturing. "Small robotics companies are building large-frame robots that we are helping to lightweight at a fraction of the cost of traditional materials," says Mondesir. Arevo also  highlights impeller and propeller applications, where reported benefits include:
– On-demand production to manage inventory cost
– Higher efficiency vs. metal construction
– Resilient to service environment
– Complex geometries not possible with legacy manufacturing.
 Path to industrial production
Miller says the first goal for 2018 is to install eight DED manufacturing cells and build out capacity to address its production parts backlog. "We will begin shipping products in volume this year," he affirms. The company is also working with strategic customers on key applications and product development. "Our third major focus is to continue refining the deposition process to increase speed while maintaining quality and yield," says Miller. "We will also demonstrate parts with different fibers and tow sizes." He says the DED process can handle variable tow shape and diameter, up to 24K tow. "We can print with PEKK, PAEK, PPS and also with glass and aramid continuous fiber," Miller adds.
What about printing with wire and fiber optics for multifunctional composite structures? "That would essentially be just another fiber to us," says Miller. Demonstrations of this capability have, so far, been in the lab. "We're looking at intellectual property and have ongoing R&D in this area," he adds.
"Nothing precludes us from using multiple tows and/or tapes," Miller contends. "And there really is no limit to what size we can print. We are making a 2.5m x 1.5m part for an aerospace company and are also looking at using multiple robots together. The company has developed its DED manufacturing cells to be modular, capable of having secondary operations integrated such as finishing to produce high-quality surfaces.
We can also put our printheads on any industrial robots, so our technology can be integrated into an existing process or completely new processes." He points out that Arevo "is not in the printer business, but this adaptability opens some opportunities. The company has 55 patents issued, pending or applications in process.
Resource: compositesworld.com