Interview of Mrs. Kitty Wang – the Founder of 3D Science Valley by Additive Magazine
In May, 2018, The magazine of Additive (Germany version) published the interview of Mrs. Kitty Wang (Xiaoyan Wang), the founder of 3D Science Valley. Following is the article published in Germany language.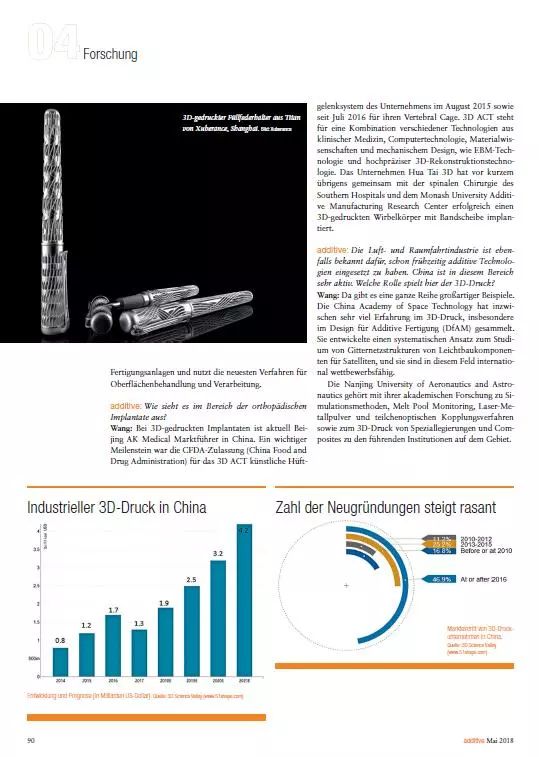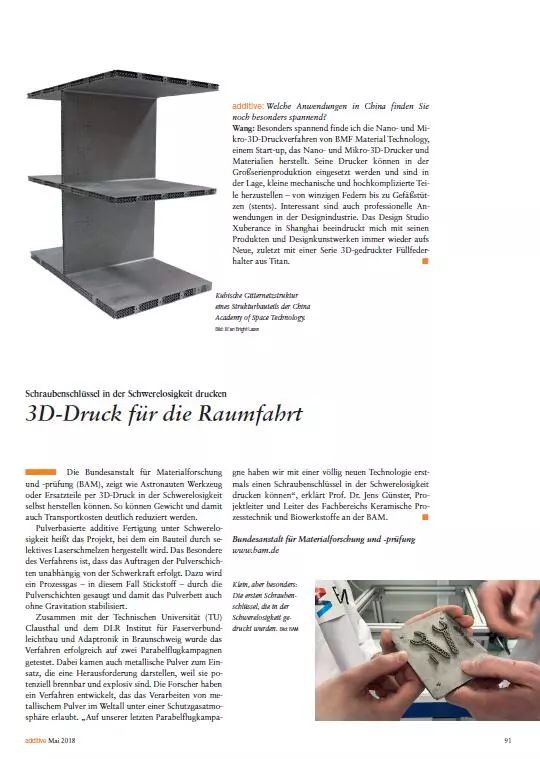 Following is the answers in English:
Q: Could you summarize how is everything going with the 3d printing market in China in 2017?
A:It seems especially difficult for 3D printing companies in China to reach out to the local manufacturing industry. In China today, relatively few companies are aware of the power of 3D printing and the Chinese market lacks the openness and the understanding for the role this technology can play. This is because till recently, China is transforming from low value added manufacturing to high value added manufacturing, and this takes time and a lot of effort. It is very noticeable today and probably reasonable for the high export shares in revenue for many Chinese 3D printing companies.
According to 3D Science Valley's market research, the 3D printing market totaled about 8.2 billion RMB (1.3 billion USD) in 2017. China's current 3D printing market are still depend on sales of 3d printing equipments. Some of the equipments sold did not get good use. After the current scientific research equipment procurement demand reached a certain degree of saturation status, the 3D printing market in China meet with a callback, but this does not affect 3D printing long-term upward trend in China.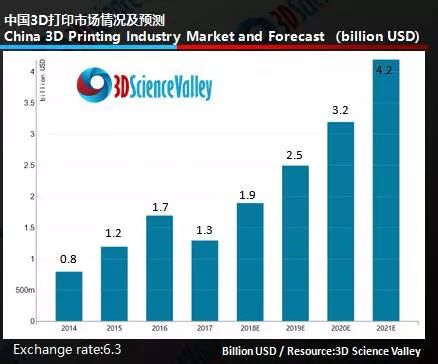 But since the application market in China is under pressure of transforming from low end to middle or high end. We can still see that after the struggling, the 3D printing market in China will keep up the pace of growth.
Q: What is the trend of 3d printing service market in China? and what is the broad view of the 3d printing market in terms of materials, equipment and else?
A:More and more companies started to provide 3d printing service in the year of 2016 and after.Some of them are still struggling to find their own core strength and market position. Some of them, especially those who entered to the 3d printing service market before the year of 2012 have developed their knowhow in some highly specialized application areas such as conformal cooling mould, teeth aligner, automotive prototype, aerospace light weighted components and else.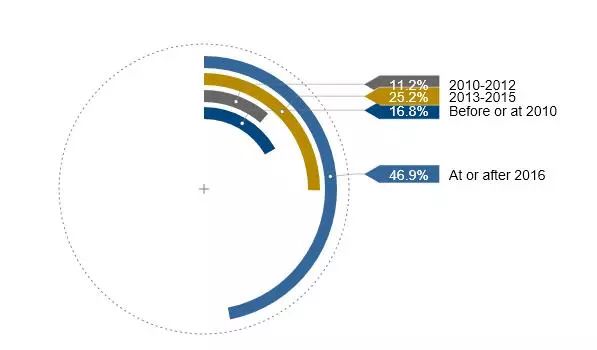 Image: Companies in China emerged to provide 3d printing service, statistics from 3D Science Valley (www.51shape.com)
According to the 3D Science Valley market research, Currently resin curing systems dominated China 3D printing market and occupied 39.8% of the market, followed by selective laser melting and material extrusion systems.
Currently China market demand of 3D printing materials are resin, nylon, PLA, ABS, titanium, stainless steel, tool steel, aluminum alloy, cobalt-chromium alloy, nickel based alloy and else.
Currently the industrial level 3D printer brands are mainly including UnionTech, EOS, Farsoon, Bright Laser, 3D Systems, GE, Stratasys, HP and else.
Currently the bottleneck set 3d printing development in behind is about not aware of industrialization opportunities, lacking of human resources, and the high cost of 3d printing.
Q:Could you give us some example about those companies who are active in 3d printing dental industry?
A: For dental aligner, we have Angelalign, Smartee, iROK, Mega and esle.
Take Angelalign for example, Angelalign is a professional company engaged in oral orthodontics technology research and development, invisible appliances production and sale. Angelalign has also introduced an online 3D printing platform in order to facilitate the communication with the clients.
Take Smartee for example, Smartee® invisible treatment technology combines 3D printing technology, 3D computer-aided design technology (CAD), and digital 3D modeling (CAM) technology together. After wide-ranged and long term researches combined with clinical practices, Smartee® developed an unique orthodontical system and possessed a complete independent intellectual property rights.
For denture 3d printing, one good example is Dengte. Dengte was founded in 1994 in Hainan, and relocated to Chendu in 1999. After 20 years of development, Denture Denture has become recognized as a well-known brand in the industry today. It is currently one of the leading manufacturer of high-end dentures in the forefront of digitalization, mechanization and automation in CAD / CAM in China.
For dental implant 3d printing, we have Huamei dental, Triup, Trandomed, Reborn, Trausim and else. Take Trausim for example, Trasim is established in 2010 and is specialized in R&D, design, processing, manufacture, and sales of dental implant and surgical instrument. In order to ensure the product quality, the company collaborates with German research institute, imports the advanced manufacture equipments, cutting edge surface treatment and processing technologies. So those are developing quickly in China and we can foresee an industrialization trend of 3d printing technology in dental application.
Q:Could you give us some example about those companies who are active in 3d printing orthopedics implant market?
A: Sure, in commercialized medical implant printing, currently Beijing AK Medical is the Chinese market leader. In August 2015, AK Medical received the CFDA approval for its 3D ACT artificial hip joint system based on 3D metal printing technology and in July 2016 received another approval for the vertebral cage based on 3D ACT technology. Also to be the first metal 3D printed interbody fusion cage product licensed by the CFDA in China. 3D ACT technology is a combination of various technologies from clinical medicine, computer technology, material science and mechanical design, such as electron beam molten metal 3D printing technology (EBM) and precision 3D reconstruction technology. With the commercialized medical implant competence, AK Medical has successful listed in Hongkong stock market.
Another company HuaTai 3D which is founded by professor Wu Xinhua has done some improvement in artificial vertebral body / lumbar intervertebral disc implantation. In February 7, 2018, Hua Tai 3D together with the Southern Hospital's spinal surgery and the Monash University Additive Manufacturing Research Center successful implemented the 3D printing personalized artificial vertebral body / lumbar intervertebral disc implantation.
Q: You have introduced some highlights in specific application market, anything else impressed you in other application markets?
A: Yes, there are a lot. For example, in space technology, the China Academy of Space Technology has gained many years of experience in 3D printing, especially regarding design for additive manufacturing (DfAM).The academy has developed a systematic approach for the study of lattice cell structures for lightweight satellite components, and with this has achieved to be internationally competitive in this field.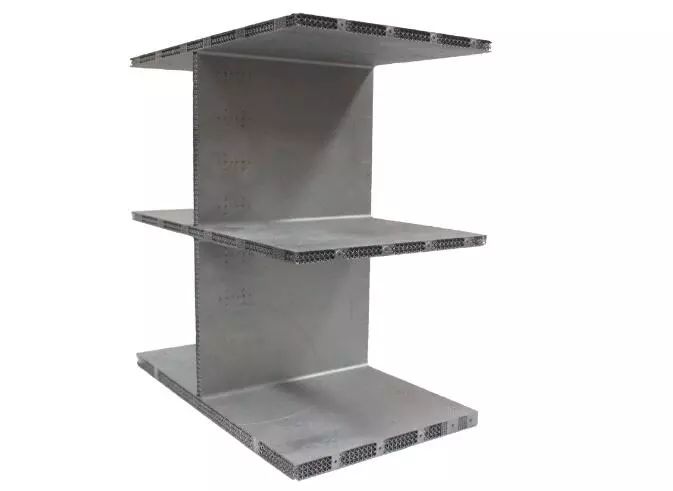 Image: CubeSat framestructure designed by China Academy of Space Technology, printed by Xi'anBright Laser.
For nano or micro 3D Printing, there is BMF Material Technology which is a Boston/Shenzhen-based startup firm that manufactures nano or micro 3D printers and materials, as well as custom products for other companies using its equipment. Their printers have the capacity to perform high-volume manufacturing. What sets BMF apart, according to MIT technology review , is the equipment's level of rigor and the exceptional choice of materials and processes. BMF can produce small mechanical and highly complicated parts with examples ranging from tiny springs to cardiac stents.
In terms of R&D, Nanjing University of Aeronautics and Astronautics is at the forefront in academic research of numerical simulation methods for active tracking of the solidification behavior of the laser 3D printing melting pool, for the laser-powder and particle-optical coupling process as well as laser 3D printing composite material such as special alloys and composites.
Furthermore, for fashion industry, Shanghai-based design studio Xuberance never ceases to impress the consumer industry with its stunning 3D printed fashion pieces and accessories. Now, in its continued effort to push the boundaries of 3D printed design objects, Xuberance has created a series of titanium pens named Infinity which belongs to Xuberance's Brighten series of metal 3d printing artworks pieces. Those titanium pens are designed to reflect elegance and infinity.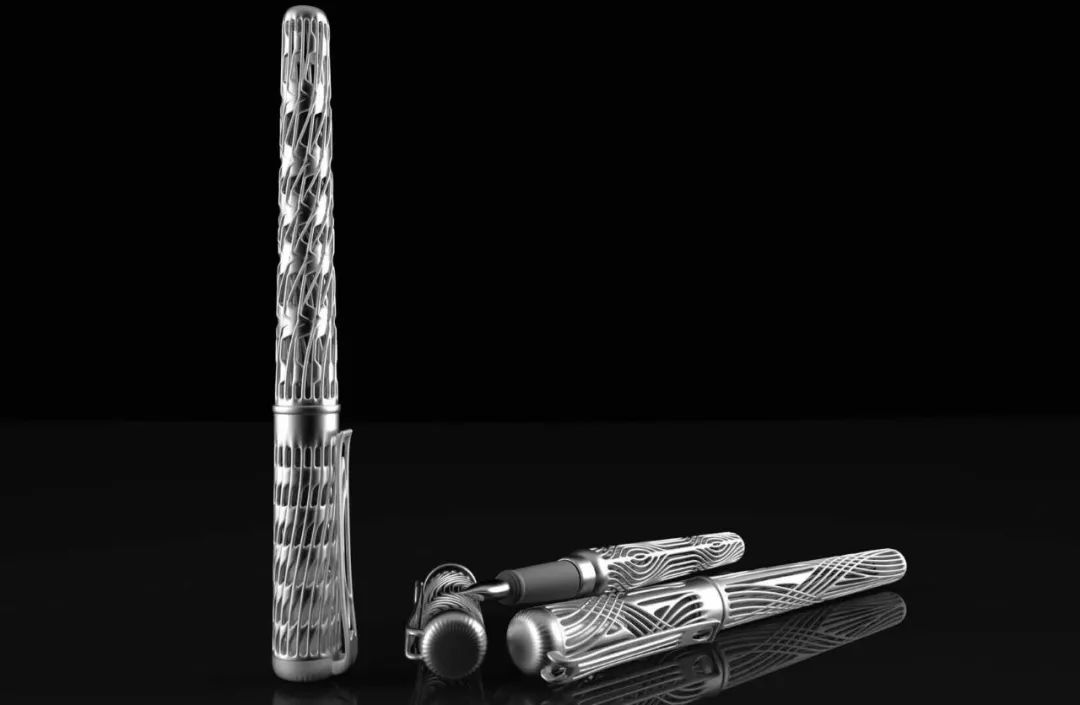 Image:Xuberance brighten series of metal 3d printing artworks pieces – Infinity – titanium pens, printed by Xi'an Bright Laser