BOWMAN Introduces an Evolution in Bearing Cage Design
Bowman International, a leading innovator in bearing design and manufacture, has introduced to the market a revolutionary bearing cage, designed to offer up to three times longer life expectancy and 40% higher load bearing capacity. In an industry where increasing bearing performance by as little as 5-10% is considered significant, Bowman's patent pending 'Evolution' cage technology is truly a stand-out innovation.
Split bearing cages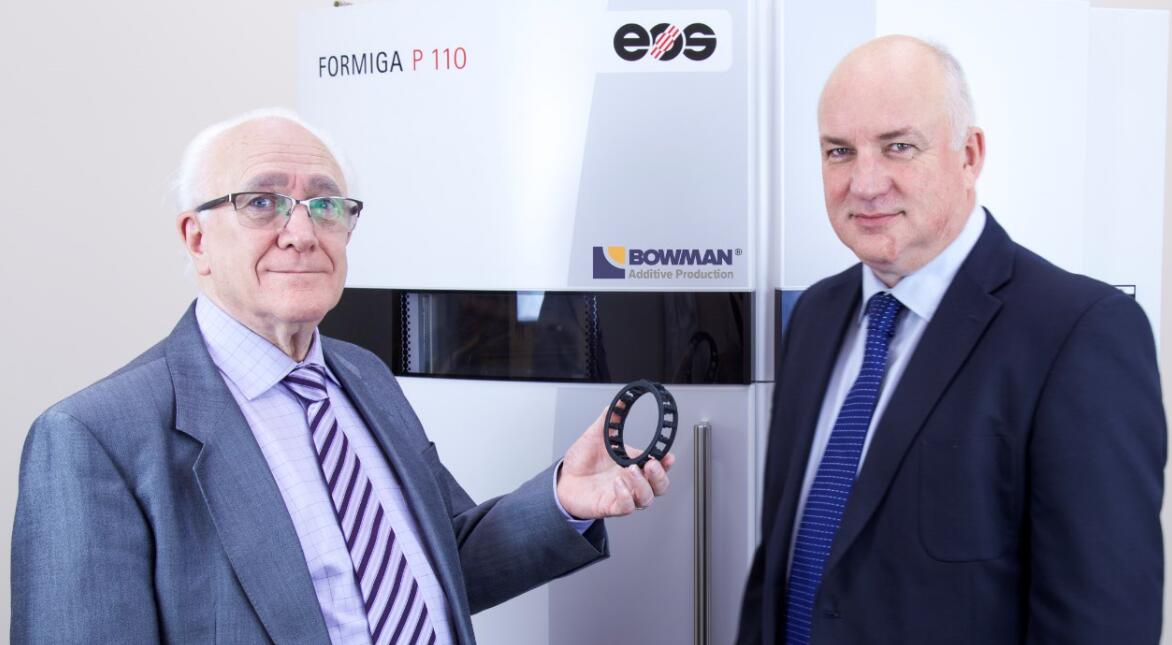 The Evolution cage boasts a unique interlocking structure which uses the rolling elements to pin together each section of the cage. This revolutionary, design creates enough additional space around the circumference of the cage to incorporate two to four* more rollers than comparative products.
It is these additional rollers which allow the load to be spread over a higher number rolling elements that increase the performance of the overall cage, making it a suitable specification choice for any application which would benefit from higher load capacity or extended life expectancy, without having to amend any other part of the bearing assembly.
Jacob Turner, head of Bowman Additive Production explains: "By using the roller to pin together the cage structure, we essentially create additional space for more rollers, increasing the load bearing capacity and therefore lifespan of the component.
"This unique structure also facilitates easy mounting and maintenance with no fiddly pins or clips to manoeuvre or maintain."
Low to medium run non-split bearings
Evolution cages are manufactured without tooling and therefore offer a highly competitive cage option for low to medium run bespoke bearings across many sectors, not limited split bearings.
Manufactured from engineering grade 'printable' nylon (PA1102) with bronze-alloy inserts made from the world-renowned ToughMet®3, the cage delivers the wear properties of ultra-high load bronze with the design complexity synonymous with 3D printing. The cage delivers greatly reduced wear on rolling elements when compared with conventional steel cages.
Unlike other market-leading competitors, the Evolution cage has been precision engineered to almost touch the inner and outer races (race riding) and give full contact support of the rolling elements. These features both help to increase stability and reduces vibration and noise, further improving load capacity.
Jacob Turner adds: "The Evolution cage combines the very latest in SLS (Selective Laser Sintering) 3D printing with world-renowned materials science. Together, this offers OEMs and plant maintenance engineers a split bearing cage which delivers superior performance and longer product life, alongside simplified mounting and maintenance procedures – not forgetting less vibration and noise during operation.
"The cage design integrates a number of complex forms, which means additive production with Nylon 11 is the only manufacturing method capable of bringing this concept to reality in an economically viable way. Combining this new production method with Bowman's extensive experience in materials innovation has proved a formula for success for the split bearing market."
High grade Nylon 11, or PA1102, is Bowman's preferred choice of additive manufacturing material – a polyamide characterised by its elasticity and high impact resistance. Whilst most manufacturers remain focussed on using aesthetically tuned materials for visual prototyping, Bowman AP will join a select group of companies in the UK able to offer this engineering specific material for the production of functional parts.
Bowman's new cages are designed and manufactured entirely by Bowman's new additive manufacturing division, Bowman Additive Production, in its main facility in Oxfordshire in the UK.
Paul Mitchell, Managing Director of Bowman International, concludes: "The Evolution cage is a demonstration of our commitment to bringing to market products which are designed for purpose, longevity and performance. The class-leading design and precision engineering, together with state-of-the-art technology and materials, sets the benchmark for future product developments under the Bowman brand.
"We are proud innovators within our marketplace and we are already seeing that
our pioneering work, combining the power of additive manufactured plastics with high performance alloys, is already garnering interest on a global scale, across a wide range of industries.
"We are incredibly excited to see how the future of manufacturing evolves, and how we can maximise the new technologies available to us."
Source: Bearing News