Kirby Morgan Dive Helmets Offer Maximum Comfort with Variable-Density, Self-Skin Lightweight Pads Additive-Manufactured with DPI's Acceleration Station
Kirby Morgan Dive HelmetFounded in 1966, Kirby Morgan designs and manufactures the highest quality underwater breathing equipment available. Lightweight and comfortable, the company's dive helmets are used for commercial applications, such as offshore oilrig installation and maintenance as well as inspection and repair on hydroelectric dams and ships.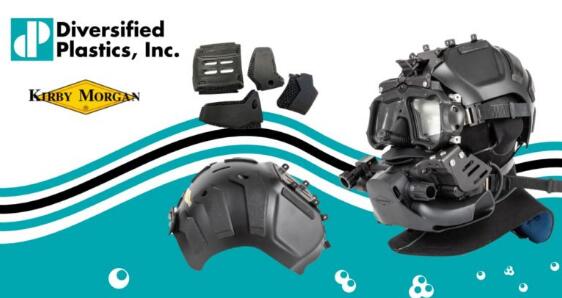 Several years ago, Kirby Morgan began researching additive-manufacturing technology to advance its dive helmets with components that are light, durable and comfortable. As part of this process, Pete Ryan, engineer at Kirby Morgan, partnered with Diversified Plastics, Inc. (DPI), to manufacture parts for one of their newest dive helmet models. In addition to parts produced by DPI using their Acceleration Station™ additive-manufacturing services, some components for the helmet were 3D-printed at Kirby Morgan with two other processes. DPI's Acceleration Station is powered by the Carbon® Digital Light Synthesis™ (DLS) process.
Instead of using traditional foam pads, DPI produced seven 3D-printed lattice compression pads that are incorporated on the inside of the helmet. The pads have an integrated surface skin and lattice compression zones that vary in density based on where the pads sit on the diver's head — maximizing comfort.
In the initial stages of the project, DPI utilized a variety of software applications to develop the variable-density lattice structure and integrated outer skin. A member of the Carbon Production Network, DPI partnered with the Carbon team to complete print scripts modified to accommodate the cost needs of the customer.
Using Carbon's EPU40 resin, DPI produced over 20 design iterations for testing. This process accelerates development, allowing new designs to efficiently be additive-manufactured and ready for testing the next day.
Source: DPI 
For press release, welcome to send to 3D Science Valley at 2509957133@qq.com