The Global Market for Additive Manufacturing Regains Strength Despite Supply Chain Disruptions and Grows by 16% Aiming for EUR 20 Billion in 2026.
The management consultancy AMPOWER has published its 4th edition of the annual market report for industrial Additive Manufacturing. The AMPOWER Report 2022 analyzes global industry developments in 2021 and provides an outlook for the next 5 years. The report is available online and as a PDF at www.additive-manufacturing-report.com.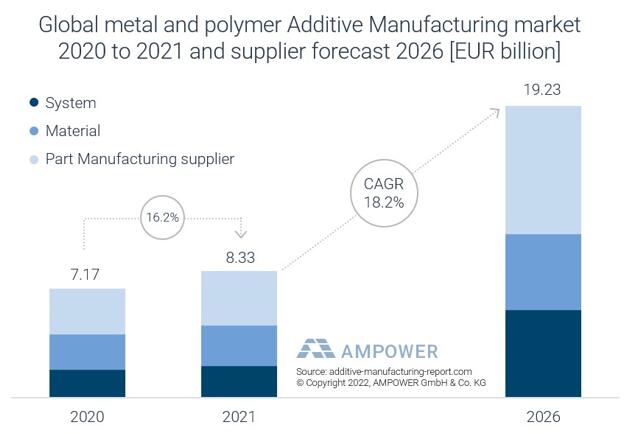 Picture: Overall market development for industrial metal and polymer Additive Manufacturing from 2020 to 2026. Forecast from supplier perspective.
After the setback in the year 2020, AMPOWER reports a recovery of the Additive Manufacturing market in the 2nd year of the pandemic. The global metal and polymer Additive Manufacturing market is valued at EUR 8.33 billion in 2021 which is a year-on-year growth of more than 16%. Already at the end of 2020, many suppliers signaled a positive outlook with an increase of orders along the complete value chain. The printer facilities of part manufacturers were back to run at full capacity after a desolate year and supplier were able to make up the lost business in the first year of the pandemic. This upward trend continued well into 2021, despite the continuous economic challenges existing all around the world. Ongoing supply chain disruptions prevented an even stronger growth. However, the system suppliers faced with increasing demand suffered from shortages of certain critical parts and the lead times of some machines increased significantly.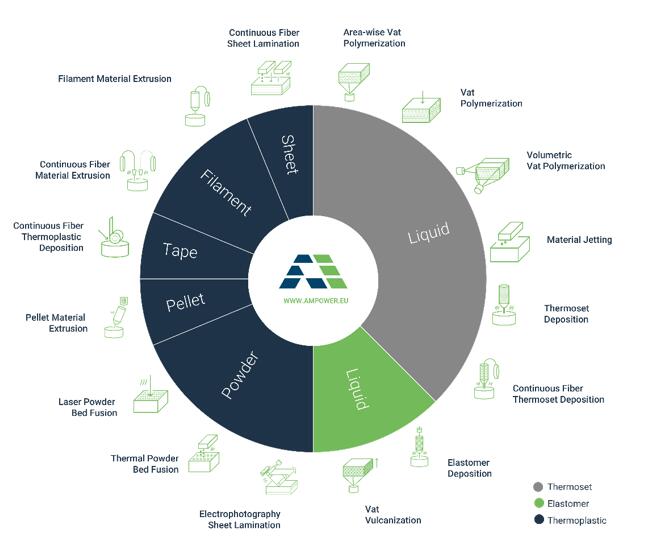 Picture: Diversity of polymer Additive Manufacturing Technologies
The Additive Manufacturing market is inherently divers with nearly 40 different technologies. "Today, powder bed fusion machines make the majority of sales but in the coming 5-10 years, new technologies are growing at a faster pace, promising significant productivity increases" explains Dr. Maximilian Munsch, Co-Author of the Report and Managing Partner of AMPOWER. Timo Führer, Polymer Expert at AMPOWER adds: "In polymer, we see significant productivity increases in new disruptive liquid and powder AM technologies. This has the potential to bring the technology to mass products across industries in the next decade. This development will not only push consumer goods but open the door for upcoming applications with high volume potential."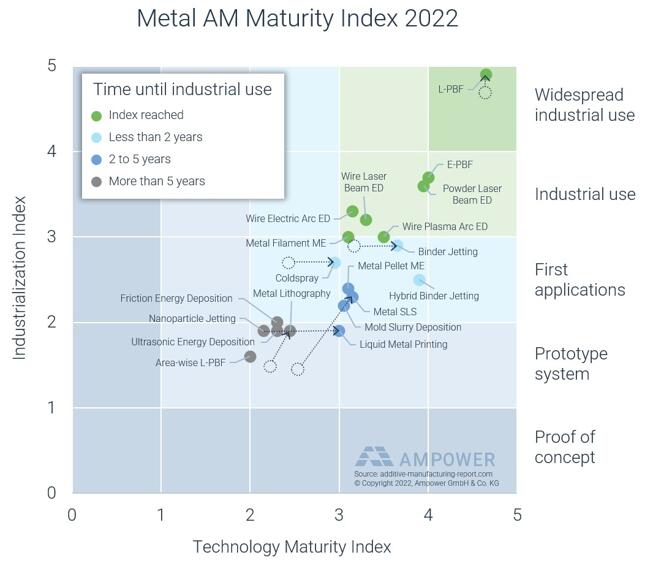 Picture: Maturity developments of metal Additive Manufacturing technologies
The AMPOWER Report 2021 is based on over 300 personal interviews conducted by the company. The surveyed machine suppliers cover over 90% of the system base installed worldwide. The total number of data points of the AMPOWER Report 2022 data acquisition exceeds 23,600. In addition to suppliers, particular emphasis is placed on interviewing users to enable a demand-oriented evaluation of future market developments. In addition to the market analysis, the report contains articles from guest authors who discuss the development of the 3D printing market in individual regions.
Source: AMPOWER
For press release, welcome to send to 3D Science Valley at 2509957133@qq.com