Oerlikon's Prof. Dr. Michael Suess on The Key Challenges And Opportunities For Industrializing AM
The Advanced Manufacturing Technology Conference (AMTC) has just concluded in Aachen, Germany, organized by Swiss technology group Oerlikon.
Under the umbrella theme "Momentum for Growth", this year's conference brought together industry leaders and experts from across industry, government, and academia to discuss the future of additive manufacturing and the role it can play in tackling issues such as climate change, population growth, and increasing consumer expectation for personalized products.
More than 60 speakers addressed the latest developments in the 3D printing industry during the conference. Representatives from the likes of Boeing, Siemens, McKinsey, and Audi presented success stories around new materials, education, standards, and scaling and customizing hardware, among other topics, alongside discussing the opportunities and challenges currently facing the industrialization of 3D printing and advanced manufacturing.
3D Printing Industry caught up with Oerlikon Chairman Professor Dr. Michael Suess during the conference to get his thoughts on the future direction of additive manufacturing and how the industry can capitalize on the technology's current growth momentum.
Prof. Dr. Michael Suess addressing the AMTC 2021. Photo via Robert Gongoll/Oerlikon.

 The additive manufacturing business unit was founded five years ago. How is additive manufacturing growing at Oerlikon, and what are the company's main focuses currently?
We have verified and validated the process capabilities and our capabilities in the industry, which has taken two or three years, and we now have several sectors that we are active in with a significant number of projects running. And these are not just prototyping but real, serious projects in the energy, space, aerospace, and defense sectors. That's where the major drivers are because often it's about performance.
We have further to develop and improve our yield rates on materials in size of the corns and even in shape. That means we have yield rates below 50 percent, so less than 50 percent of the material powder you have produced you can use in the process, which is driving costs down.
We also have to increase the productivity of the printing process, as laser equipment we bought three or four years ago is already outdated as the industry is doing well to drive productivity in this area. We have to focus on the right business model here, whether we can work with equipment that is three or four years outdated, or if this has to be written off. These are the major focuses.

 What is the significance of this year's AMTC event, and how is it fostering conversations around additive manufacturing?
The title is "Momentum for Growth", and we had a break during Covid because direct interaction between customers was more difficult. We couldn't travel to the US and people from the US couldn't travel to Europe. Meanwhile, within Europe, we had a lot of limitations to develop our projects further.
On the other hand, what we have seen is that, especially the manufacturers of equipment, have shown improvements particularly within the verification process for technologies. A lot of things that we launched three years ago, even throughout Covid, we could verify and validate and now are ready to address the markets.
The purpose of the congress is to see in which fields we can generate now real growth. So, in which industries, which verticals, which kind of impact could we have there, how can we improve the collaboration between industry, but as well between industry, science, and politics. Also, what can we do out of programs like Horizon 2020 and the follow-up programs to cover the high capital intensity of the industry, especially during the ramp-up phase.
AMTC – Advanced Manufacturing Technology Conference 2021 Day 2. Photo via Robert Gongoll/Oerlikon.

 What do you see as the key challenges or concerns that need to be addressed for further adoption of AM in serial manufacturing applications?
The first key challenge is to get the designers and the decision-makers aware of the opportunities of 3D printing. So that means if you are sitting in a procurement department and you have to decide about a product, whether it is additive or not, you're looking at the price cap, you're not looking at the wider horizon time-to-market or the integration functionality of five other parts. You don't have the design understanding with the engineers about what can be achieved with additive regarding functionality over classic manufacturing methodologies. This understanding is one of the biggest challenges.
Then, the second challenge is how to teach this. We need a kind of additive academy where people can go and understand what is going on there and how they can utilize the technology for themselves. For me, to get the right people from universities with the right curriculum into the additive industry is a big challenge. So, how do we make it attractive?
I think it is very attractive for the students but the universities have not yet adapted with a curriculum to train students outside of the classic methodologies. Additive is not just mechanical engineering or electrical engineering but a combination of both, including software capabilities and material science capabilities. So, we are working with universities such as TUM and RWTH to adopt this.
Finally, the "super-connector" is still missing. A lot of AM developments are fragmented around the globe but nobody has access to what is going on elsewhere, and so you get five different ways to achieve the same solution. With manufacturers, each of them has a different system to input material and different logistics systems on various printers, and so where is the standard and information exchange? These are the certain limitations to the greater adoption of AM for production.

 How can the crossover between academia and industry be improved to further the adoption of AM?
Metal-based additive manufacturing is 15 years, maximum 20 years old, and polymer-based is 40. There's almost a baby effect compared to other industries. That's why we're forming cooperations with TUM, RWTH Aachen and other international universities. TUM have an incubator for start-ups to help them to develop because often the second or third wave in start-up phase is the critical one.
Also, there needs to be more interdisciplinary curriculums for students. Here, we are working with many universities to create this curriculum. In the end, it is a war on talent. On one hand, you have digitization, climate change, environmental technologies that need the right talent, and to show students that additive has a massive impact in all these verticals which are, in the end, driving a more sustainable industrial society to support addressing climate change.
For instance, how additive can achieve weight reduction in equipment by integrated functionality and resource utilization is an interaction where university and industry must work together. We will not make it without the universities.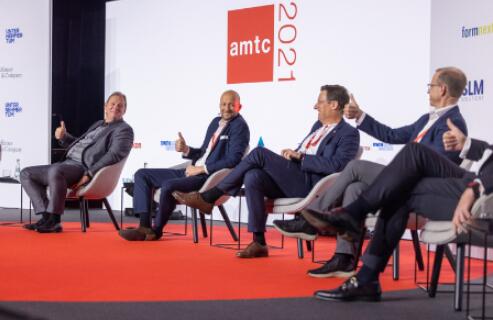 Prof. Dr. Michael Suess on stage at AMTC with Prof. Dr. Johannes Henrich Schleifenbaum of RWTH Aachen University, Prof. Dr. Nikolaus A. Adams of TUM, and Dr. Karsten Heuser of Siemens Digital Industries. Photo via Robert Gongoll/Oerlikon.

 On that point, what role can AM play in addressing climate change in the future and where do the opportunities lie?
It is not only a climate change discussion but also a discussion on Covid; how sustainable are our global supply chains? We have discussed with the World Economic Forum (WEF) regarding our manufacturing platform, and we see that there will be more manufacturing from the region, to the region. There still has to be an open sky for global trade, but there will be a more regional setup.
This would reduce climate exposure through shortening logistics, if you have less transportation you're saving energy in transporting systems or equipment. Transporting powder is different to transporting parts, maybe we could take away 20-30 percent of the world's global trade volume in this way.
If you are going to do a lot more through additive, then the impact of that is that future equipment that will be used and built will be more efficient, for instance through material consumption. Classical manufacturing lines can also cost a fortune versus installing a 3D printer, which can also be decentralized.
Additive is changing processes, and these processes are then materializing in verticals with different applications, and this indirect role additive that plays, in my eyes, is very important. We do not have to move all our manufacturing bases to low-cost countries and then transport the parts back to the countries where the parts are to be used, instead we can produce them where the consumers are already.

 What role is Oerlikon playing in making metal AM processes more reliable, sustainable and cost-effective?
We are working very closely with our equipment manufacturing partners to bundle our additive cluster of different technologies together in order to optimize the value chain. Here we have a massive leading role because we do not own products, we own processes. So, we have to interact with someone who has a product requirement to help them to fulfill the specifications of sustainability, such as the amount of resources the product will need, how long it will last, energy consumption, and so on.
With our activities in material research and improving our manufacturing processes, we have verified our quality certifications in different industries. Unfortunately, we cannot talk about a lot of these products as they are owned by our partners, but they are happening in strategic fields such as defense, space, energy, and healthcare.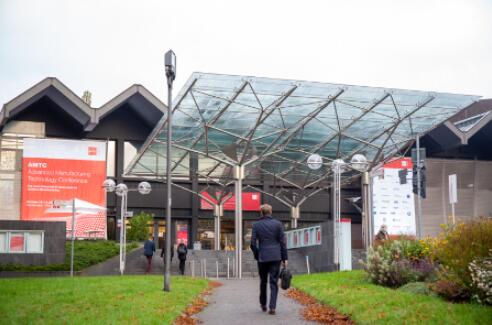 AMTC 2021 Day 2 at Eurogress in Aachen. Photo via Robert Gongoll/Oerlikon.

 How do you see economic policy affecting AM going forwards, and where does the potential lie for governments to invest in AM technologies?
Governments could accelerate the adoption of additive by helping the participants in start-ups to cover the high capital costs, simply providing cash in a cash demanding industry. We could develop even faster if there was more money. So, allocating more research money and certain funds to additive technologies, rather than funding single products or subsidiaries.
I think it should be less bureaucratic. All these European programs are consuming more or less the money they are spending on the programs due to the amount of paperwork you have to undertake before you qualify. It is a question of speed and efficiency of the money in these programs, I believe is the money was given more on a regional basis and was less bureaucratic, we could achieve much more.
Out of Horizon 2020, I think there is some €3 billion for advanced manufacturing, and within this a portion for additive, but I see the opportunities we have and what the companies are spending, and this is still small money.
Secondly, the effort to get some of that money is sometimes bigger than the money you get, and companies simply do not participate. So then, in the end people that participate with their technologies are sometimes not so promising, and the companies with real potential that do not participate end up doing it on their own. So, here we have a massive mismatch between what the politicians and EU want to achieve, and in reality how the world works.

 Do you see this changing, and what can be done?
I think actually we are moving in the wrong direction. Governments are working on perception-driven things: what can we do fast and what sounds nice? There's definitely a lack of understanding of system thinking and politics has become more short-term oriented and populism-driven. This is not in line with science and industry.

 How do you see AM's role in revitalizing urban areas in terms of infrastructure?
Additive definitely needs less production space than classical industries, because you have printers and post-processing which you can do on a small base. What additive can bring is a decentralized industry. 15 years ago, we had smaller companies within cities and the work was with the people, and today work has become concentrated as a result of the scaling effect of conventional manufacturing, with people commuting to work.
I think there can be a kind of revert to revitalizing cities, if the city is open to that. To have more industry in the city, you need more logistics and must accept a certain level of traffic. On the other hand, if you're going further that cities become like cemeteries where everyone commutes by bicycle, this will not work. While we don't need the big plants which have moved out of cities, there will still be industrial activity in people's backyards with 50 or 100 people working on 3D printers. And I'm not sure if cities are ready for that, or the people living there.
Prof. Dr. Michael Suess in the audience at AMTC. Photo via Robert Gongoll/Oerlikon.

 Which industries do you see AM transitioning to industrial production in the near future, and how could this impact supply chains resiliency?
We see this in the energy sector, massively in the oil and gas sector, and also in the defense, space, and healthcare sectors. Automotive is upcoming now with the current changes regarding whether it will be battery-driven or synthetic fuel-driven, or hydrogen-driven. So, industries that are insecure in their future direction.
They will have to touch industries like ours, and light weighting is a critical element. If you want to add a battery into a car at 100kgs, you have to reduce weight elsewhere. On the other hand, you still have a cost issue of additive, which is not really fulfilling the requirements of cheap automotive mass production. So in this sector, I would say niche products where technology is a carrier.
Then, for sure within industries like casting to make tools out of additive printed parts to drive up productivity, and last but not least the luxury goods market, such as jewelry design or lighting systems. The individualization aspect of 3D printing works here, as while it is not the cheapest solution it allows companies to design far beyond what they could with classical methodologies.

 How can the growth momentum currently experienced by the AM sector be capitalized upon?
What we have seen from our efforts over the last couple of years is active growth of 80 percent at our sites, so it is massively growing. Now, we need to see how we can cope with that. Now, it is still people-driven or process-driven, and five years down the road you will have few products in the industry that are only additive-driven.
It will take us longer to be in a challenging position to classical industries, and I think additive will not challenge them but make them better, by providing alternative solutions that conventional technologies can not achieve. In aerospace, the drive is more in the military sector than the commercial one, although this will come back and then it will drive significantly.
The energy system is all about batteries, synthetic fuels, hydrogen and combustion chambers, which will need different and more sophisticated designs for cooling. In the semiconductor area, there are certain applications that we see, although this is a very dynamic market. Also within healthcare for prosthetics.
The industry has to cope with a wide range of different requirements and to be very flexible in responding to them, and this is a challenge because you have limited resources. You need to decide where you allocate resources, which is the most promising application, and then there will be right and wrong orientation, and some companies will simply run in the wrong direction.
Source: 3D Printing Industry
For press release, welcome to send to 3D Science Valley at 2509957133@qq.com