3D-Printing of Custom-Made Shoe Sole
Design, fit, and color: New shoes have to please their owner, and that's especially true for the sole. In a new virtual factory, Siemens, EOS, and DyeMansion are demonstrating how each of these factors can be realized economically. With this reference factory for selective laser sintering with polymers, Siemens is expanding its digital Additive Manufacturing Experience Center.
Using a footwear application, Siemens, EOS and DyeMansion demonstrate what the next step towards the industrialization of selective laser sintering with polymers can look like along the entire production chain
The automated chain of coordinated production steps from all suppliers, from design and printing to post-processing, as well as end-to-end IT integration, is crucial for high productivity and maximum flexibility. This applies to series parts as well as to a highly flexible lot-size-1 production for individualized products or spare parts.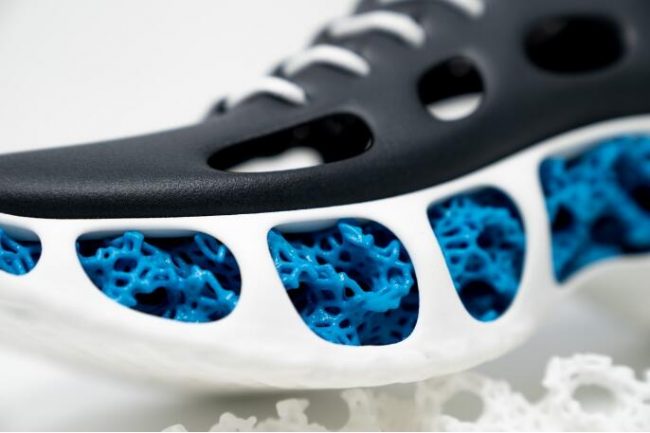 In a seamlessly integrated end-to-end value chain for industrial additive manufacturing this midsole was printed
Therefore, together with its partners EOS and DyeMansion and its end-to-end digitization and automation solutions, Siemens has created a seamlessly integrated end-to-end value chain for industrial additive manufacturing with selective laser sintering and industrial postprocessing solutions using polymers.
For volume production, the EOS P 500, which can be seamlessly integrated into an automated production, is being used within this cooperation. The EOS P 500 manufacturing platform is ideally suited for laser-sintering of plastic parts on an industrial scale.
For small, highly flexible AM factory cells, the FORMIGA P 110 systems are being used, which can now also access the NX design tools directly thanks to the EOSPRINT integration. With the NX design tools, users can design complex lattice structures and, using the example of the footwear application, simulate the digital twin of the created midsole in action on the people who wear it.
When it comes to post-processing, DyeMansion's coordinated three-step print-to-product workflow allows scaling from prototyping or small series production to additive series production. The integrated Siemens automation can be implemented in industrial shop-floor IT and offers optimized maintenance and operator handling.
Simatic S7-1500 controllers are key in the automation concept of the additive manufacturing plant. The seamless integration of all machines into the entire production chain is enabled by communication via standardized interfaces, especially OPC UA. Efficient commissioning shortens the time to market. The uniform machine operation and integration into the enterprise IT leads to further time savings and reduces costs. Finally, all the necessary safety and security aspects can be implemented quickly and easily.
For press release, welcome to send to 3D Science Valley at 2509957133@qq.com