Intech and HAL Develop First-in-India 3D Printed Aero-Engine Part Using Superalloy CM 247LC
Hindustan Aeronautics Limited (HAL), AERDC Division, has proactively worked with Intech Additive Solutions to manufacture the Gas Generator – Nozzle Guide Vane (GG-NGV) using 3D printing. Collaborations in data sharing, powder qualification, testing capabilities, and design feasibility studies between the teams of the respective organizations have paved the way in successfully manufacturing the part.
The Gas Generator – Nozzle Guide Vane (GG-NGV) is manufactured using Super-Alloy CM 247LC, a cast nickel-base superalloy with low carbon content.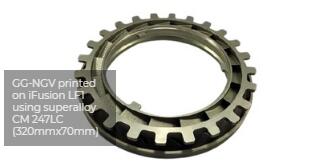 Parts with CM 247LC have traditionally been manufactured using investment castings. This process involves many complex steps, making it expensive and time-consuming.
Additive Manufacturing is the perfect fit for making such components as it has no geometry limitations. In research and design, the required quantity of parts is low, coupled with the necessity of iterative improvements. Additive Manufacturing is ideal in these situations as it reduces cost and has the added benefit of enabling the on-demand printing of parts.
CM 247LC is, however, crack-prone, and previous attempts across the world to print parts with this material have not entirely been successful. For the most part, these efforts have been limited to R&D initiatives with no proven manufacturability.
With its vast experience in qualifying materials, Intech Additive Solutions decided to take up this challenge head-on. Intech's home-grown software, AMOptoMet, generates parameters virtually at just the click of a mouse. With HAL's expertise in material properties combined with Intech's experience in developing reliable parameters with AMOptoMet, the powder was successfully qualified for Additive Manufacturing. Intech printed this rather large part (about 320 mm) using the LF1 System (launched earlier this year), which has a large build envelope of 450x450x450 mm. This 3D-printed aero-engine component can operate at high temperatures and function at a very high RPM.
"We are setting new Additive Manufacturing industry benchmarks from India. What would take weeks or months now takes minutes or hours using our software to parameterise custom alloys for critical applications. We are demonstrating through real parts how AM can reduce inventory and pushing the just-in-time concept in Aerospace applications", says Pradeep Nair, Vice President-Hardware Sales at Intech Additive Solutions.
"The Metal 3D printed component manufactured using CM-247 alloy is a great headway for the design, development and production of aero-engine components. We are proud to be associated with Intech Additive Solutions for successfully manufacturing the 'GG-NGV' aero engine part, especially using superalloy 'CM 247LC'. The collaboration with Intech Additive Solutions for manufacturing GG NGV using CM-247 LC for aero engine applications promotes the principles of 'Make in India' and Aatmanirbhar Bharat Abhiyan", says Dr. T.R. Rajanna, CD (AERDC-HAL).
Source: AMCHRONICLE
For press release, welcome to send to 3D Science Valley at 2509957133@qq.com