Carmaker Installs Three More High-Speed VJET X 3D Printers for Metal Parts Production
Voxeljet, a German leader in large format 3D printing, received three more orders for its high-speed VJET X 3D printers: 1 VJET X unit order was placed in August 2020, and two more units were ordered in September 2020. This brings the total to five units installed for metal automotive part production.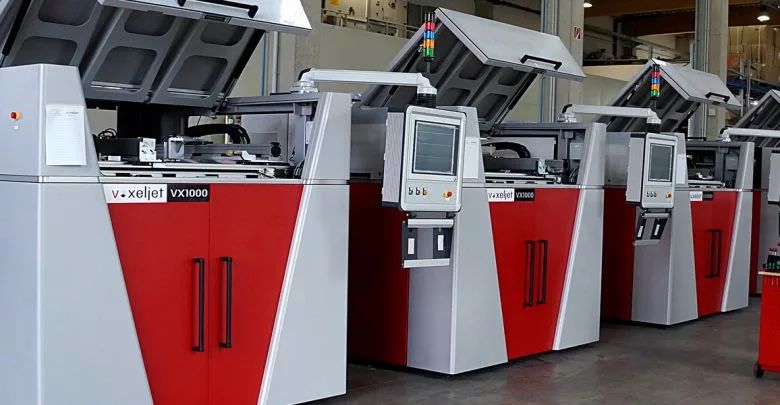 Dr. Ingo Ederer, founder and CEO of voxeljet commented: "With this order, we reached a significant milestone in our mission to bring 3D printing into high-volume industrial production. This is extremely exciting, as it not only highlights the significance of our technology, but also the confidence this leading German carmaker has in the new solution and the players behind it."
The follow-up order comes as part of a frame contract concluded in 2018 between voxeljet, its partners and the leading German carmaker. The name of the carmaker remains undisclosed. The first two VJET X units were ordered in mid-2018. This follow-up order brings the current total to 5 VJET X units for this automotive OEM and reaffirms voxeljet's message that its new VJET X 3D printers are making additive, serial production possible and cost-efficient.
The VJET X technology is already being used in the foundry industry by Loramendi, a major Spanish group. Last year voxeljet presented 3D printed parts for an electric engine housing at eMove360 (one of the largest shows for e-mobility) together with German electric bus manufacturer Qantron AG. The company has established multi-year relationships with all major German carmakers for its binder jetting technology and services.
"Together with our partners – Mr. Ederer added – we can today offer a solution for the mass production of complex sand cores for light metal parts at, what we believe to be, a fraction of the costs as compared to other players in the additive manufacturing industry. With the new environmental-friendly binder system, there are zero emissions during the casting of the sand cores. The casted, complex light-metal parts can have superior characteristics, such as less weight and new features, and can ultimately help to reduce CO2 emissions substantially."
VJET X 3D printers are 10x faster than previous models, which results in a layering speed close to 5 seconds and are integrated into fully automated postprocessing solutions. The 3D printers use an environmentally friendly inorganic binder system for zero-emissions during core printing, storage and when using the sand cores in the casting process.
The resulting process, Hybrid Additive Manufacturing (HAM), is a combination of 3D printing and casting: HAM combines the advantages of 3D printing (product & process innovation) with those of conventional manufacturing of metal parts via casting (cost advantages, a high degree of automation). This combination makes additive series production possible (even for more than 100,000 components per year).
When combining VJET X and conventional casting lines, the technology is already able to deliver mass manufacturing of complex metal parts (in aluminum, magnesium, etc.) at a fraction of the costs of more direct additive manufacturing technologies. With tightening regulations on pollution and fuel consumption, the evolution of CO2 regulation remains the main driver for changes in vehicle technology. The use of lightweight materials like aluminum in manufacturing is expected to double by 2030 and the use of hybrid processes such as VJET X can accelerate the transition to geometrically optimized parts by making their production sustainable in terms of costs as well.
Source: 3D Printing Media Network