Leveraging Binder Jetting to Serial Production
10. – 12. NOVEMBER 2020, FORMNEXT CONNTECT – THE VIRTUAL TRADE FAIR HIGHLIGHT FOR ADDITIVE MANUFACTURING
A digital fair for digital production. Even though this year's formnext takes place purely virtually in the face of the COVID-19 pandemic, it does not stand in its shadow. Especially in this challenging year, additive manufacturing was able to show what it is capable of and that it could provide a good answer to all these challenges.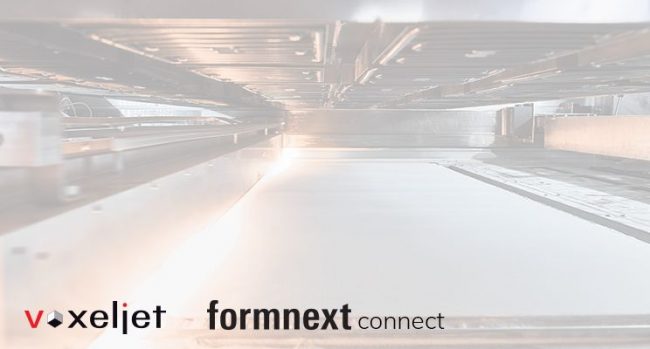 We invite you to meet us at formnext to connect and to talk about these answers. We are sure we have the right ones for you!
FOLLOWING TOPICS ARE WAITING FOR YOU:

 "Industrialization of Core Printing"
ICP is a cooperative project for the fully automated, additive production of metal casting cores for the automotive industry. Even in the age of additive manufacturing, traditional manufacturing processes remain highly relevant. We therefore rely on the intelligent fusion of classic foundry technology with flexible additive manufacturing processes.

 The VX1000 HSS
At the last formnext we presented a first prototype of our VX1000 HSS for the additive manufacturing of polymers. This year we will give an overview of the further development of our additive alternative to plastic injection molding.

 The first TPU for the High Speed Sintering Process
Together with Covestro, we have developed the first TPU for the high-speed sintering process. Gain insight into the qualification process and the various application possibilities.
Source: Voxeljet