CollPlant and United Therapeutics will Expand Their Collaboration to Include 3D Bioprinting of Human Kidneys for Transplant
Sep 21, 2020, CollPlant Biotechnologies (NASDAQ: CLGN) and United Therapeutics Corporation (NASDAQ: UTHR) announced an expansion of their collaboration with the exercise by United Therapeutics of its option to cover a second lifesaving organ, human kidneys. United Therapeutics paid CollPlant $3 million for the option exercise.
The collaboration agreement combines CollPlant's proprietary recombinant human collagen (rhCollagen) and BioInk technology with the regenerative medicine and organ manufacturing capabilities of United Therapeutics.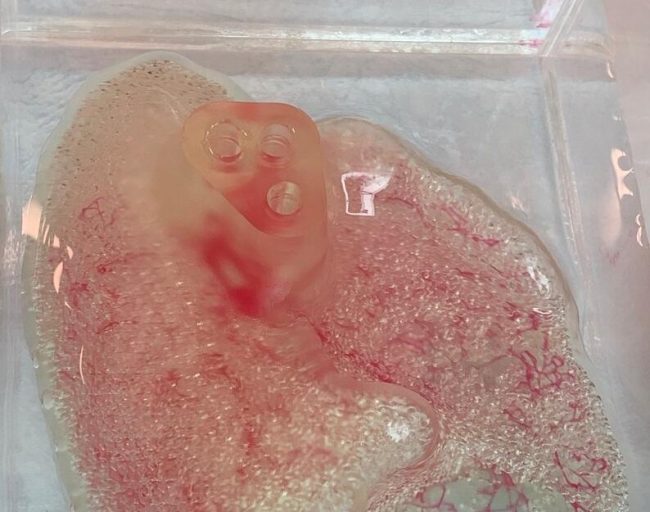 3D printed lung scaffold. Image via United Therapeutics Corp
The option exercise grants United Therapeutics through its wholly owned organ manufacturing and transplantation-focused subsidiary, Lung Biotechnology PBC, an exclusive license to CollPlant's technology for the production and use of rhCollagen-based BioInk for 3D bioprinting of human kidneys. This expanded collaboration is aimed at helping reduce global organ shortages and thereby potentially saving lives of millions of patients on kidney waiting lists.
"Organ shortages are an unmet global health need and by partnering with United Therapeutics for the past couple of years, we have made significant progress with this pivotal organ manufacturing initiative," stated Yehiel Tal, the Chief Executive Officer of CollPlant. "United Therapeutics is pioneering the emerging organ manufacturing field, and we are honored to be part of this effort via this partnership. This option exercise demonstrates another important validation of our rhCollagen platform technology, performing as an optimal building block for regenerative medicine. We remain committed to exploring new innovative applications in the fields of medical aesthetics and 3D bioprinting of tissues and organs."
"We are excited to expand our collaboration with CollPlant's extraordinary technology to transform the tobacco plant – one that is so associated with devastating diseases – into a collagen-expressing plant that will be essential to the production of an unlimited number of transplantable organs," said Martine Rothblatt, Ph.D., Chairman and Chief Executive Officer of United Therapeutics. "Our collagen-expressing plants are already flourishing in Texas where we enjoy three growing seasons."
The collaboration agreement itself, which was signed in October 2018, granted United Therapeutics an exclusive license to CollPlant's technology for the production and use of rhCollagen-based BioInk for 3D bioprinted lung transplants. CollPlant will manufacture and supply BioInk for a few years to meet development process demand and will provide technical support to United Therapeutics as it establishes a U.S. facility for the manufacture of CollPlant's rhCollagen and BioInk.
Under financial terms of the original collaboration agreement, CollPlant received an upfront payment of $5 million and will receive milestone payments of up to $15 million based on the achievement of certain operational and regulatory milestones related to the development of manufactured lungs. The agreement also provides United Therapeutics with an option to extend the license to two remaining additional life-saving organs with option exercise payments of up to $6 million. As a result of the option exercise for human kidneys these options have been extended for an additional one year through November 9, 2021. The agreement also provides additional developmental milestone payments of up to $15 million if United Therapeutics elects to develop manufactured organs other than lungs using CollPlant's technology. CollPlant will also be entitled to royalties on sales of commercialized products covered by patents licensed from CollPlant.
Source: CollPlant