XAAR AND STRATASYS Go Into Business With New HSS 3D Printing Company
Xaar PLC (LON:XAR), a UK headquartered supplier of inkjet printheads, has announced that it is forming a 3D printing company with industry giant Stratasys.
The new company, Xaar 3D Limited, will hold all of Xaar's High Speed Sintering (HSS) assets – a technology invented and pioneered by Neil Hopkinson, Xaar's Director of 3D Printing since 2016.
Xaar CEO Doug Edwards will chair the board of the new company, "We are delighted to launch our partnership with Stratasys," he says, "This joint investment in the development of 3D printing technologies reinforces the value created by our R&D and continues our plan to diversify Xaar's business,"
"WE ARE ALSO PLEASED TO BE WORKING ALONGSIDE A LEADER IN THE 3D PRINTING SPACE, WHO RECOGNIZES THE VALUE OF XAAR'S TECHNOLOGY AND EXPERTISE."
Xaar's HSS system, nicknamed "Little Blue" in action. Original video and clip by Beau Jackson
 The commercialization of HSS
For those unfamiliar with Xaar's HSS technology, it is an inkjet based 3D printing method that uses a light-reactive binder to solidify powdered plastic. HSS harnesses the expertise of Xaar's piezo inkjet printheads, an area that will be a significant focus of the new company.
In an exclusive visit to Xaar HQ earlier in 2018, I heard firsthand how Hopkinson and the team, spread between the UK and Denmark, plan to bring its HSS technology to the market.
At present, Xaar has a prototype machine named "Little Blue" preparing to head to select partners at the end of the year. In Copenhagen, Hopkinson also confirmed that the company is working on a bigger machine that will rival the output of other industrial AM units on the market, in terms of both volume and speed.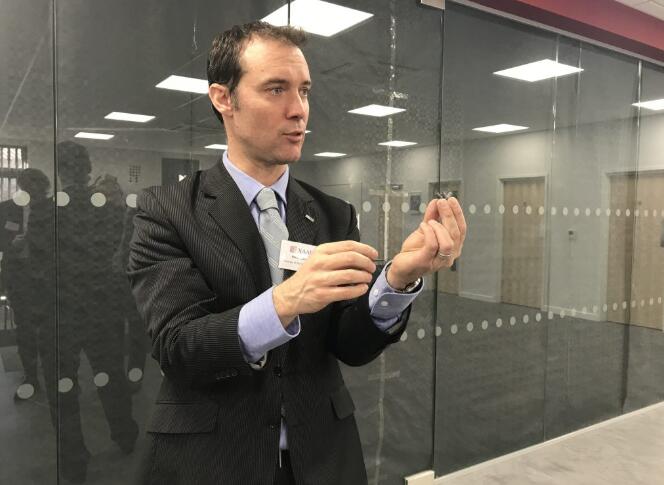 Neil Hopkinson, Director of 3D Printing at Xaar, holds a couple manifold part 3D printed using HSS. Photo by Beau Jackson
Under this new deal, Xaar PLC will remain the majority shareholder of Xaar 3D Ltd, holding 85% of the company, and Stratasys will hold the remaining 15%.
Scott Crump, co-founder and current Chief Innovation Officer of Stratsys, states, "We are impressed with the Xaar team's achievements to date,"
"We believe that the complementary assets of Stratasys and Xaar will enable Xaar 3D Ltd to develop solutions that further address customers' additive manufacturing requirements for a broader range of production applications."
Sources: 3dprintingindustry