AMCM Begins Serial Production of Its AMCM M 4K Industrial Metal 3D Printer
AMCM, an EOS Group company, announces the serial production of its AMCM M 4K-1 (single laser) and AMCM M 4K-4 (four laser) industrial DMLS metal 3D printing platforms.
Built on the EOS M 400 platform, the AMCM M 4K is tailored to produce large applications, with a height up to 1 meter (39.37 inches). Additional features include increased robustness of the frame design, a new filter system (RFS 2.0) and optional soft recoating. Out-of-the-box, the AMCM M 4K can produce applications from a wide range of materials, including aluminum (AlSi10Mg), nickel alloy (IN718) and copper alloy (CuCr1Zr).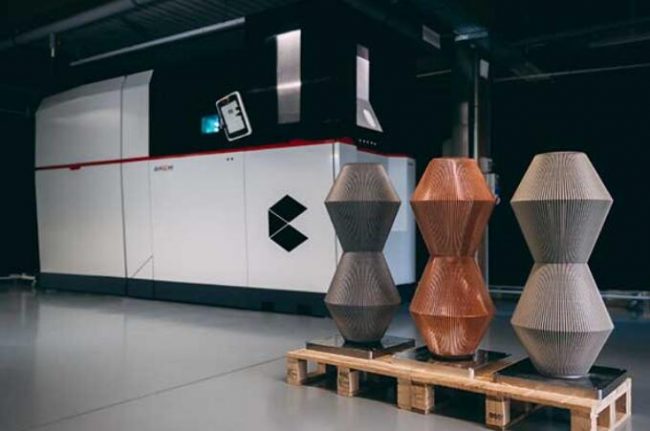 Image via AMCM
"The AMCM M 4K is a wholly new offering that we have been perfecting for two years. What customers can appreciate is that its underpinnings are that of the EOS M 400 processes— which are the benchmark for metal 3D printing," says Martin Bullemer, managing director of AMCM.
Powder bed DMLS 3D printing is used for demanding applications—high performance parts. With the help of AMCM, Launcher was one such organization that realized during the AMCM M 4K's development that it could now produce—using the preferred DMLS method—its copper alloy E-2 combustion chamber, a 3D printed liquid rocket engine.
"The AMCM M 4K solved for both our desire to 3D print a tall combustion chamber in a single piece, and produce it in a copper material," says Launcher CEO, Max Haot. "Printing in a single piece reduces cost and enables the highest-performance regenerative cooling design."
Launcher will be testing E-2 at NASA Stennis as part of an Air Force Phase II SBIR later this year.
The AMCM M 4K platform is a global offering and is available now. AMCM is ramping up its production at their new expanded facility in Starnberg, Germany. In addition to the AMCM M 4K platform, AMCM is producing other high-performance, customized industrial 3D printers based on EOS technology.
Source: Digital Engineering