Digital, Interconnected, and Automated: 3D Printer Control for Industry 4.0
Since it opened in April 2016, Materialise's production site for metal 3D printing in Bremen has expanded to include more new 3D metal printers. Customer parts made of stainless steel, aluminum, titanium, and Inconel are printed on ten different machines and the site continues to grow. The company's own software Materialise Streamics ensures optimum, cost-saving management of the printers and the orders completed with them. It has been modified to meet local requirements by process engineer Philip Buchholz.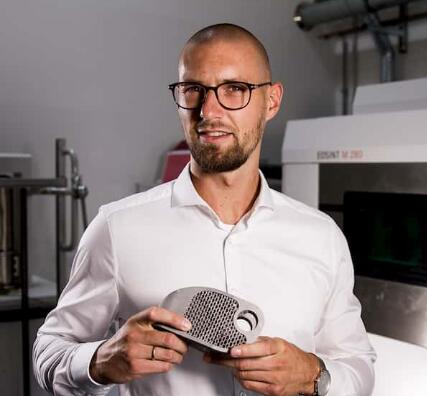 Philip Buchholz, process engineer
With the growing number of printers in Bremen, efficient management of the systems is becoming increasingly important. Philip Buchholz, who previously gained a lot of experience as an on-site application engineer for Materialise customers, was entrusted with the implementation. The fact that he was familiar with both the software and with production processes has proven to be a big advantage.

 Control of planning and cost efficiency in production
The Materialise Streamics software efficiently manages the production of 3D parts on different printers and achieves substantial cost and timesavings. Together with the data preparation software Materialise Magics, all preparation and implementation steps in the development, validation, and production phases can be managed and many processes automated. Streamics also ensures repeatable quality and life-long traceability of the parts.
"One of the fundamental challenges when operating several 3D printers is the planning," Philip explains. "First of all, all orders must be sorted according to the material and required quality. Streamics does this automatically with each new incoming order. Next it's a case of grouping together orders with the same material and same quality so that as many parts as possible can be produced at the same time per printing process and platform."
Source: Materialise