Sandvik And Renishaw Collaborate to Qualify New AM Materials
Global engineering company, Renishaw, is collaborating with Sandvik Additive Manufacturing to qualify new additive manufacturing (AM) materials for production applications. This encompasses a broad range of metal powders, including new alloy compositions that are optimised for the laser powder bed fusion (LPBF) process and which provide superior material properties.
Sandvik metal powder plant in Sandviken. Image via Renishaw.
Sandvik has worked with Renishaw AM systems since 2018 at its Additive Manufacturing Centre in Sandviken, Sweden. During this time, the two companies have worked together to develop process parameters for a range of Sandvik metal powders, including stainless and maraging steels, and the latest Osprey® nickel-based superalloys. Sandvik has recently inaugurated a state-of-the-art titanium atomiser and powder processing facility and will now turn its focus to qualifying these alloys for industrial and medical applications.
"With our 157-year materials knowledge, our comprehensive range of in-house Osprey® steels, duplex and super-duplex stainless steels, as well as nickel-based alloys and our new titanium powders, Sandvik now offers the widest range of AM materials to the market," said Mikael Schuisky, VP R&D and Operations at Sandvik Additive Manufacturing. "Renishaw's open machines have enabled us to rapidly optimise process parameters for our alloys for use in many different applications."
This parameter development work has highlighted opportunities to make small but important changes to the composition of Sandvik alloys, whilst remaining within the relevant ASTM specification, to optimise the mechanical properties of LPBF components. Examples of this include a maraging steel with enhanced strength and hardness, and a crack-free Osprey® HX nickel superalloy.
"Much of the innovation in AM in the next few years will come from the pairing of enhanced machine performance with improved alloys," explained Stephen Crownshaw, AM Business Manager at Renishaw. "Better alloys mean better material properties, enabling the manufacture of AM components that are even more efficient and cost-effective. The consistency of Renishaw's latest AM systems, combined with Sandvik's material expertise, provides tremendous opportunities to advance AM processes and to make a stronger business case for AM."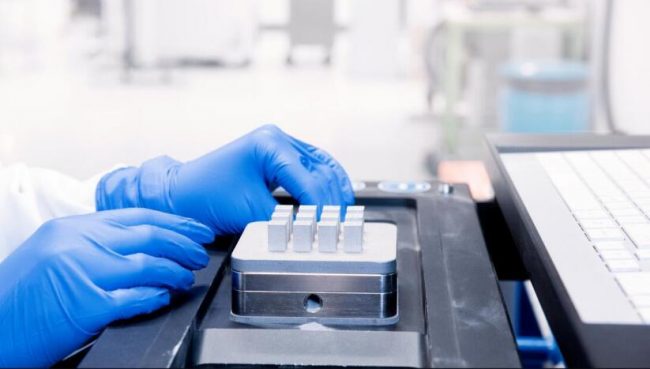 Sandvik metal 3D printing. Image via Renishaw.
As well as qualifying materials for sale to other manufacturers, Sandvik has developed a range of additive production applications, including AM variants of its cutting tools. One example is Sandvik Coromant's lightweight CoroMill® 390 milling cutter in titanium, which is 80% lighter than a conventional tool and enables metal-cutting productivity gains of up to 200%. This innovative new product has now gone into series production on the RenAM 500Q and was launched on the market in April this year.
"AM is transforming the manufacturing landscape, with better equipment and materials being the driving forces behind that change," said Mikael Schuisky. "Sandvik's unique end-to-end process knowledge – spanning raw materials, powder production, additive manufacturing and post-processing methods such as machining – puts us in the ideal position to help manufacturers to exploit this exciting technology. Renishaw's latest quad laser systems help us to extract AM's full potential."
Source: Renishaw