A New Partnership Between Alfa Romeo Racing and Quintus Is Set to Be a Winning Formula
Västerås, Sweden, October 31, 2019 – For Alfa Romeo Racing, operated by Sauber Motorsport AG, the competitive edge is crucial when it comes to technology, and now they have chosen Quintus Technologies as their Hot Isostatic Pressing (HIP) partner. With an investment in their own state-of-the-art press and a partnership in the form of the Quintus® Care program, they are securing access to optimized parts with the shortest turnaround time. In their quest for performance, Alfa Romeo Racing will push the limits for what can be achieved with Additive Manufacturing (AM) combined with High Pressure Heat Treatment (HPHT).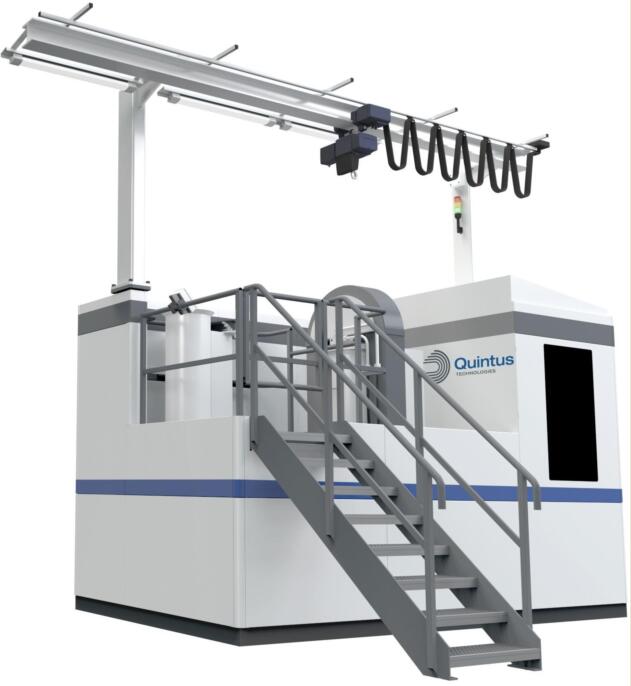 Image Courtesy: Quintus
"The partnership with Quintus is an important milestone on Sauber Engineering's Additive Manufacturing journey. The implementation of the Hot Isostatic Pressing process adds massive value in bringing performance to our car as well as for the demanding needs of our customers. By using Quintus's HIP technology, the Sauber Group will be able to push the boundaries of what we do even further and bring the materials we produce to an outstanding level," says Christoph Hansen, Head of Technical Development Sauber Engineering AG.

 Class-leading equipment
As a Formula One team, it's essential for Alfa Romeo Racing to be at the forefront of materials technology, and any potential optimization can make a big difference. With the QIH 21 M URQ®, the team has access to the best Hot Isostatic Pressing equipment available on the market, with combined High Pressure Heat Treatment capability.
Quintus's proprietary URQ® technology allows heat treatment and cooling to be combined in a single process, known as High Pressure Heat Treatment. HPHT and HIP are used for the consolidation and densification of metal, producing a maximum theoretical density, ductility, and fatigue resistance in high- performance materials. This makes it ideal for ultra-high performance automotive applications.
The QIH 21 M URQ® is built for optimal performance, with a hot work zone of 211 mm (8.3 inches) in diameter and 400 mm (15.7 inches) in height; an operating temperature of 2,552°F (1,400°C); and pressure of 2,070 bar (30,000 psi), and Alfa Romeo Racing will be working alongside Quintus to get the most out this equipment, in a joint effort to improve material performance.

 A pro-active partnership
In addition to the equipment and installation, Alfa Romeo Racing has enrolled in the comprehensive Quintus® Care program. This ensures safe, trouble-free operation and optimized functionality at a fixed annual cost, whilst giving access to in-depth technical expertise whenever it's required. This will allow the teams from Quintus and Alfa Romeo Racing to work more closely to one another, and mutually contribute knowledge and expertise in the hope of finding step- changes in racing technology.
"We are excited to be partnering with one of the most iconic Formula One teams – Alfa Romeo Racing," adds Jan Söderström, CEO of Quintus Technologies. "This collaboration brings together two organizations at the forefront of advanced development and product innovation in the AM field. Working with Alfa Romeo Racing also gives us at Quintus a unique opportunity to show a large audience how well the modern HIP technology optimizes material properties."
Source: Quintus