Empire Group Facilitates the Adoption of Multi Jet Fusion 3D Printing Technology for Local RI Prosthetic Innovator
With the intent to proof and test his concept for creating a permanent weight-bearing prosthetic socket using Multi Jet Fusion Technology, Michael Nunnery, a nationally board-certified prosthetist/orthotist and local innovator in prosthetics devices, chose Empire Group to facilitate its production.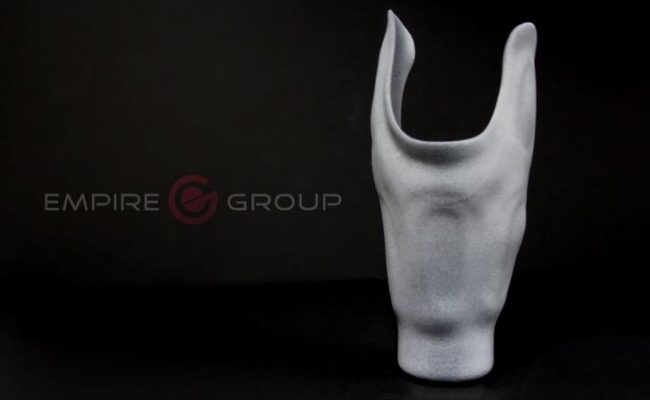 3D Printed Prosthetic: HP Multi Jet Fusion Nylon PA12 (Design & Engineered by: Nunnery OPT)

 CHALLENGES
Nunnery Orthotic & Prosthetic Technologies is at the forefront of innovation in Rhode Island. Its Owner, Michael Nunnery, is one of the many prosthetists who are seeking to advance the use of 3D printing and 3D scanning in this field. Although 3D printing —also known as additive manufacturing—is relatively new, cases of its use for prosthetics and prosthetic devices are increasing rapidly.
Conventionally, sockets are made using a combination of plaster molds, models, and machined CNC plastic. More often than not, several sockets must be produced before the final product is ready for the patient, resulting in an expensive and timely process. However, the design flexibility, material diversity, and cost-efficiency 3D printing offers have made its use in this field an attractive option.
Nunnery, who looks to 3D printing technology to help eliminate some of the traditional barriers to custom prosthetics for his patients, decided through his research that Multi Jet Fusion might be particularly suited to help him do so. However, the cost of purchasing a machine for in-house use was not a viable option for the low volume, custom nature of the business.

 BENEFITS
At Empire Group, our mission is "to enhance our customers' ability to develop and manufacture breakthrough products as quickly and efficiently as possible." For Nunnery OTP, we have successfully fulfilled that mission.
Having met our team at the Southern New England Design 2 Part show, Nunnery felt Empire Group was particularly suited to facilitate the production of his concept for an MJF permanent weight-bearing prosthetic. His decision to work with Empire was cemented at our Design for Additive Manufacturing (DfAM) Lunch & Learn and Open House in June of 2019.
"The workshop was extremely helpful, and I was able to tour the facility. It allowed me to communicate more with their team, and to see that Empire Group has the capabilities that I need."

 A FITTING SUCCESS
Using our additive manufacturing services, Nunnery quickly received his first Multi Jet Fusion PA 12 Nylon prosthetic socket, and with it, more flexibility to his design and production process. He has since fit tested the socket with much success. "(The customer) is pretty happy. His old socket was very loose and heavy, and he is happy with the lightweight of the material." He has also begun experimenting with design customization options on the PA12 material for customers seeking a bit of personal flair to accompany their MJF prosthetics.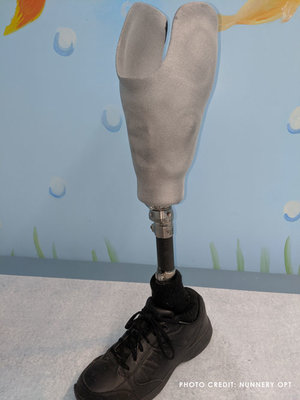 Fit Testing of Multi Jet Fusion 3D Printed Prosthetic
As far as cost and time savings Additive Manufacturing brings to his customers, he states, "Because we use unusual production methods, it can be very labor-intensive so we are still looking at time and cost savings. I do believe that in the future, Additive Manufacturing will provide time and cost savings for fabricating orthotics and prosthetics."
Source: Empire Group