UTEP EM Lab's Work on 3D/Volumetric Circuits Recognized on Cover of IEEE
For nearly a decade, Raymond C. Rumpf, Ph.D., and his EM Lab team have seen several revolutionary ideas to fruition. Their latest advancement received recent recognition from IEEE, the world's largest technical professional organization dedicated to advancing technology for the benefit of humanity.
Sarah Manzano, left, an undergraduate researcher in The University of Texas at El Paso's EM Lab works on a spatially variant photonic crystal structure with Nitiwit Dumrichob, a visiting scholar from Bangkok University, inside the lab located in the College of Engineering. Photo: J.R. Hernandez / UTEP Communications
The IEEE published two papers prepared by Rumpf in the May/June 2019 edition of the publication, IEEE Transactions on Components, Packaging, and Manufacturing Technology.
The complementary reports outline the EM Lab's advancements in the burgeoning world of hybrid 3D printing and 3D/volumetric circuits. A rendering of a 3D circuit prepared by Jesus Gutierrez, a graduate research assistant in the EM Lab, graces the cover of the publication to showcase the research.
"I think it definitely shows that we are on the world stage," Rumpf said. "We have taken very significant steps in this field. Our work represents a huge new direction for circuits in general. 3D is where most everyone wants to go, and we are the first ones to get there."
Research on 3D/volumetric circuit technology was borne out of the notion that a three-dimensional circuit offers more freedom to make circuits smaller, lighter, more efficient, and even enable functionality that is impossible using today's flat circuits. Furthermore, the algorithms and processes developed by the EM Lab allow the circuits to be manufactured into arbitrary shapes that can be integrated into any object or surface.
The concept offers many new opportunities for the manufacturing industry. Rumpf said the EM Lab has made recent breakthroughs in software design and automation related to hybrid 3D printing, which allows his research team to print complicated parts composed of metal and plastic simultaneously. The research team continues to refine and improve its capabilities to produce larger and more sophisticated 3D circuits. Their work has come as a result of years of research and assembling all of the tools and processes it would take to accomplish.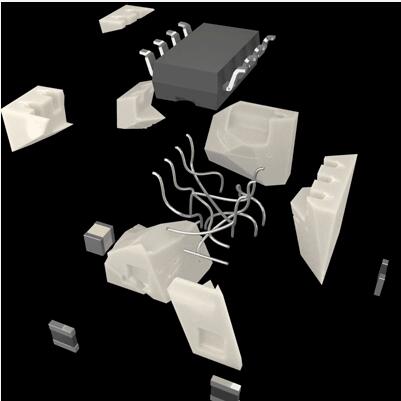 This animation from UTEP's EM Lab
shows the inner workings of a 3D/volumetric circuit.
Courtesy of Jesus Gutierrez
Since 2010, Rumpf and his team of researchers have delivered an array of significant accomplishments, including the discovery of new electromagnetic phenomena, development of an ultra-high-power frequency selective surface, and the world's thinnest dielectric antennas. In addition, the team has recorded the tightest bend of an optical beam ever reported. However, the EM Lab's advancements on the first true three-dimensional, volumetric circuit using a fully automated process is a feat that Rumpf said may change the paradigm of how products with electrical functionality are designed and manufactured.
He added that his team of student researchers have been instrumental throughout the process.
One of those students is Cesar Valle, a doctoral student in electrical engineering. He said the work the team has conducted in the EM Lab has provided real-world experience in the development of a technology that holds great promise to revolutionize manufacturing of circuits.
"It was us sitting in a hot room for an entire summer trying to crank out the world's first 3D circuit," Valle said. "We thought it wasn't going to be possible. But now we have refined the process almost to the point of, literally, hitting 'File/Print' to build a part."
Rumpf said the experience for the students is invaluable and reaffirms UTEP's ability to prepare students for success in a highly competitive industry.
"I had to work my entire life to establish myself as a leader and pioneer in this area," Rumpf said. "Students of the EM Lab are going to start of their careers at this level. They are decades ahead of me. The skills they have are very much in demand and I cannot wait to see the amazing things they will achieve."
Source: UTEP