Safran Obtains Certification for LEAP® Engine Lubrication Unit Made Using Additive Manufacturing
Safran Aero Boosters has been awarded certification by the EASA1 and FAA2 airworthiness authorities for the lubrication unit equipped with a 3D metal printed casing, a piece of oil equipment for the CFM International LEAP® engine3. A first for an engine component of such complexity. Safran Aero Boosters, a partner of Safran Aircraft Engines on the LEAP® engine, designs, develops and manufactures low-pressure compressors, front bearing supports and engine oil equipment (lubrication units and tanks).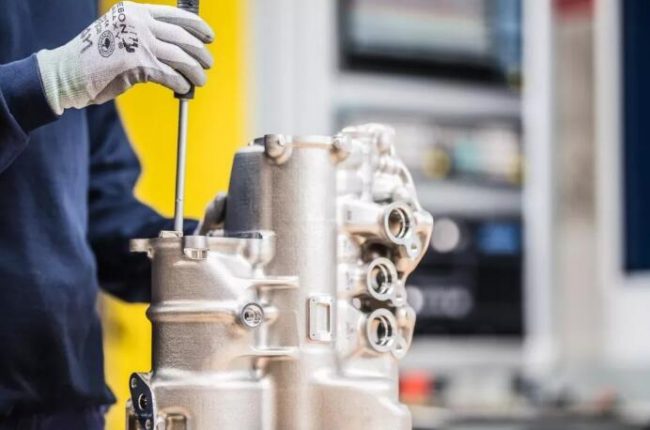 As an alternative to the casing previously manufactured in the foundry, Safran Aero Boosters' Research and Technology teams have developed a casing with a design that is optimized for additive manufacturing. Launched at the end of 2015, the study of this new process on two prototype lubrication units led, in less than a year and a half, to a new design adapted to the constraints of 3D printing and the production of 14 parts ready to undergo certification and technological maturation tests.
As the LEAP® lubrication group is a certified and operational part, Safran Aero Boosters had to produce the new parts in additive form in the same aluminum alloy and retain the same interfaces and features. At the same time, and in the same record time, the chosen process, selective laser fusion on an aluminum powder bed, met TRL 6 after a complete lubrication unit incorporating a 3D printed casing was mounted on a LEAP-1A engine. AGS Fusion has been entrusted with the manufacture of parts using this process.
Initially a rapid prototyping tool, additive manufacturing is now also becoming an industrial manufacturing method, and Safran Aero Boosters intends to exploit its undeniable advantages to develop specific parts with new designs that cannot be manufactured using conventional production methods.
A first lubrication unit has been installed on a LEAP-1A series engine that powers the Airbus A320neo.
"This is a major step forward from a technical point of view," says François Lepot, CEO of Safran Aero Boosters. "It opens the door to other ways of designing and manufacturing our products that will meet the new technological and economic challenges of the aerospace sector." »
Source: Safran