Vericor'S Gas Turbine To Use Parker Aerospace 3d Printed Parts
California's Parker Aerospace, a manufacturer of aerospace parts, has announced that it will be 3D printing the fuel atomization nozzle and dual fuel manifold assembly for Vericor Power System's oil field gas turbines.
Electron-beam technology will be employed to produce the new components, enabling design features that will reduce emissions and part count while improving manufacturing predictability.
3D printed TF50F fuel nozzles. Photo via Parker Aerospace.
 3D printing in the aerospace sector
Parker Aerospace provides a range of 3D printed parts to aircraft manufacturers, including fuel system components and high-temperature bleed air valves. In previous years the company has contributed parts and maintenance for machinery produced by Airbus, Rolls-Royce and Commercial Aircraft Corporation of China.
"Collaborating with Vericor to establish specifications and performance parameters helped the PowerGen team to get a clear picture of the best way to design and build the fuel nozzles and manifolds for the TF50F gas turbine," said Steve O'Connor, general manager for the Gas Turbine Fuel Systems PowerGen Division, a division under Parker Aerospace, itself a division of Parker Hannifin.
"By utilizing additive and electron-beam welding manufacturing methods – and removing the constraints of traditional manufacturing techniques – we are able to deliver a higher-performing system, requiring fewer parts, which also offers cost advantages to our customers," O'Connor added.
This is Parker Aerospace's first contract to produce 3D printed fuel nozzles, however it is not an industry first. The GE enabled LEAP jet engine fuel nozzles is one of the most widely known success stories for additive manufacturing in the aerospace sector. In fact, last year GE announced that it had shipped its 30,000th 3D printed nozzle.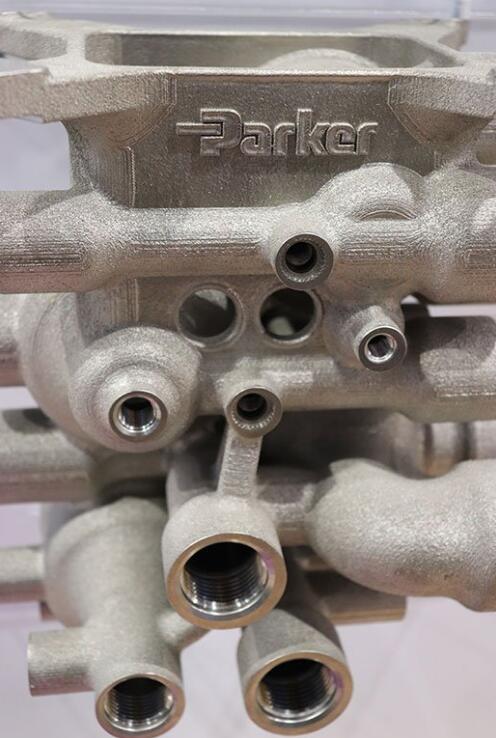 3D printed manifold assembly. Photo via Parker Aerospace.
 Better part performance with electron-beam welding
The parts produced for Vericor's TF50F oil field gas turbine will be manufactured with Parker's fully automated electron-beam welding technology. The welding takes place in a high-purity vacuum chamber leading to clean and predictable weld joints that are free of oxides and nitrates. Electron-beam welding also eliminates the need for multi-pass welds, greatly reducing shrinkage and distortion.
Giving the example of the fuel nozzle, Parker Aerospace claims that this method improves fuel flow paths within the nozzle, thus enabling better fuel atomization and distribution within the engine's combustion chamber. This in turn enhances combustion performance, providing improved fuel efficiency and reduced emissions.
Fuel atomization and the control of fuel droplet size is critical to efficient gas turbine engine combustion; a key driver of droplet size optimization is the geometry of the internal flow paths within the engine's fuel nozzles. Parker Aerospace also claims that 3D printing the TF50F fuel nozzle will mean a 30% part-count reduction compared to traditionally manufactured nozzles.
Testing and verification of the nozzle and manifold assembly are now complete, with manufacturing underway to support the delivery of the parts to Vericor by early Q3 of 2019.
The nozzle and manifold will is already on display at the ongoing Paris Air Show where Parker Aerospace is exhibiting in hall 5, stand #C210.
Source: 3D Printing Industry