Focus on Better Micro Manufacturing Ability, Local Motors's Microfactories and Launch Forth's Design Formed a Parent Company
Today, Local Motors announced the formation of LM Industries Group, Inc. Local Motors, known for developing the 3D printed Strati car and Olli bus.
LM Industries creates transportation, accessibility and mobility products with customers such as Allianz Group, Airbus and the United States Marine Corps, by combining co-creation, technology, and microfactories into one modern manufacturing process that builds high-quality, low-volume products at unprecedented speeds.
Its efficiency allows products to be upgradeable like software – iterated regularly and fluidly to match rapidly changing consumer preferences. Bringing Launch Forth's design and Local Motor's microfactories into one parent company provides clients with a better alternative to mass manufacturing that gets the right products into the right people's hands at the right time. With shared resources and capabilities, LM Industries will explore more ambitious and ground-breaking projects to solve the most pressing issues of our time.
Allianz is partnering with Local Motors to deploy Olli in multiple cities in order to help accelerate the understanding of insurance in our shared, autonomous world. The global insurer is also designing new mobility solutions and imagining the future of mobility insurance with Launch Forth. Now Jean-Marc Pailhol, Head of Global Market Management & Distribution at Allianz SE, joins the LM Industries board to help guide future product development and encourage strategic global partnerships.
The latest project from Allianz and LM Industries is an accessibility device that can be customized to match any activity level or style choices. For the past 150 years, the design of the wheelchair has remained fundamentally the same, with the same benefits and many of the same problems. With limited upgradability and the stigma of a medical device, it is time for a major shift in mass mobility that is inclusively designed with accessibility in mind, but that is also functional and fun for all people.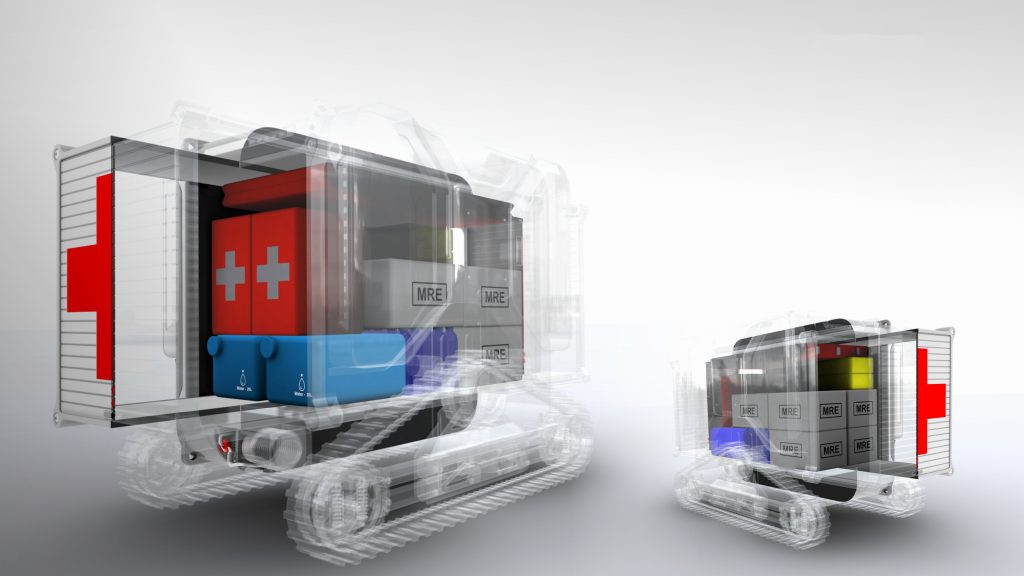 Concept drawing for the LM Industries Unmanned Cargo System. Image via LM Industries
Other in-progress projects include a modular logistics vehicle and an unmanned cargo system with the United States Marine Corps. The success of this effort shows the elasticity and nimbleness of LM Industries to provide on-target solutions in both the commercial and military sectors. If this project continues to achieve results ahead of schedule, it stands to augment the US military with a much needed responsive capability for vehicle systems development.
Sources: Local Motors