GKN Additive Extends 3D Printing Network to Asia
GKN Additive, the specialist 3D materials and service providing division of GKN Powder Metallurgy, has opened a 3D printing customer center in China. With the inauguration of this new facility, GKN Additive extends its services into Asia for the first time, hoping to make an impact on the largest automotive market in the world.
Guido Degen, President of Additive Manufacturing at GKN Powder Metallurgy, comments, "We believe that metal additive manufacturing is one of the future processes that will have great effect on the automotive industry and electric vehicleproduction," "From saving time to market through rapid prototyping to redesigning and rethinking parts and assemblies for additive, to reduced inventories by on-demand replacements – metal am adds value during the whole component life cycle."
 The GKN Additive global print network
Customer centers are facilities that enable a company to give potential clients a hands-on, face-to-face experience of particular products, helping them to figure out the right solution for the job. It also gives companies a physical presence within regions outside their flagship headquarters. Looking to increase the adoption of additive across traditional machining industries, this concept is adopted by a number of additive manufacturing OEMs.
GKN Additive's customer center in Danyang, China, will give partners and customers the ability to work with engineers in the design and prototyping stages of part development, through workshops and consultations. In addition, the site also means that the company will be capable of faster deliveries within the area.
Under the Addvantage manufacturing execution system at GKN Additive, Danyang is linked to five other production and R&D locations: two in Germany, two in the U.S. and one in Italy.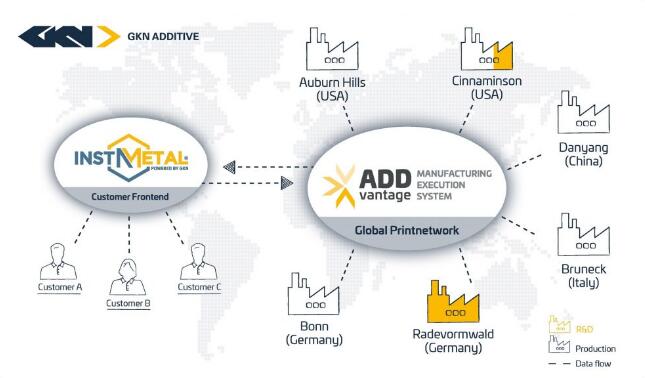 GKN Additive's global print network. Image via GKN Additive
 Additive manufacturing at GKN Powder Metallurgy
GKN Additive, GKN Hoeganaes and GKN Sinter Metals combine to make GKN Powder Metallurgy. To date, GKN Powder Metallurgy remains a part of GKN plc after its hostile takeover by Melrose in 2018. In the latest update on this deal, Melrose was reportedly considering delaying the sale of the metallurgy division after receiving offers below analyst expectations. Emerging at the 2018 Farnborough Airshow after the hostile bid, additive manufacturing remained a key focus for GKN plc as a whole. Most recently, GKN Powder Metallurgy extended its reach within this sector through partnership with leading 3D printer OEM EOS and logistics provider PostNord.
Speaking at the time of these partnership announcements Peter Oberparleiter, CEO of GKN Powder Metallurgy, said:"We're thinking differently about what's possible in manufacturing; metal 3D printing and rapid prototyping have become a formidable part of our business."
The division is also currently one of the only companies in the world to have access to HP's Metal Jet Production Service.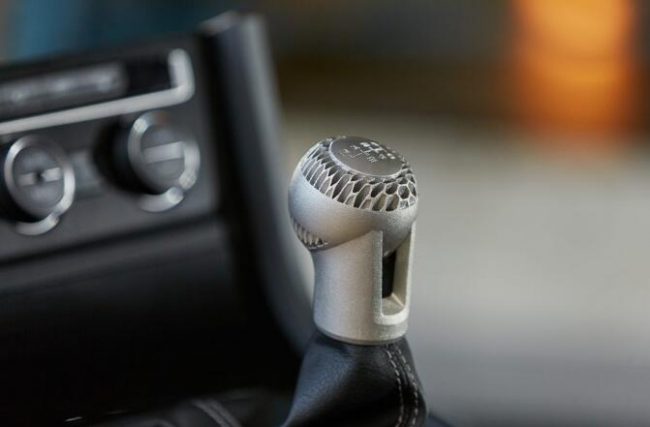 HP Metal Jet 3D printed gear shift for Volkswagen. Photo via HP
Source:3D Printing Industry