How Does Siemens AM Design Lab Help to Discover the Potential of AM?
Additive manufacturing makes it possible to create completely new kinds of components with customized attributes. But companies that want to take full advantage of this new production method need to revamp their thinking. That's why Siemens has opened its AM Design Lab in Berlin.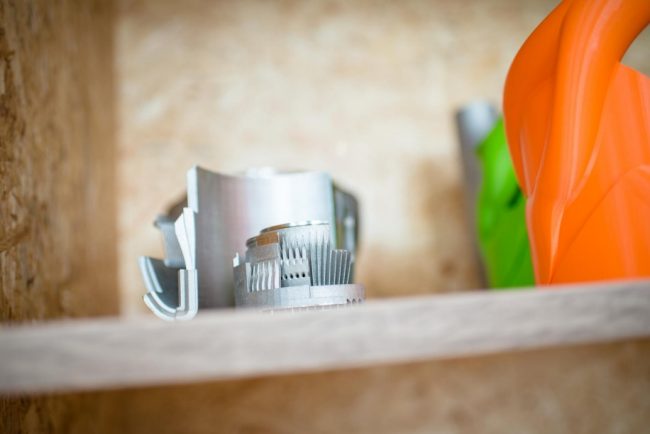 The future of manufacturing is hidden behind the historical facade of the Wernerwerk high-rise in the Siemensstadt district of Berlin. The sixth floor of this dark-red brick building from the 1920s is the home of Siemens' Additive Manufacturing Design Lab, and it's obvious at first glance that this is a place where unconventional ways of thinking and working are required. Instead of a typical office environment, visitors experience an atmosphere that is reminiscent of the style of a Swedish furniture maker. The room is paneled in light wood, with colorful letters on the wall spelling out "AM Design Lab." Light bulbs hang from the ceiling, above simple seating units on the floor. The air is full of the pleasant aroma of a forest. That's not surprising; this creative workshop for 3D printing was opened only recently, in June, by Siemens Chief Technology Officer Roland Busch, and it still smells brand-new.
The AM Design Lab is helping Siemens engineers to discover the design potential of additive manufacturing.
"With additive manufacturing we can produce completely new shapes and create functions that were previously impossible," says Ursus Krüger, who heads the Design Lab. "But that requires our design engineers to take a new cognitive approach to design." And that's exactly what the creative workshop in Berlin is all about. Here, Siemens employees from all business areas can work on concrete projects and rely on the expertise of Krüger and his team of about 30 employees, which includes specialists in computer-supported design, simulations, and manufacturing processes. If necessary, advice can also be provided directly on site – for example, at the Siemens AM Experience Center in Erlangen – if a business area is conducting discussions with a customer about a possible partnership. At the end of the discussion, potential users will know whether their special component is a likely candidate for 3D printing and whether the use of this production process is worthwhile in terms of the cost involved. One thing is already clear: Additive manufacturing offers tremendous opportunities for Siemens, and that's why the company has high hopes for the Design Lab.
 Collaborative Work in Virtual Space
In the lab, new components can be designed at two workstations that provide all the necessary tools – for example, the NX suite from Siemens as a basis for the design process, software for topology optimization (it calculates where the lines of force lie and where designers can save on material), and a program that calculates the individual layers to be laid down by the 3D printer. Other tools available for collaborative work include virtual-reality glasses and a projection wall. Developers can also meet in a virtual space, where they can look at all the details of their design from every angle and optimize it. If they are satisfied with a design, the initial prototypes can be transferred from the digital world into the real one on a variety of 3D printers.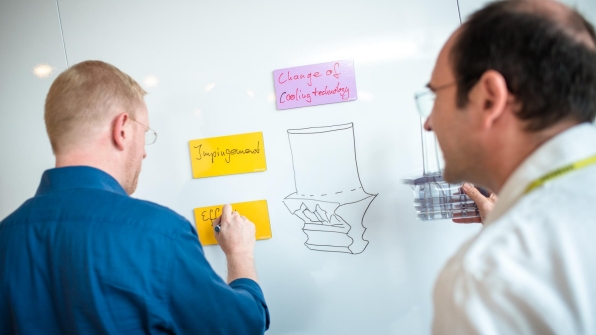 Doing the impossible: Christoph Kiener and Daniel Reznik from Siemens Corporate Technology discuss the possibilities of 3D printing on a gas turbine blade.
Nonetheless, a lot of things can go wrong along the path from the initial idea to the 3D printing process. "Additive manufacturing is a very complex topic," says Krüger. "It offers many opportunities to fail dramatically." That's why his team not only discusses materials and processes with future users but also works together with the Siemens Digital Factory to develop new tools that make life easier for developers. Their latest creation is an NX module that can be used at the end of the design phase to simulate the production process. It will be launched on the market in January 2019 and will subsequently be followed by additional software that ensures that a usable component will emerge from the 3D printer on the very first try.
Krüger calls this process "first time right" and adds, "Previously, designers would play with many different component parameters and then see whether this led to the final product they wanted. By contrast, we depend on simulations at an early stage. We want to select the specific shape, process, and material that will give a component the desired attributes, such as strength, density and porosity on the first try." Software is the key to this approach. The aim is to enable designers to focus entirely on the function of a new component in the future, with the program automatically ensuring that the component can actually be produced.
 Sudden Insights rather than Entrenched Thought Patterns
An industrial gas turbine from Siemens is a good example of the new solutions designers can come up with thanks to additive manufacturing. In the future, a planned gas turbine should be able to burn hydrogen in addition to natural gas – a capability that places high demands on the burner tips. They will be heated up to much higher temperatures, and will therefore need more effective cooling. Thanks to 3D printing, engineers can integrate metal lattices into the fuel feed system so that natural gas or hydrogen transport heat away as it flows past them. As a result, the fuel becomes a cooling agent. "This was possible only because the design of the component was completely rethought," explains Christoph Kiener, an expert in AM design at Siemens Corporate Technology. He believes that this kind of rethinking is the task of the Design Lab in Berlin. "Through the unusual atmosphere of the lab, we want to promote sudden insights and get people to question entrenched patterns of thought," he says.
Before printing: researcher Darya Kastsian discusses the virtual set up of a component with a colleague.
The launch of the Design Lab was well-timed, because additive manufacturing is gathering momentum. Additive manufacturing has great strategic significance for Siemens and is therefore one of the 14 "Company Core Technologies" that will be key elements of the company's long-term success. Already, gas turbine experts and developers in the areas of mobility and electric aviation are focusing on this topic. About 20 3D printers are manufacturing components for gas turbines at Siemens' Finspång (Sweden) location. And in Worcester (UK) a new AM plant with more than 50 printers will be opened in December. "Today additive manufacturing is also playing a major role in the automotive industry and in the medical sector," says Krüger, who has concentrated on this topic for the past ten years. "In addition," heads , "the development of 3D printers is proceeding much more rapidly than developments in traditional machine construction. A lot is going on, and we want our know-how and the latest trends to be available throughout the company. For example, we're planning to set up additional Design Labs in the USA and China."
Siemens AM experts in Berlin are also benefiting from the flow of ideas in the opposite direction. Many unusual ideas are being sent to them from all over Siemens– for example, ideas generated by the "Race4AM" idea competition. In this competition, which was initiated by CTO Roland Busch, employees from every Siemens area were invited to send in their proposals for new components and business models. A total of 364 proposals were submitted, and the 12 best teams were invited to attend the opening of the Design Lab in Berlin. Components for compressors, electric motors, and circuit breakers – many ideas from different areas were submitted. The designers of the top three ideas will now be given an opportunity to develop their ideas into products. "We've already got a huge pool of ideas," says Krüger with satisfaction. "This is bringing us quite a bit closer to our goal: doing the impossible."
Source: Siemens