AM Insights at formnext: 3D Science Valley interviewed Nikolai Zaepernick, Senior Vice President Central Europe of EOS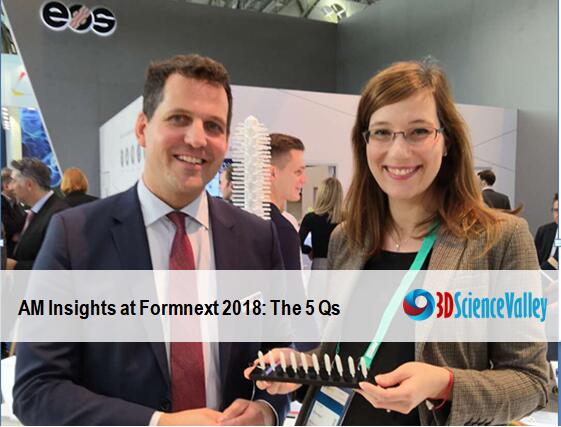 Left: Nikolai Zaepernick, Senior Vice President Central Europe of EOS
Right: Korinna Penndorf, Co-founder of 3D Science Valley
Q1. What is the highlight of your company at Formnext this year?
So formnext, I believe it's a place to meet where globally you can achieve the most condensed overview on three industrial 3d printing on this planet. So I believe it's well to visit, to get an overview about machines,materials and softwares.
What is the biggest highlight of EOS? Of course it's our new announcement on the metal and polymer technology.
On the metal side, I believe we are consistently pursuing our story towards production. And production is about defined and repeatable quality that you need to achieve. And of course, it's about lowest cost per part. So this is something where we put all our R&D dollars in order to achieve exactly this for our customers.
For the quality, we made everything that we learned on our former machine generations. And it's been five iteration already. We have been achieving in the EOS M 300-4 machine to achieve a consistent quality and a repeatable quality.
Image: EOS M300, image courtesy: EOS
This is not easy. We see that in the market, there's a lot of noise. Everyone speaks about 10 or 100 times of the productivity. But if you really look between the lines, if you want to produce,it's about a defined quality, and at the end,it's about a lower cost of the part. So this is what we address on the metal side.
On the polymer side, now we are unveilling a new technology which we called LaserProFusion. It's not about one laser is not about two lasers or four lasers. It's gonna be a million diodes.
And if you compare the productivity of our smallest machine today and say this is the size of the statue of liberty. Our next best machine is the P 500, which we launched last year. Compared to the statue of liberty ,the productivity of P 500 is Eiffel tower,the productivity of the new LaserProFusion is like the highest buidling in the world. So now you can imagine what the evolution of this new technologies.
For the new technologies, how to ensure the quality is critical. For EOS, since we are in production, so we can't afford to to sacrifice on quality. Our new LaserProFusion will of course build on the quality while increasing the speed.
I'll show you a part that produced by the LaserProFusion machine.The build time of this part is nine seconds.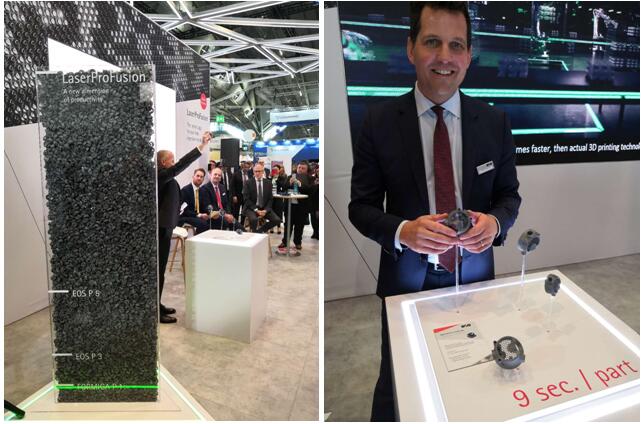 Image: EOS booth at formnext 2018, part build time is 9 seconds. by Korinna Penndorf
Q2. What is the 3d printing business performance this year compared with last year in your company?
Our business are steadily and sustainable growing. Business figures is around about 350 million Euro this year. It's a little bit of a cool down what we've seen the last couple of years. But I think this is due to different factors. I believe now we are facing more competition,people need to understand what exactly fits their requirements.
On the other side, we have customers that actually go into production and they are aware of these applications and they will go through the roof at a certain point in time. I believe still now it's more a testing and seeing. There is no way back and the only way is enhancing and increasing capacity in the market. So we'll see also a sustained growth in the future.
Q3. What is the major challenge for your business currently? Have you overcome all possible challenges? So is there anything left after this great announcement today?
We are on the path, but this path will never be easy. It's not gonna be a quick win. If you compared 3D printing to traditional manufacturing, these companies are always challenged by digitalization and industry 4.0. So what is the next area? And this is also true for 3D printing. So we are integrating ourselves in the existing production fields. So we have to first of all learn, adapt and respect the rules of the business facts. And I think that's been the hard work in the past to do so. But now we're here. So we are producing with our customers.
However it still, I mean we're talking about decentralized manufacturing, which is is the next thing. We need to also with our technology tie into the digital transformation. This is also a challenge not for only us, but I think the entire 3D printing space will have to have an answer on this.
And important is that we understand what  is feasible with this data and how can we use it. And of course,the utmost goal with respecting security. The data is belonging to our customers. But I guess together with our customers, we can find models to increase productivity and also to generate new business models. So there's enough to do in oncoming years.
Q4: What do you think the year of 2018 for 3d printing industry? What's the major development and obstacles that you see if you look all around your partners and players, other players in the market?
There is a lot of noise in the market. I believe if you talk about obstacles for someone who does not know what is to expect, it is really hard at the moment to differentiate what is only noise from the market and what is right for companies to implement.
The second biggest hurdle is the same as ten years ago. When I entered additive manufacturing 8 years ago, I realized that the mindset of the engineers is the blocking point. And I can say that because I'm an engineer as well. So to rethink casting, die casting, to rethink a part which is manufacured by milling technology, to chenge the way of thinking how to design the part for 3d printing, this is very difficult. And this is true ten years ago, and it's still true today. So this is the second biggest thing that needs to be overcome.
Korinna Penndorf: From the technology piont of view,is there something in the market that you feel this year has happened?
I believe portfolio bandwidth is the most critical point. We still have a fraction of materials available at the moment.,If you compared to injection molding or casting, or in general machining materials. However, what I see is that much more players on the market(also the willingness of companies) to accept and experiment the process which is not 100% ready.
This openness, I think, it's visible in the market, and this opens up a lot of opportunities. But I have to add on this. So typically engineer comes and he works with a define material in a traditional process. And he says, ok, can I have the same material for additive manufacturing? And it's not the same story, because it's a different way of processing these materials. This always caused confusion. I take the original material but have a different result or, this is more the idea of digital materials. I can take a different material, but then through geometry optimization plus I can influence the process such that I achieve the hot properties I would like to have.
So it is a matter of how you think the properties of the part you want to achieve, not a matter of sticking to the materials you used to have.
And maybe for one thousand kind of origin materials. I don't have to have one thousand kind of the same materials, but I can have maybe a hundred or maybe only ten kinds of. And I can simulate and I can influence the process and the part properties, I can then achieve even better material properties. So this is the idea of digital materials.
Q5. What is your expectation for next 5 years?
So let's start with markets, we have customers that are producing parts 50 thousand pieces per day. For these customers, for these kind of applications and for these markets, I don't see a way back. Now it's about to get confidence and also make sure that these companies make their way to product more types of parts, then to scale. So I see these kinds of customers are on the path, talking about three to five years, those customers are going to somewhere they will go big.
The second thing I expect is this will trickle down to supply chain. So this is gonna to impact the supply chain. I see that very clearly in aerospace. I see that very clearly in automotive. Medical is a different industry sector. Big medical companies tend to keep the production in house.
But industry like aerospace and automotive, this will have an effect on the ecosystem. So I see that there's gonna be clear applications that will go 3d printed at the OEMs in the supply chain.
I see rapid prototype is still not in this situation. So we're gonna see more not only geometric rapid prototype, but also functional, where companies actually take the part and try for a small series or even for a mid size series. So this is gonna happen as well.
Anther change I believe is going to happen is a consolidation in the markets. Many companies are not making money, there has to be a substantial way of growth. This is a natural element where the consideration will happen either merging or the company being bought or getting obsolete.