3D Medical Printing Opens a Door to the Cardiovascular Training of the Future
Have you ever wondered how clinicians train their psycho-motor skills to perform fast and precise interventions? Certain medical branches, such as interventional radiology, are moving rapidly forward and the training of its specialists must be completely up to date.
Dr. Sebastian Mafeld, an Interventional Radiology Fellow at NHS and co-founder of the UK Endovascular Trainees (UKETS), worked together with Materialise to develop ArterioSim; a 3D-printed endovascular simulator. This vascular model, based on real patient data from a CT scan, simulates a realistic interventional environment and can be used for training basic endovascular catheter and guidewire skills. Thanks to Medical 3D Printing, an accurate recreation of the entire aorta, along with its major branches, was generated. To mimic reality as closely as possible, the model features two access points which accommodate 6Fr endovascular sheaths. The model was printed using Stereolithography and transparent resin. This 3D medical printing technique is frequently chosen for the creation of educational cardiovascular models selected in the HeartPrint catalogue.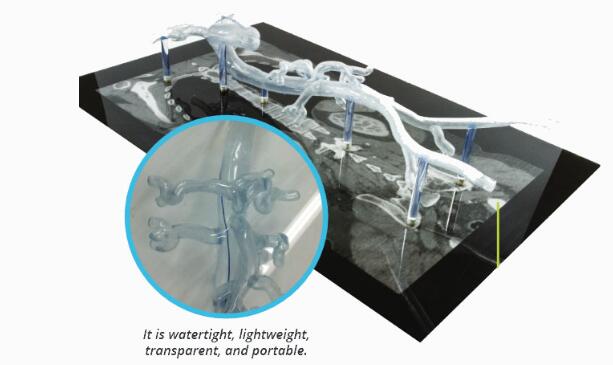 ArterioSim is simple to use and fast to set up. To start the training, the user needs to fill the model with water and close it by putting two 6F sheaths into the holes of each common femoral artery. Afterwards the catheters, wires or balloons can be inserted inside the model and the trainee can start learning how to master their movements and the manipulation of the guidewire outside of the patient to see how it affects movements inside the body.
"We aimed to give users a better understanding of how common endovascular tools behave, whilst experiencing enhanced haptics including pushability, torquability, and trackability,"
                         – explains Dr. Mafeld.
Data from the feedback of 96 physicians was presented at CIRSE 2016 in Barcelona, Spain. This data supports the educational value of ArterioSim and has been accepted for publication in the Annals of Translational Medicine. Sebastian Mafeld explains, "It is important that we gather data to theoretically ascertain the value of 3D Printing, and the ability to physically test critical parts of an endovascular procedure using a 3D-printed model might lead to reductions in procedure time and radiation exposure or improvements in outcomes and patient safety."
Sources: Materialise, Endovascular Trainees