Okuma Introduces the New Hybrid Machine
Okuma America Corporation introduces the new MU-8000V LASER EX multitasking CNC machine, combining the latest laser additive technology with subtractive manufacturing capabilities. It's the ultimate process-intensive machine that enables complete part production on one machine.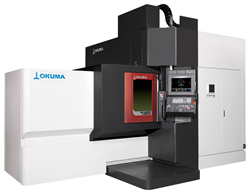 The MU-8000V LASER EX revolutionizes production by implementing laser metal deposition (LMD) technology with the ability to cut unique parts of many different sizes and shapes. LMD supplies powder from nozzles and performs laser melting and bonding to parent material. This allows for various types of materials to be combined and layered in addition to the possibility of three-dimensional fabrication and cladding.
Parts can also be repaired and inspected throughout production, and an infinitely variable control of laser spot diameters (Ø0.4 to 8.5 mm) increase efficiency and resolution.
By implementing laser metal deposition (LMD) instead of laser metal fusion (LMF), Okuma's MU-8000V LASER EX offers these advantages:
Mid-process part inspection and material exchange
Coolant use in work envelope
Faster process than powder bed fusion
Three-dimensional fabricating
Additional LASER EX series products will be introduced to the market in the future and will feature:
Laser Hardening – Designed to work on carbon steel material. Heating by laser emission, with hardening by self-cooling. Case hardening is possible. Less warpage than with high-frequency or flame hardening.
Process-Intensive Turn Hardening and Grinding – Cutting and grinding is completed on a single CNC machine with no setup change. Uniform-width turn hardening using a high-output, stable laser. Case hardening on cylindrical surface with no uneven hardening and little warping.
Resin Mold Repairs – All operations, from crack removal to finishing, on a single machine. Accommodates hard-to-cut and high-hardness materials.
Source: Okuma